Manny Pacquiao Robbed of Decision Win Over Jeff Horn in Otherwise Bloody Good Fight on ESPN
What do you think?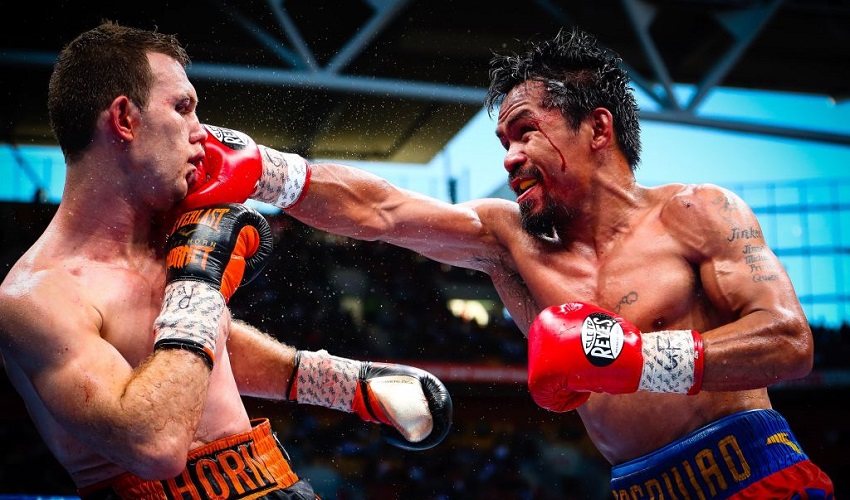 A little-known boxer named Jeff Horn took the WBO welterweight title from Manny Pacquiao Saturday in Brisbane, Australia. To some, Horn's victory was a Rocky-like underdog story, but to many the real story was less uplifting: Pacquiao was simply robbed of his rightful victory.
There was no doubt Horn put in a fine effort, standing his ground ably against the older, more seasoned Filipino legend. He wasn't going down easily. Still, the judges' unanimous decision was questionable based on the fighters' conditions at the end—Horn completely battered, Pacquiao certainly hurt but pretty fresh in general—and based on the 9th round as well.
In the 9th Pacquiao came out loaded for bear and rocked Horn back on his heels. ESPN viewers and commentators weren't the only ones convinced Horn had lost at that point, either. Referee Mark Nelson was ready to shut it down, but decided to challenge Horn to demonstrate he still had some gas in the tank in round 10.
Horn did just that. Leveraging superior size, strength, and let's face it, maybe his youth as well (Pacquiao is 38 and has a ton of other irons in the fire in addition to pro boxing, like politics in the Philippines), Horn certainly didn't end the fight looking like a lucky but overloaded amateur.
He did, however, look a little like a dirty fighter, as some of Pacquiao's most visible injuries came from Horn's head, not his fists. 
The judges scored it 117-111 and 115-113, 115-113 for Horn, and the tweet above was just one example of just how strongly viewers disagreed—including some of the biggest names in sports.
Some basic, raw stats came down on Pacquiao's side as well. 
For three decades CompuBox has been following major boxing matches and tracking stats, and the service tweeted pure data that cast further doubt on the judges' decisions.
It wasn't just sports superstars who tore into the fight's results, but commentators as well. The often controversial Stephen A. Smith may have—in this instance—spoken for many in this acid take on Horn's win, concluding that the sport of boxing is essentially saying, "Manny, go away."
Some of the sharpest social media takes weren't from professional talking heads, but from Twitter users who know how to choose just the right image and punchline for the occasion.
Manny Pacquiao has already said he's ready for a rematch and will come back to Australia to do it. 
The Rocky narrative is appealing, and there's no doubt that Horn, 29, is a talented fighter. But Pacquiao deserves that rematch as soon as he's ready. Hopefully with a whole new set of judges at ringside.