Matthew McConaughey's 'Power Stance' at University of Texas Basketball Practice Is Now a Meme
He's not messing around.
Image: Twitter/@TexasMBB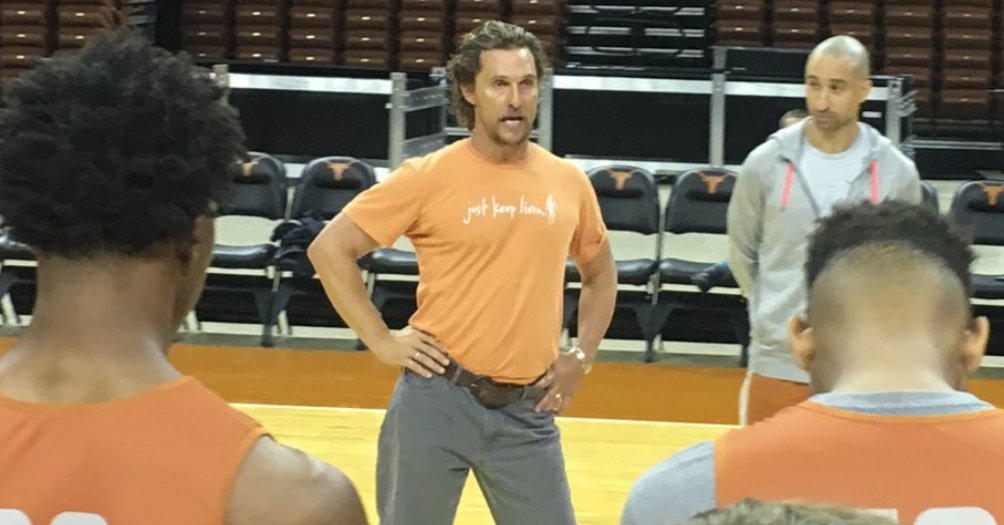 Matthew McConaughey has become a human meme after striking a sassy, hands-on-hips pose during a recent pep talk at a University of Texas basketball practice.
The actor's now-immortal photo was first tweeted by the University of Texas Men's Basketball account after the Oscar-winning UT alum dropped by practice. 
Then, a relatively obscure Twitter user named Flattop Filipino zoomed in on McConaughey's stance and added a cheeky caption. 
"Idk what McConaughey was saying but it must've been fierce af."
https://twitter.com/malcham94/status/920403696898461698
24 hours and 40,000 retweets later, the photo had become a bonafide viral hit. 
"We are not going 11-22 this year do you boys HEAR ME!"

— Christian Graves (@cgraves10) October 19, 2017
https://twitter.com/jmtsil/status/920856013116493824https://twitter.com/afwaller/status/920852997051158528
Incredibly, it's only one of two McConaughey moments that blew up that day.
An interview segment shot earlier this year during the actor's promotional tour for The Dark Tower was also circulated by AP Entertainment. In it, the actor reveals how freakin' hard he tailgates Longhorns football games.
"I've got a box, and we've got 26 of my closest friends," he says. "We like to get there about an hour and a half early. Get all nice and lubricated for the game and then get it on. 
"We break a sweat in that box. It's a tiring Saturday." 
What a boss. All of you Longhorns oughtta be proud. 
h/t: Houston Chronicle