MaximBet 101: Live Sports Betting
Watch MaximBet's Jason Zone Fisher break down the basics of live sports betting.
Nothing beats the adrenaline rush of a live sporting event. The roar of the crowd. The thrill of watching plays unfold. Those unforgettable, hold-your-breath moments. And you can become part of the action anytime thanks to live sports betting at MaximBet.
Below you'll find an easy breakdown on the basics of live betting. Or just watch MaximBet's Jason Zone Fisher explain how it works here, or click the image below.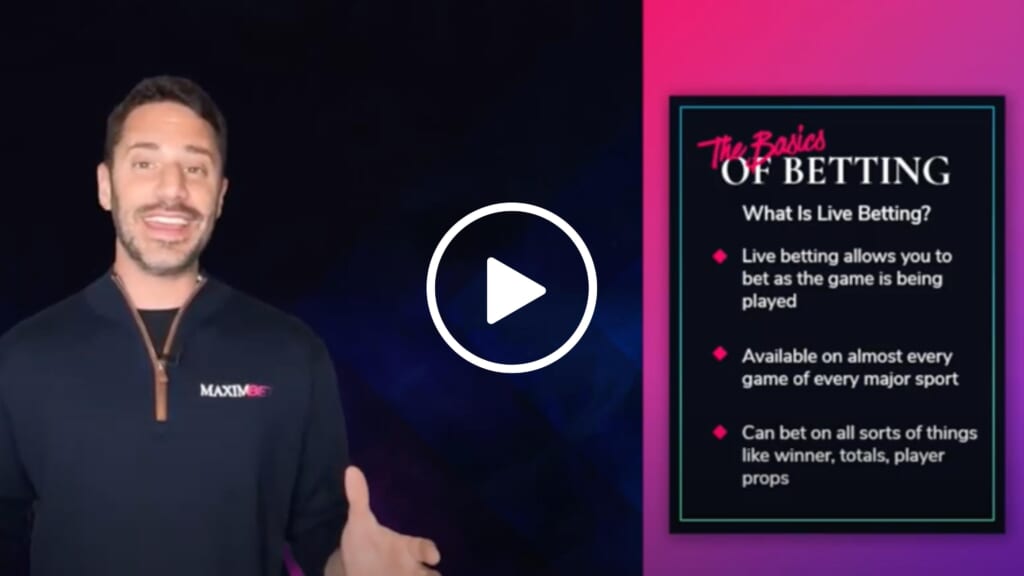 Guide to Live Betting
Back in the early days of sports betting, you could only wager on an event before it started or at half time. But with live betting, you can get in on the action even after tip-off, first pitch or kickoff. You can wager live on everything from who will win to the total points scored and even player props.
The odds can change quickly as the momentum of a game shifts. For example, if a team was favored by ten points before kickoff, but now they trail by ten points early; their odds to win are going to look very different now than they did before the game began.
Live Betting is Fast & Fun
You have to be fast to enter your bets as games and live odds move quickly. Sometimes the lines will come off the boards temporarily after a big play or if a particular play is under review. But they will come back, so stay ready to get your pick in.
Benefits of Live Betting
One big benefit of live betting is that you get to watch some of the game and see for yourself how the teams, the players and the matchups are looking before locking in your wagers. It's fast-paced, super-exciting and a lot of fun.
And the best place to place live bets is, of course, MaximBet.com. Take advantage of MaximBet's massive welcome offer that puts a 100% bonus up to $1,000 back into your betting account after your first deposit. Sign up here today!
The Basics of Betting: What is Live Betting?
Live betting allows you to bet as the game is being played
Available on almost every game of every major sport
Can bet on all sorts of things like winner, totals, player props