MaximBet's NBA Slam Dunk Contest Odds Favor High-Flying Jalen Green
The Rockets rookie leads a pack of backboard breakers including Obi Toppin, Cole Anthony, and Juan Toscano-Anderson.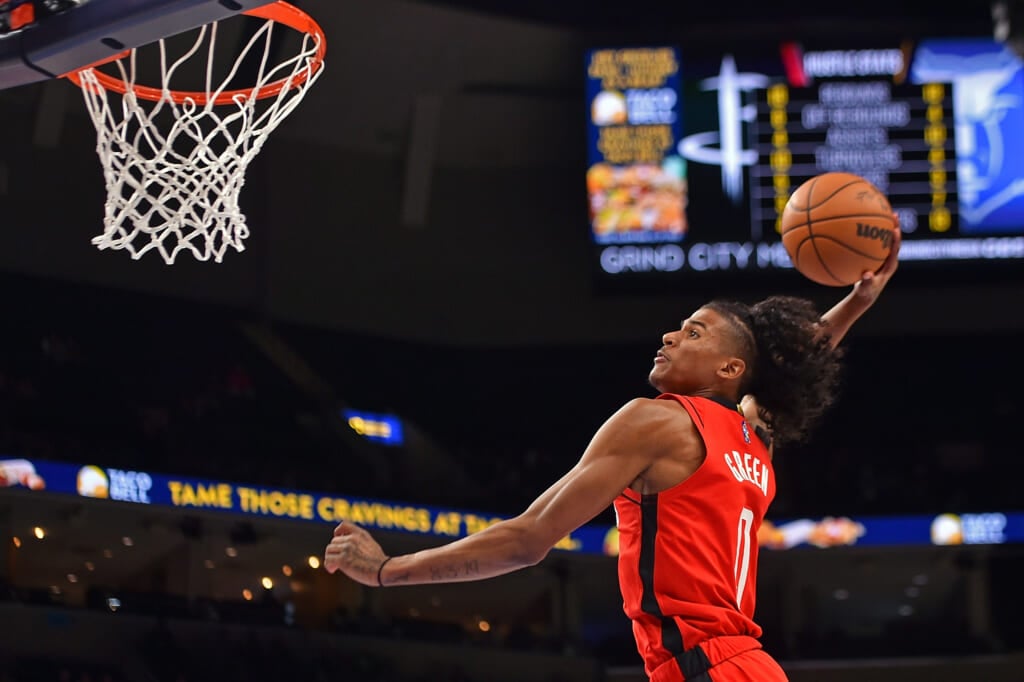 Houston Rockets rookie and G-League Ignite alumnus Jalen Green is favored to win the NBA Slam Dunk Contest at MaximBet, but will the bright lights and isolation have an impact? MaximBet also has Trae Young and Fred Van Vleet as co-favorites in the 3-point shootout.
A cautionary tale as we look ahead to this weekend's NBA Slam Dunk Contest in Cleveland: As Chris "Birdman" Andersen can attest, it can get awful lonely out there when the whole world is watching you dunk all by yourself.
And the pressure can cause some incredibly strange things to happen.
At the 2005 All-Star Game in Denver, Andersen had the dubious distinction of missing a total of 32 dunks. That's not a typo, although some folks have put the number in the high teens because what constitutes a dunk attempt varies from person to person. But having been there, this writer can tell you that it was excruciating to watch.
One can only imagine how it felt to be the kid from Iola, Texas before he went nuts with the tattoos. Normally, dunk contest highlight videos from one player are about two minutes long. Video of Andersen's performance lasts for over five and a half minutes.
TNT broadcaster Kenny Smith saw it coming before Andersen even began, saying, "He's missing a couple ice cubes in his tray."
Yes, Andersen was never the sharpest knife in the drawer, but he was a good enough hustle player to have lasted 15 seasons in the NBA. Not bad for a guy who had to be coaxed into playing high school basketball because he was the tallest kid at his school. And luckily for "Birdman," his career was not defined by what went down in Denver.
That Birdman episode is relevant 18 years later because three of the four participants in this Saturday's All-Star Game Slam Dunk Contest will be making their debuts in that event, likely fulfilling childhood dreams. But if Cole Anthony, Juan Toscano-Anderson and Jalen Green are not comfortable going solo in the spotlight, things can get rather ugly.
And for that reason alone, you may want to consider going with Obi Toppin of the New York Knicks (+225 odds at MaximBet) because he is in the contest for the second straight season after finishing as the runner-up last season.
The dunk contest winner is based upon judges' scoring, which makes it ineligible to be wagered on in some states, including fun-hater capital of the world New York, where the mask people just will not stop being insufferable and intolerable.
Someone could ask Toppin about the dunk contest if the Knicks ever made him available to the media, which is never the case in Jim Dolan's media relations world (New York team President Leon Rose has not uttered a word publicly since September, even after failing to pull off a deal for the NBA's No. 1 underachieving team at last week's trade deadline.)
So here are some relevant stats and stuff to consider in handicapping the event. You can see the full list of NBA All-Star Weekend odds from MaximBet here.
Jalen Green (+175)
The second overall pick of last June's draft just turned 20 earlier this month and will be the first graduate of the G-League Ignite to compete in the dunk contest. (Several years ago, the NBA toyed with the idea of letting G-League players compete in the dunk contest, then thought better of it because they did not want any of their own shown up by a minor leaguer.)
Green has started all in all 42 appearances and is averaging 14.4 points to rank fifth among rookies. He is shooting just 38.2 percent but has 32 dunks among his 196 buckets, including this one which comes with a cautionary note: In-game dunks are often easier than dunk contest dunks.
Obi Toppin (+225)
While Obi Toppin chants at Madison Square Garden seem to have fallen on embattled coach Tom Thibodeau's deaf ears, the 23-year-old power forward has still thrown down 34 dunks among 150 buckets when he's off the bench. Because his coach favors veterans over kids, the rust factor will come into play for the 2020 draft's No. 8 pick. (Kevin Knox was in similar position before being traded to Atlanta for Cam Reddish, who is also gathering dust on the bench at The World's Most Famous Arena.)
At least Toppin can show his buddies this Merry Christmas between-the-legs dunk as he tells anyone who will listen that he will be the player to beat Saturday night.
Cole Anthony (+300)
The son of former UNLV and New York Knicks guard Greg Anthony, Cole is a second-year point guard for the lowly Orlando Magic. He'd actually be in the Most Improved Player discussion if his team was not so god-awful bad.
At age 21, he is seven years younger than Toscano-Anderson and closer in age to the other two participants. So it is up to you to decide: Take a guy who is barely legal, or put your faith in someone whose Venezuela pro background has taken him to places that have perfectly prepared him for Saturday night.
Anthony has only four dunks this season, which makes you wonder how he was picked for this event. Perhaps it was his history, because the folks who pick the participants spent long hours researching this stuff on YouTube. Check this out from four years ago:
Juan Toscano-Anderson (+450)
The 28-year-old is in his third NBA season with the Golden State Warriors after being a four-year player at Marquette and then starting his pro career in Venezuela and Mexico.
He is averaging only 4.5 points per game and has made just five starts, and he had 26 dunks heading into his final pre-All-Star break game Wednesday night against Denver, and he will need to be better in the event than he was in this Valentine's Day practice session:
All-Star Saturday Night also includes the 3-point Contest and the Skills Competition, and it should be noted that the leading 3-point shooters (Miami's P.J. Tucker at 45.5 percent and defending shootout champion Steph Curry with 250 made 3s) are not competing.
There is an eight-man field for an event that can drag on to the point where watching paint dry is a more appealing option, and the favorites are Fred VanVleet of Toronto and Trae Young of Atlanta at +475, which makes this one the best wagering opportunities.
The rest of the field is Zach LaVine, Patty Mills, Luke Kennard, Desmond Bane, C.J. McCollum and Karl-Anthony Towns at odds ranging from +500 to +1100. Towns, it should be noted, is looking to become the second-tallest player ever to win the event behind Dirk Nowitzki, who won it in 2006. Kennard, at .434, has the best 3-point shooting percentage of any of the contestants, while Towns at .406 has a better percentage than everyone else except Mills and Bane.
All-Star Saturday also includes the Skills Challenge, known as the dribbling competition among those who have had the misfortune of covering it. MaximBet has Team Rooks (Scottie Barnes, Cade Cunningham and Josh Giddey) heavily favored (-155) over Team Cavs (Jarrett Allen, Darius Garland and Evan Mobley at +250) and Team Antetokounmpo (Giannis and brothers Thanasis and Alex at +400).
May the odds be ever in your favor as you watch. The three events will be broadcast on TNT this Saturday, February 19, beginning with the Skills Challenge at 8 p.m. EST.
Ready for some basketball or golf or NCAA hoops action? Take advantage of MaximBet's massive welcome offer that puts a 100% bonus up to $1,000 back into your betting account after your first deposit. Sign up here today to maximize your sports betting experience with MaximBet.