MaximBet's Top 5 NFL Picks For Week 6
The best picks for Vikings/Dolphins, Panthers/Rams, Cardinals/Seahawks, and Cowboys/Eagles–plus a killer parlay bet.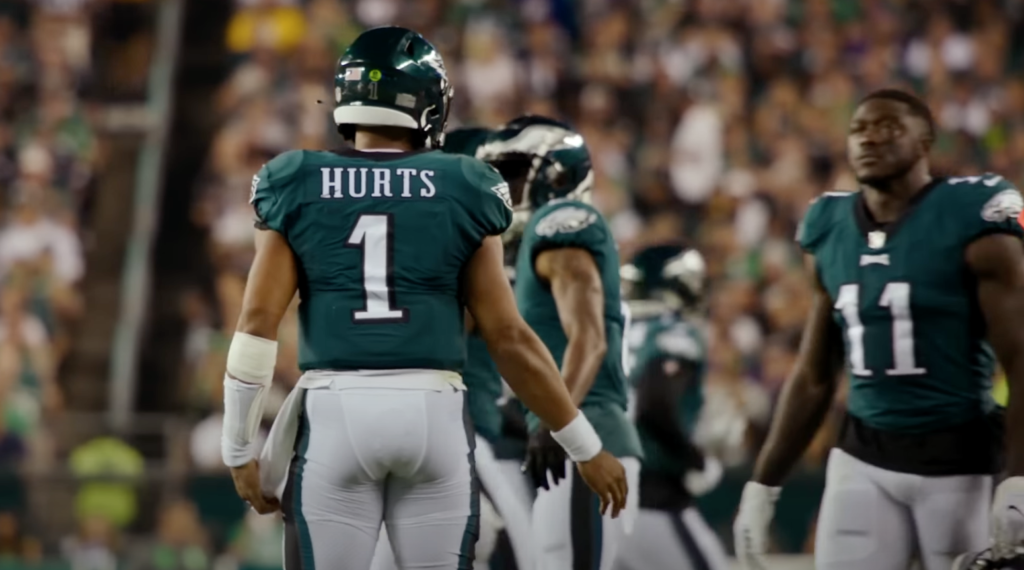 All I can say to all of us who made the smartest NFL futures bet of the preseason, congratulations. The Carolina Panthers jettisoned head coach Matt Rhule out the airlock this week and, in so doing, paid off the easiest bet of 2022.
There was no question that Rhule's days were numbered the minute the calendar flipped to this season. The fact that the big offseason move for him and the Panthers was bringing in Baker Mayfield made a sure bet even better and, frankly, we should all be arrested for stealing money.
We're coming off a great week ourselves here, hitting both the lock and the upset. That means we've got a wad of cash burning a hole in our MaximBet accounts. So let's peruse this weeks odds, lines and totals to make it fill up like Gisele's Instagram DMs.
Lock Of The Week
Minnesota Vikings (-3.5) At Miami Dolphins
You might need to jump on this one quick because the Dolphins, as of writing this, are looking at starting Skylar Thompson at quarterback. And, I know what you're thinking — isn't that the guy from the Pitch Perfect movies and the criminally underappreciated Ground Floor television sitcom? It's not. That's Skylar Astin. I Googled them both to be sure and Thompson apparently played football at Kansas a literal year before anyone cared they had a team.
Thompson has been forced into service as both Tua Tagovailoa and Teddy Bridgewater remain in the concussion protocol after the NFL was publicly shamed into taking it seriously once again.
Minnesota is 4-1, Kirk Cousins is packing the stat book. and this line is going to jump. Grab it while you can.
Take the Vikings at -3.5 or the moneyline at -192.
Worst Games Of The Week
Carolina Panthers At Los Angeles Rams (-10.5)
Arizona Cardinals (-2.5) At Seattle Seahawks
It's an NFC West-heavy worst games for the first time in this section's existence as every team in that division other than the San Francisco 49ers has forgotten how to play football. And the Niners can't even get cocky about it, because the only reason they don't suck too is their "starting" quarterback got hurt. They'd be 0-5 with Trey Lance.
As I mentioned earlier, Panthers head coach Matt Rhule was loaded up into the trebuchet and fired over the nearest castle wall, so Steve Wilks has taken over as interim coach. This is a significant upgrade for Carolina. Wilks was a head coach before, fired after just a single season with the Arizona Cardinals because the Bidwell family fell in love with Kliff Kingsbury's stubble beard. Baker Mayfield is out, but that just means Sam Darnold is starting, and the last time he faced off against the Rams, he led the New York Jets to a 23-20 victory in 2020. Meanwhile, Los Angeles has no offensive line at all and is basically attempting to talk opposing teams into implementing an honor system five-horse rush.
We all expected the Seahawks to be lackluster, but Geno Smith has outplayed not only his backup contract, but the guy he replaced, Russell Wilson. It's not mattered in the win column and doesn't help Geno so much as serve as an indictment of DangeRuss' food truck. Arizona can't close out a game because Kyler Murray watches film the same way I watch the Cardinals play—with a video game on in the background and the sound muted.
Take the Rams moneyline (not the spread!) at -500 and/or the Cardinals at -2.5.
A Shocking Upset Of The Philadelphia Eagles
The Eagles are the lone undefeated team left in the NFL and they've played like it, knocking off the Cardinals, a 2021 playoff team, and the Minnesota Vikings in Week 2. While they had one of the league's easiest schedules in the preseason, it's not worked out that way when the lights came on and they're still sitting there with a goose egg in the loss column.
I'm not sure they lose this one either, but Dallas is playing some of the best defense in the league. Cooper Rush isn't an elite talent at QB, but he doesn't make mistakes. They can run the ball and keep it close and maybe, if the ball bounces the right way, give Philly one more reason to hate Dallas.
Take the Cowboys at +6.5.
Drop $10 On A Four-Team Parlay
How can I lose when we the who's who's? Still runnin' 'round with Mohawk, jet ready, pack the Goyard. People probably think I show off. I ain't even give it yet because I need to collect on a nifty little four-game parlay.
While I'm not sure the Cowboys will win, we need to make sure we maximize our profits if they do. So, let's take their moneyline (+200) and use it as the foundation with which we will build our Scrooge McDuckian money bin.
With them, we're going to add the Jacksonville Jaguars (+100), the New England Patriots (+120) and the Kansas City Chiefs (+120).
Yes, the Jags looked like shit last week in a loss to the Houston Texans, but they're playing the Indianapolis Colts, a team that looks like a wicked witch brought the Pacific Garbage Gyre to life and taught it to throw interceptions.
The Patriots are playing the Cleveland Browns in the "Teams We All Hate Bowl" and, in spite of how much none of us ever want to see New England win a game again, we might as well make some money when they do.
Lastly, ignore any Chiefs-plus moneyline, even when they play the Buffalo Bills, at your own risk. This game is in Arrowhead and Patrick Mahomes has been playing the last two weeks like he's got all the cheat codes on.
A $10 winning parlay bet on these four teams pays $280.
Adam Greene is @TheFirstMan on Twitter
Get into the end zone with MaximBet's massive welcome offer that puts a 100% bonus up to $1,000 back into your betting account after your first deposit*. Sign up here today to maximize your sports betting experience with MaximBet.
*Offer only available to Colorado, USA residents. Terms & Conditions apply, see site for details. 21+ Only. Gamble responsibly. If you or someone you know has a gambling problem, call 1-800-522-4700.