Floyd Mayweather Vs. Conor McGregor 2 Will Happen in UFC Octagon With 'Modified Rules', Reports Say
This sounds more like a boxing match than an actual MMA fight.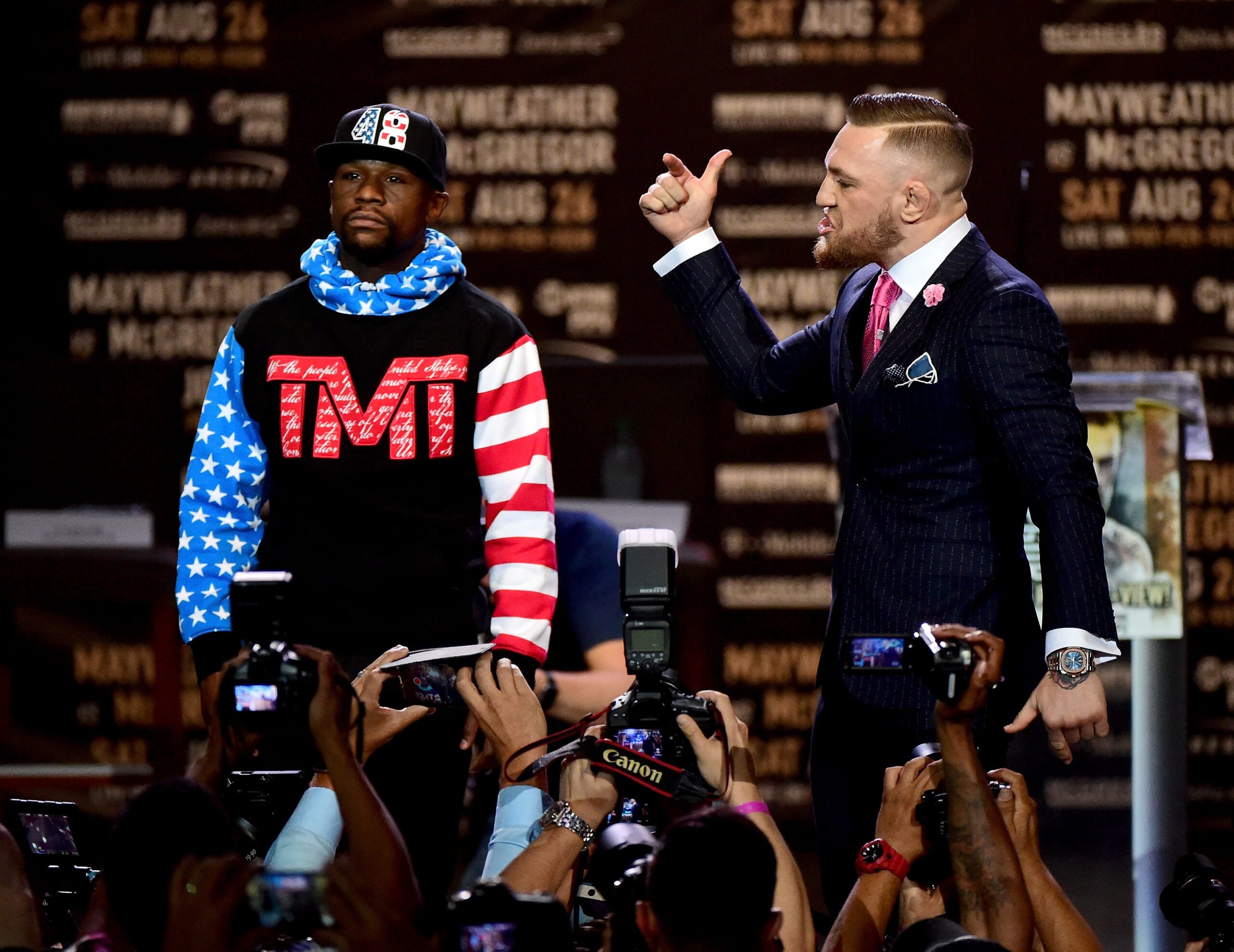 If the latest rumors about the buzzed-about rematch between Floyd Mayweather and Conor McGregor are to be believed, then the two most famous fighters in the world are poised to meet up in the Octagon. But the fight won't look like anything you're used to seeing in an eight-sided cage. 
According to Omar Al Raisi, editor of Dubai-based The Sports Journal, the fighters have agreed to a bout with a strict set of rules that ban kicks, take downs, knees and elbows. 
In another tweet, Al Raisi wrote that the fight will be co-promoted by Mayweather Promotions, UFC and McGregor Entertainment. After Al Raisi's report, former heavyweight boxing champ Lennox Lewis seemed to confirm it. 
So I'm hearing that @FloydMayweather and @TheNotoriousMMA will fight again in the octagon with modified rules! No kicks, no knees, no elbows, no takedowns? But isn't this just Boxing in the octagon? 😳

— Lennox Lewis, CBE, CM (@LennoxLewis) April 10, 2018
A separate report from CrisCyborg.com says that the UFC was set to announce McGregor's return to the cage in Brooklyn last weekend. Then he went on a rampage and created a mountain of trouble for himself. 
So the rematch between Mayweather and McGregor may be on hold while McGregor's legal situation is finalized. According to New York sentencing guidelines, he could face up to 11 years in prison for his two felony charges, but that seems unlikely. 
As Mayweather waits for his rival's legal troubles to disappear, he's just got to worry about staying alive. Early Monday morning, one of the boxer's bodyguards was shot outside of a ritzy hotel in suburban Atlanta, and police say it was no accident. 
"We believe that [the shooter] was familiar with the group of vehicles that he targeted," Atlanta Police Department spokesman D.T. Hannah said in a press conference. "The specific person [targeted] in that entourage or in that group of vehicles, we haven't been able to determine."
The shooting took place after everyone involved left a Waffle House, Hannah told reporters. After leaving the restaurant, Mayweather's entourage, which consisted of three SUVs, was driving back to the InterContinental Buckhead Atlanta when someone began shooting. The first SUV in the entourage took fire and a passenger was hit. Police believe Mayweather was in one of the other SUVs.
In the press conference, Hannah said police don't know who the shooter was targeting, but they think it was someone in one of those vehicles. Mayweather, once the world's highest-earning athlete who has been on the wrong side of plenty of crimes before, would seem the most obvious target. 
The bullets probably weren't meant for Greg La Rosa, a bodyguard of Mayweather's who was the only person shot. La Rosa, who has worked for Mayweather for years, was hit in his lower leg and not badly injured, APD said.
"I'm here for Floyd anytime he needs me. This is a very important job," La Rosa told FightHype in a 2015 interview in which he explained the crazy lifestyle of being a big time celebrity's bodyguard. "There's a bunch of us on here and we're there for Floyd 24/7. We need to be."
The APD doesn't yet know what led to the shooting, but they do know that there's a chance that the beef started at Waffle House, where Mayweather pumped some money into the jukebox earlier in the night, and was even seeing dancing to a song by The Weeknd.
Prior to his impromptu Waffle House after-party, Mayweather was the VIP host at Medusa nightclub in Atlanta. 
https://www.instagram.com/p/BhUhYrzHmE_