Mayweather vs. McGregor Ends in a Technical Knockout as Floyd Mayweather Defeats Conor McGregor in 10 Rounds
Was it worth the hype?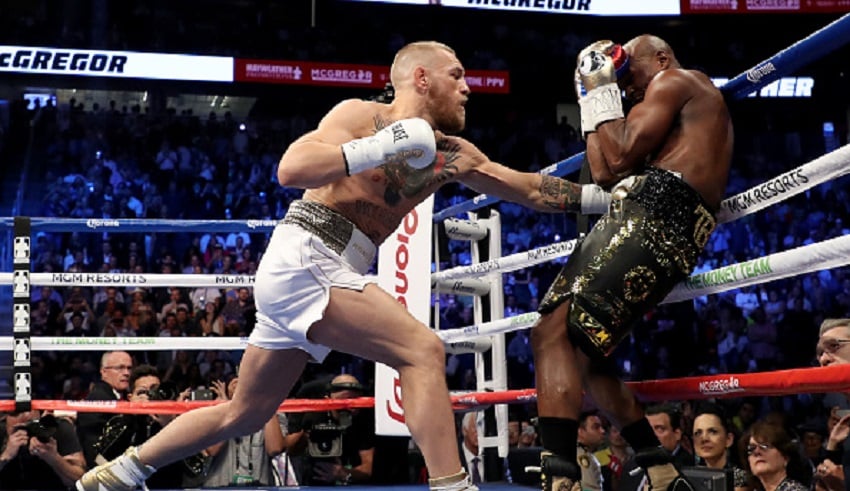 We never thought it'd happen in the first place. But after all the talk and ridiculous press conference shenanigans, Mayweather vs. McGregor went down in Vegas Saturday night, and the result was a technical knockout, with Floyd Mayweather coming out of retirement and beating Conor McGregor in 10 rounds. 
Megastar singer Demi Lovato took on the national anthem and then Dwayne "The Rock" Johnson did the voice-over, setting up a truly epic clash between boxing and mixed martial arts. Floyd Mayweather was an undefeated symbol of "the sweet science," Conor McGregor the wily, trash-talking avatar of MMA, a sport that only held its first sanctioned, legal event in 1996. 
Anyone who knew either fighter and their specialties was sure it would be a fight for the ages. Critics thought it was a mere circus, a cash grab for both sides—and that's a question people might continue asking in the future.
Either way, when Mayweather and McGregor finally hit the ring, it was clear neither fighter was phoning it in. 
McGregor entered T-Mobile Arena in classically Notorious style, his swag walk turned up to 11. Mayweather followed in theatrical fashion, wearing a gold-trimmed robe and mask, embracing the boxing version of the heel. 
At the first bell, McGregor was on total offense and Mayweather was wary, seeming to lay back and let the Irishman wear himself out. McGregor had him on the ropes immediately but Mayweather was too experienced to fall for a flurry. He guarded and tried to evaluate what he was up against. If anything, McGregor looked dominant in round 1.
Round 2 saw McGregor continue on offense, but Mayweather didn't look intimidated so much as careful and calculating. The fighters grappled more than in the previous round, and at one point McGregor looked like he might have forgotten he wasn't in the octagon. 
In round 3 McGregor continued to shock Mayweather fans, his program one of pure aggression. Mayweather was much more ready to engage, however, and even seemed to be enjoying the match at one point, almost as if he respected the Irishman's stamina and strategy. 
Floyd Mayweather was clearly warmed up by round 4. He landed more blows and was more aggressive, but at the same time it was obvious that Conor McGregor was presenting more of a challenge than many in the boxing world may have expected. 
Round 5 was perhaps a surprise to both fighters. Mayweather seemed to decide it was time to go on offense, but the persistence of McGregor's all punch and no block approach seemed to continue working in the MMA superstar's favor. McGregor was utterly controlling the pace of the match at this point. Mayweather seemed pissed by the time the bell rang and gave McGregor a shove for good measure.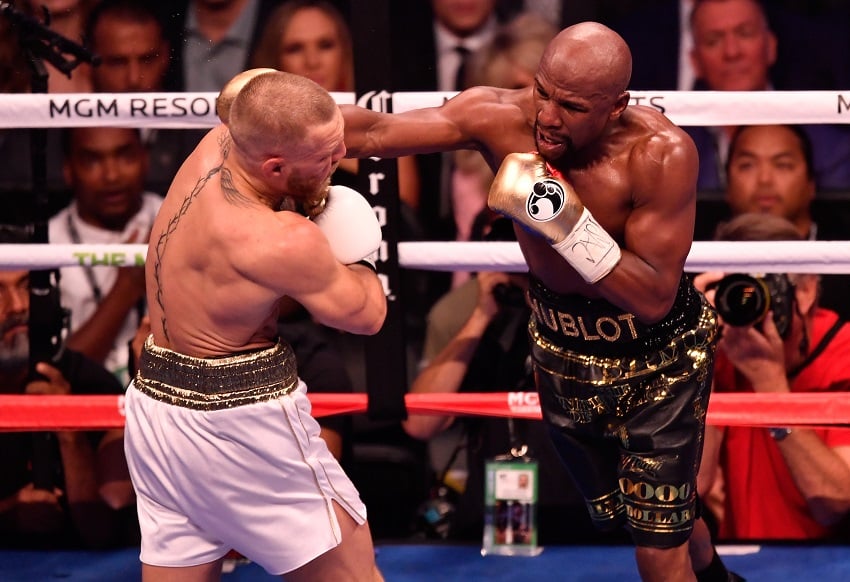 In the following round, things began to get messy. Mayweather appeared frustrated, possibly angry, but if he was, it worked in his favor. He landed a number of solid blows, taking advantage of McGregor's seeming refusal to block. Still, it was clear just before the bell that the UFC champ's cockiness was totally intact.
In round 7 McGregor appeared to be flagging at some points. He'd spent so much time on offense that Mayweather had begun to build a plan and he worked to put it into action.
In round 8 McGregor came out of his corner seeming renewed, but Mayweather continued with a calculating approach, landing harder punches when he chose to close in. This was the round where the age difference between the fighters was the most apparent—Mayweather coming at his opponent with a measured approach, trying for accuracy over impact, McGregor lighter on his feet again, with possibly some energy in reserve, but not hitting nearly as hard.
https://twitter.com/askyourself316/status/901667869867380737
Round 9 both men dialed up the intensity. McGregor seemed to loosen and grow tired again, and Mayweather pounced. He landed several crushing blows that rocked McGregor, hard. McGregor tried to go in for the clench to slow the pace, but Mayweather was relentless. He looked like a man who'd just been biding his time.  
In round 10 Mayweather was utterly dominant. The fight was stopped, McGregor on the ropes, and it was over. 
https://twitter.com/StarEverAfter/status/901672272389214208
"We gave the fans what they wanted to see," Mayweather said after the match. Of McGregor, he said the UFC champ was "much better than I thought he was." He also made it clear that his "game plan" was to let McGregor tire himself out all along.
And Mayweather said he was done, this time for real: "This was my last fight, ladies and gentlemen." 
Conor McGregor, in the end, put in a much more respectable fight than many in the boxing world probably expected. He was shockingly well-matched against Mayweather, and made the undefeated champ work for his 50th victory.