McLaren F1 Racer Daniel Ricciardo On 'Drive To Survive' Popularity, Max Verstappen Relationship & His New Wine Brand
"The race car is obviously a weapon. I love it, but it's also dangerous."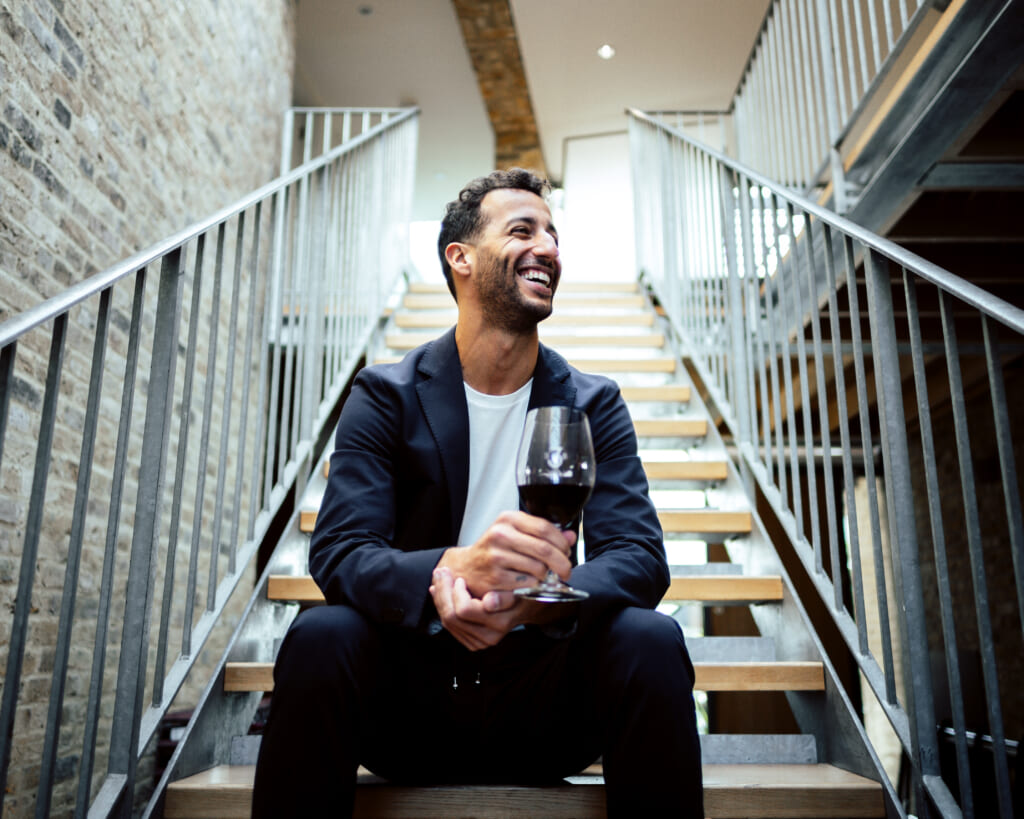 The Monaco Grand Prix, 2014. We're milling about on Red Bull Racing's boat on the sparkling Mediterranean when a fresh faced Daniel Ricciardo strolls in, beaming with an amicability that's impossible to dislike.
Needless to say at this point Sebastian Vettel is the big dog in the RBR paddock, having come fresh off four straight years claiming the F1 Driver's Championship and earning his team the Constructors Championship — and arguably staking claim to Best Driver on the Planet. But what impresses most on this glorious summer day is Ricciardo's authenticity, and perhaps even shyness that makes you worry if he's indeed ready for the brutal F1 gauntlet — famously the most ruthless, superlative, demanding category in all motorsport.
One wondered then would his humility and sincerity be his downfall in an asphalt Serengeti crawling with apex predators? Turns out that worry was unfounded as Ricciardo finished third overall that year in the Driver's Championship, notching his first three Formula One wins in Canada, Hungary, and Spa, more than proving his mettle.
Now, eight seasons later, Daniel has earned a reputation as one of the fastest drivers in all F1 — while somehow retaining that unpretentiousness and quick wit that continue to make him a fan favorite and among the most-liked drivers on the grid.
In that span Ricciardo's captured plenty of glories, notching eight checkered flags and 32 podiums — while also suffering his fair share of bruises, such finishing behind his younger McLaren Racing teammate Lando Norris last season.
We spoke with "The Honey Badger" twice — once as he began prepping for the 2022 season, and then just after the inaugural Miami Grand Prix in May. As open and good-natured as ever, Ricciardo discussed his storied career, a somewhat disappointing 2021, his work with Thorne supplements, his new line of DR3 x St Hugo wine, and lastly what he hopes to accomplish in this new season. 
As the Honey Badger you're very tough on the track, but how do you balance that edge with maintaining amicability and positive energy in the Paddock?

I think it's very natural. I'm just a pretty easy going guy, to carry that intensity throughout the whole weekend I'm just going to burn energy unnecessarily. It helps to just be me, have fun with it, try to soak up the weekend, the atmosphere and still try to joke around if I can.
But then I think there's always been something pretty symbolic about… for me the race car is obviously a weapon. I love it, but it's also a weapon and it's dangerous. I've always respected the vehicle. I think the symbolism of like putting the helmet on — not only is the helmet a reminder of the dangers involved, but it's also a time to put your earplugs in and just shut out all the rest. So it automatically just zones me in to the place I need to be; I get into that competitive mode.
But I've thought about it and especially when I got to F1, I was like, Man, should I try to be just intense all the time? I didn't want to talk to drivers. I didn't want to give them an inch and show any weakness. I was like, "I don't want any friends," and you run through all this stuff, but it just wasn't natural to me. I think I'd probably lose out if I was trying to just be too tough off track.
In 2014 you were the new pup on the block. Now seven years later you've gone through a couple teams, you're a seasoned vet. Let's just talk about last season.
It was the most challenging year of my career. I think because I'm a bit of a veteran now you don't expect to struggle, to have one of your toughest years when you're well into the depth of your career. So maybe that was a bit of a subconscious mistake on my part to always just expect too much of myself.

So when I was struggling I was quite taken aback by it and certainly confused, frustrated. I was a bit down and lost. But then to overcome a lot of that and get the win in Monza [Italy], it made everything okay. I learned a lot about myself through the lows, and some days for sure I was like, "I'm done with this. I hate racing." But then a day would pass and I would be training as hard as I ever have in the gym because it lit the fire again. So just trying to learn really how much it meant to me and just to keep persisting. Nothing earned is easy.
And it's also difficult to accept because for most of my career I was used to being one of the best guys on the grid or the top guy on the teams. So to not be that for a good month or something, it definitely makes you question, "Man, what's going on? Do I still have it?" You get some of those doubts creep in a little bit.
It's also tough because with Netflix's Drive To Survive it's all there for everyone to see. Especially in America where before F1 was a secondary or even tertiary sport, the show has absolutely exploded its popularity. Do you watch it?
Firstly, I watch it once through because I'm definitely curious how it's portrayed to the general public. I'm also curious to see if it's 100% authentic or if it's a little bit edited [laughs]. I do enjoy watching it, but I try to remove myself. I try to view it as a fan, which obviously isn't easy to do because I'm seeing myself a lot of the time.

Ultimately I think the show has been really good for the sport. And look, obviously we don't race F1 to be famous, but it has given us so much exposure. I think ultimately fame aside it's a sport I've loved my whole life. When I was at school I would wake up early hours in the morning to watch F1 — I had no one to talk to about the race because no one even really knew what F1 was. So to show the sport that I've loved my whole life to a wider audience is cool because it's like introducing more of the world to something that I've been in love with.

What's the vibe from drivers when Netflix comes around? Is it like these guys are interlopers in the Paddock, or is it more, "Oh cool, I get to tell my story today?"

I would say if I was to answer on behalf of the Formula 1 Paddock, there'll definitely be a bit of both. Because obviously they want to capture the moments and not all of those moments are good. So when there's a bit of controversy or there's a bit of heat, the last thing sometimes you want is to see a camera over your shoulder.

Even casual F1 fans know there's a very unique dynamic with teammates — some have gotten along, but others have loathed one another. Other than Lando Norris because he's your current teammate, who of all your past teammates was the one who either taught you the most, or influenced you positively?

When I think of teammates I definitely think of Max [Verstappen]. He's the first one that comes to mind because he's the longest teammate I've had in Formula 1. I think we pushed each other for better or worse, whether it was a heated rivalry or a respectful intensity we got the best out of each other. We both thrived off it.

And then I really enjoyed my year with Vettel in 2014. This was a four-time world champion who I was able to just observe. He had a way of getting what he wanted or getting a point across, which was sometimes intense or robust, but it was respected and taken on.

It wasn't like, "Fuck, this guy's complaining again!" or, "He's telling us how to do our job!" It was concise, to the point, but it would always end in, Let's do it together! There'd be some positive reinforcement, but with authority. It was obviously a world champion talking. It was also some German personality, German efficiency, if you will [Laughs].
Max winning the Driver's Championship was obviously a huge accomplishment. How do you balance between happiness for him, and maybe a tinge of, Why is it not me up there?

As you touched on, teammate is a very interesting term for it. That's what they are, but they're not really mates when you're teammates. So like with Max sure we had a rivalry, but I think we always respected each other. But there was a bit of a lid on our relationship as teammates, but when I then moved on from Red Bull and I felt like because we weren't directly competing with each other we were able to actually form a better relationship. I think we just really respected what it was and then we moved on and we were just a little more easier to get along with.

I definitely like Max as a person and really do rate him and like the way he goes about his business as well with racing. I was happy for him. I saw him after the race, gave him a hug and just said, "Congrats and I'm happy for you." And then I messaged him the next morning and I just said, "I hope you're alive." [Laughs] Because a few of my friends were there and I saw some videos, I know they'd celebrated with him after the race. I sent him a funny text and then we had a bit of a chat. And then I saw him the following day, because we were actually testing the new Pirelli tires for this upcoming season, and I gave him my congrats again.
Let's talk about recovery. How important is sleep for you?
It's definitely important period, but it's more obviously important the older I get and I guess the deeper I get into my career. I think everyone can relate — as a teenager 18, 20 years old, you can go out three, four nights in a row and bounce back and be completely fine. You can run off three hours sleep and just have plenty of energy to go the next few days.
But it doesn't work like that as you get older. And obviously doing this job, jet lag, time zones, just the intensity of the racing and the pressure and whatever that comes with it, your sleep becomes so much more important just to stay fresh. For sure to stay switched on, because we have to be switched on for our sport, if I'm stating the obvious. That's really important.
I know you work with Thorne, and their Wellness Report revealed that 66% of adults tried to improve sleep quality over the pandemic, but only half (31%) succeeded.
It can also affect your mood and just your overall motivation for the day ahead. I'm not one of these people who can sleep 12 hours if they could. I unfortunately don't sleep particularly long or deep, but that's where I've done some sleep test stuff. That's where I used a lot of the Thorne stuff for the magnesium. I have that before sleep.
And then just keep up, general vitamins, like the AM, the PM multivitamins and anything, whether it's even a bit of melatonin to help get on a time zone. I try not to also put too much pressure on it, because then you can also get in your own head. But I do certainly do some things to help adjust. Like I will base my supplement intake on how well I've slept — if I've had a bad night then I might dose up a little bit more and help out my immune system and stuff like that.
You just started a new wine project with St. Hugo, the DR3 x St Hugo collaboration. We love good spirits and wine, so let's talk about that for a second. Being Australian did you grow up with wine, or did the appreciation begin when you started living in Europe?

I grew up in Perth, two-to-three hours from a really big and wonderful wine region, Margaret River. It was probably even before that with just family. Italian background, since I was a kid I remember there's always wine on the table. My dad would make wine with his dad. It was kind of always around us growing up and we would always eat dinner as a family. It was just the Italian or the Mediterranean way for us to be really close together.
Once I moved to Europe, I went to Italy. Again, you'd see everyone drinking wine at dinner. I started to acquire a bit of a taste and appreciation for it. Now it's everywhere we travel — if I'm with my team or some friends it's like, "Okay, look through the wine list, pick a nice bottle." It's something to also remember the evening by or remember the trip by, or remember that place with that beautiful bottle of wine. It kind of goes with an experience.
I know the DR3 x St Hugo collab launched last year, but this is the first year it's available in the States. [Year 2 Vintage includes a 2018 Coonawarra Cabernet Sauvignon and 2020 South Australia Shiraz]. How did the relationship with St. Hugo begin?
Originally I think through COVID, talking to the team, probably drinking a little bit of wine as well. We got in touch with St Hugo and [St Hugo Chief Winemaker Peter Munro]. It was awesome. Barossa is an amazing region for wine. We obviously got talking and I was very fascinated in it and I wanted to learn more about it. Also personally, because me and my dad talk a lot, we're very close, but it's like racing is something we've always had in common. He loves motor cars, he loves it all. I was like, "Okay, if I could learn more about wine and even now try to educate him, it's another area for us to bond."

Have you brought him into the wine world at all?

I speak to him a lot about it, but because of COVID and the travel issues I've still yet to go to Barossa Valley. But the first time I go there, hopefully at the end of this season, I'm taking dad and I want him to learn as much as I do about it. Going to go stomp some grapes and do it all [laughs].
What's a great wine-related memory you have?

I really, really wanted to learn more about it, we were at Catch Steak in New York, and it was the first time I'd ever experienced a sommelier coming to the table and explaining the wine list. He just spoke for what felt like ages and the whole table, it was about eight of us, and we were all just mesmerized by this guy and his description. I was just like, "I want to be able to talk like that." It was very cool, and it was a way for us to all then try the wine. All eight of us were novices, we're not professionals at all in the wine industry, but we all then spoke. Each of us sipped it, spoke about it, what we tasted, what we felt and we would laugh, we would joke. It was a way for us all to connect. That was a really cool experience.
It's an incredible talent these sommeliers have, how they can taste ten wines and figure out what the grape is. I can educate my palate all I want, I don't think I'll ever be that good at it.

It's absolutely a talent. Obviously I don't have that expertise as they do, but I feel like I can relate because when I'm talking about the car, when we go back to our debrief after the session with our engineer, I break down every corner to every detail. It's funny, when I heard this guy speak that night it was the same but in his world. He was breaking down every part of that grape. For me it was like me breaking down every part of the lap. The attention to detail is kind of similar.
How are you feeling so far about this F1 season so far?

I feel good about the cars in terms of the racing. I feel we're able to race closer and a there's a little bit more side-by-side stuff, a little bit more touching. I feel like it's a bit more intense the racing, which is cool. Obviously personally as a team, we've still got unfortunately a bit of work to do. I wish we were obviously fighting for wins already. We're still a bit off that, but let's say the way Formula 1's gone with the new regulation…I think it's cool.
The one specific thing you mentioned to me about last season was that your type of driving style didn't really match with the McLaren car and you were having a really hard time acclimating to the it. Why do you vibe with one car better than another car?

Yeah, it's tricky. It's something I'd never really experienced before. Every team I'd race for, it takes maybe a little bit of time to get on top of it. Then after a while you're like, "Okay, I've got it figured out." But last year was just something was not quite clicking a lot of the time. I don't play golf but I imagine in terms of driving, if your club has too much flex for your type of swing, you just won't get on with it. You'll always maybe hook it or spray it or just the feeling's not there. It's just an internal feeling, I can't really point the car where I want and get on the throttle. It's just kind of a feel. For us, it's the seat of the pants and it's a little unpredictable.
Will those issues continue this season?

It's funny, I'd say this season's actually been better. On paper it still doesn't look better, but I'm definitely gelling more with it. I'm still trying to get completely there with it. I think some tracks will probably be able to get on top, but it's not something every session I get out the car and I'm like, "Yeah, this is sweet." There's still a little bit of a working out process.
Looking back at your career midway through this season, what's been your proudest moment on the track?

At the time it was the win in Monaco. Because two years before that, it really did get taken from me with the really slow pit stop and obviously out of my control. And these things also happen in racing, but I just felt really robbed that day. I questioned if I would ever get that chance again to win Monaco. So to finally win that, I was very, very proud and happy.

I didn't think it would be topped, because the magnitude of that was so big. But after how last year was going it was really the first time in my career I ever had moments of self-doubt. So to overcome those struggles and to then win Monza, first year with a new team, and when no one expected me to do it, all of that, I would say that then made Monza my proudest moment.
Follow our Contributing Spirits Editor on Instagram at @nickstecher and @boozeoftheday.