It Looks Like Mia Khalifa Is a Good Luck Charm For Deshaun Watson
Watson got his first NFL start after hanging with the ex-porn star.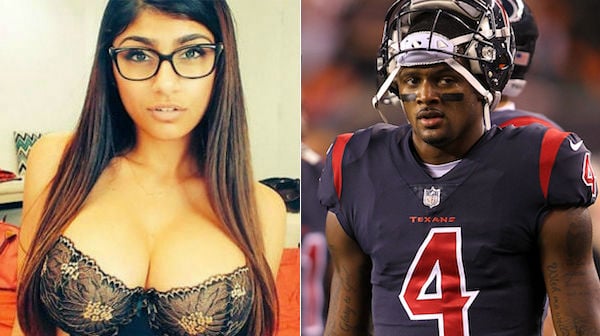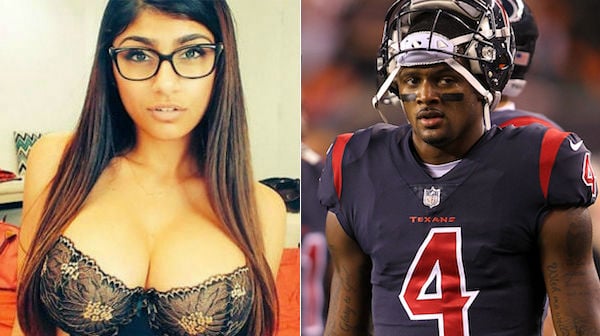 On Thursday morning, hours before Houston Texans rookie quarterback Deshaun Watson would make his first career NFL start, an ominous sign appeared on the Instagram page of former porn star Mia Khalifa. 
It was video of her and Watson playing over-the-door basketball and looking mighty friendly. 
This is the kind of thing that can spook sports fans, who think women hold some kind of mystical power of corruption. Plenty of them flipped out, despite Khalifa's assurance that they're just friends. 
If you're Deshaun Watson, why are you hanging with Mia Khalifa? The #Texans are writing the book on "bad looks," leading with their play.

— Marc Ryan (@MarcRyanOnAir) September 14, 2017
Ive lost all respect for Deshaun Watson. Just another kid in the NFL. Instead of focusing on the work he playing with porn stars. Lil kid.

— Dave (@goodlookinmonky) September 15, 2017
Why is Deshaun Watson hangin with Mia Khalifa 😭😭 all bad…

— Baby Moses (@JustinHDavidson) September 14, 2017
The haters were wrong, because Watson was a revelation for the Texans on Thursday night. After coming into the season as the team's backup and getting inserted into the first game, Watson started game two under center for the Texans. 
The number 12 pick in last year's draft threw for 125 yards and rushed for another 67, an all-time QB rushing record for the Texans.
In the waning moments of the first half, with the score knotted up at 3, Watson also broke off a 49-yard touchdown run that showed the type of dynamic, dual-threat talent he is.
https://www.youtube.com/watch?v=KFHCAXH919Y
"It was insane," teammate Christian Covington said. "That's why he is who he is. The whole sideline went crazy. That was a game-sealing touchdown right there."
Sure, the 22-year-old had some moments where he looked like a rookie in his first career start, but he led his team to a win. That's a great place to start. As for the other stuff, there's time to improve and his new good luck charm will not doubt be down to help him. 
Watson just has to make sure he doesn't cross Khalifa—she has never been afraid to come after a dude who got on her bad side.