Michael Bisping: 'I Will Knock Brock Lesnar Out With One Punch'
The UFC middleweight champ has declared war on the PED-loving heavyweight.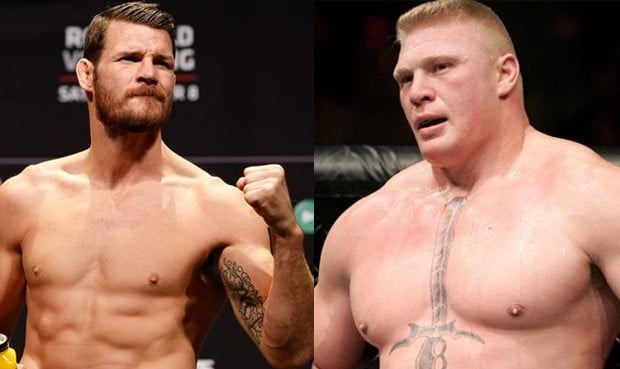 Looks like Michael Bisping and Brock Lesnar won't be hanging out together at any UFC after-parties anytime soon.
Bisping, the current UFC middleweight champ who is an outspoken advocate for drug-testing, has fought at least six opponents who failed a drug test or used synthetic testosterone before it was banned. 
So its no surprise that he's pro-drug-testing and anti-Lesnar, who famously tested positive for a banned substance ahead of his fight at UFC 200 with Mark Hunt, and is now back battling in the WWE.
Bisping absolutely went off during a profanity-lace tirade when asked about Lesnar during a recent appearance on Ric Flair's podcast:
"How tough do you think Brock Lesnar is? Listen I respect any man that steps into the octagon because it takes balls. But if you have to go in there and take steroids to do it? Fuck you, you cocky son of a bitchh. Kiss my ass. I will knock Brock Lesnar out with one fucking punch. I will take him and throw him out of the octagon like the pussy that he is. Am I making myself clear? Fuck Brock Lesnar! Fuck steroids! Fuck all you fucking f—-ts that want to come in here and take steroids. Am I making myself clear? I apologize for using that word, I shouldn't have said that. But, steroids have destroyed the sport and anyone that takes them, kiss my ass."
"He's a big son of a bitch but as I said. Real men don't cheat in a real fight. In your world you have to look good, you have to be big and it's expected for the audience. You guys good for you, good for you. In a real fight we shouldn't be cheating and taking steroids."
Dana White, can you set this brawl up already?