Watch the Milwaukee Brewers Recreate an Iconic Scene from 'The Sandlot'
The casting is great, and the acting is terrible.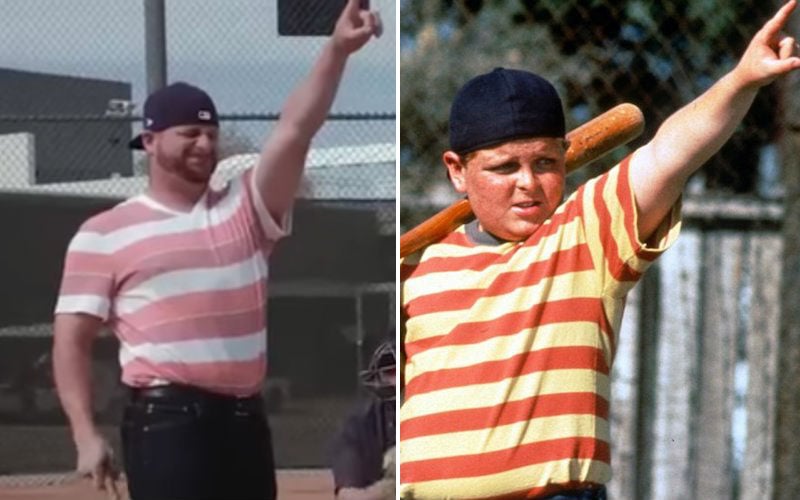 Spring training started nearly a month ago and baseball's opening day is still more than a week away. That's left veteran players with a lot of extra time on their hands, and a group of Milwaukee Brewers have put it to use in the best way possible. 
Over the weekend, the team released a shot-for-shot remake of their favorite scene from The Sandlot, one the most beloved baseball films of all-time.
Here's the original:
https://www.youtube.com/watch?v=D0a3jkcTAe4
Stephen Vogt, a portly ginger backstop, was an obvious choice for the role of Hamilton 'Ham' Porter. And while his stripped shirt isn't a perfect match with the one from the movie, it shows a commendable attention to detail. The casting of Eric Sogard as a Squints was also top notch. 
Also appearing in the clip are Jeremy Jeffress as pitcher Kenny Denunez, Christian Yelich as Benny Rodriguez and a bunch of other players you probably haven't heard of playing characters whose names you don't remeber. 
The video saves its best cameo for the end when Milwaukee icon Hank the Dog appears in the role of The Beast. 
A fluffy white ball of fur, Hank was a stray that wandered in to the Brewers the spring training facility in 2014. He was quickly adopted as an official team mascot and went to live with someone close to the team. He soon became hero to Brewers fans and was even briefly the subject of a bizarre conspiracy theory. 
Expect to see more tributes to The Sandlot in the coming weeks. The movie will mark its 25th anniversary next month, and there's only one way to celebrate: with s'mores.  
https://www.youtube.com/watch?v=XlddDZkkxCc