Watch the Most Brutal Knockout of the Year At UFC 244
The Rock gave winner Jorge Masvidal the BMF belt, but lightweight Kevin Lee won the night.
Josh Hedges/Zuffa LLC via Getty Images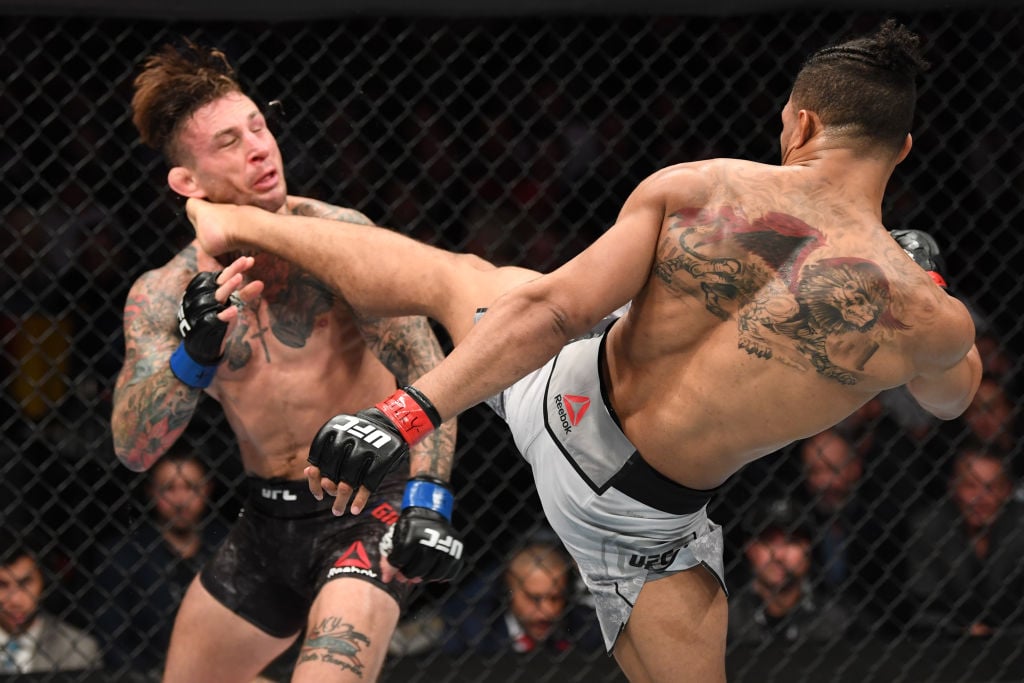 This was supposed to be about Dwayne "The Rock" Johnson handing out the BMF belt to the winner of UFC 244's main event, Jorge Masvidal vs. Nate Diaz–and we'll get there. 
But Kevin Lee, in a lightweight undercard bout with Gregor Gillespie, delivered one of the most stunningly brutal knockouts seen in any mixed martial arts match this year. Two looks at the kick–the second in excruciating slow-motion–below only serve to make you wonder how the hell Gillespie recovered from this at all.
Lee, a.k.a. "The Motown Phenom," presented Gillespie with his first loss as a pro fighter in addition to that headache. 
Gillespie was eventually able to leave the octagon on his own two feet, but he'll be feeling that for a while. 
As for the main event, Masvidal vs. Diaz, Jorge Masvidal was the man wearing the BMF belt at the end of the match–the ref called a TKO in round 3, as a cut over Diaz's eye was deemed too severe to allow him to keep fighting. 
Neither welterweight was truly satisfied with this outcome. It was anticlimactic, to say the least, given it was a big enough match to have not just The Rock but the President of the United States and his sons in attendance at ringside as well. 
Diaz was unhappy, saying after the match that he "was hyped" and "ready to go."
"I come in here to fight," he said, "It's not my fault the doctor stopped it. We'll run it back, though."
While Masvidal was clearly pleased to have an action superstar like The Rock wrapping the Bad Motherfucker belt around his waist, he agreed with his opponent. "I told Nate right now … let's run it back." said the winner, "I don't like to leave the ring like this with my opponent conscious."
UFC 244 wasn't the only big fight held Saturday night. Canelo Alvarez–the reigning middleweight champion of the world–faced off against Sergey Kovalev at the MGM Grand Arena in Las Vegas for a shot at the light heavyweight belt.
Kovalev had a size and reach advantage and he made Alvarez work for his victory, but in the end, Alvarez patiently waited for an opening and took it in the 11th round, flattening his opponent and gaining his fourth title. 
With that title, Alvarez makes a bid to become a true hall-of-famer. Writing for ESPN, Dan Rafael explains that Alvarez is just "the fourth former junior middleweight titleholder to also win a belt at light heavyweight, a spread of 21 pounds (154 to 175). The others — Sugar Ray Leonard, Thomas Hearns and Mike McCallum — are enshrined in the International Boxing Hall of Fame, where Alvarez surely will join them someday."
Alvarez, who is 29, knows he's a man of destiny. Speaking in his native Spanish after the match, he said, "This is just a step in my career, in my history."
"All I ask of you is to be patient," he continued, "because Canelo will make history. That's a guarantee."