Fearless Motorcycle Racers Hit 220 MPH Speeds At America's Ultimate MotoGP Contest
Inside the Red Bull Grand Prix of the Americas in Austin, the world's wildest motorcycle speedfest.
A flashing blur of color and a howling scream of thunder at 222 mph, and they're gone as quickly as they came. 
That's how fast the MotoGP riders shoot past on the straightaway at the Circuit of the Americas. That's faster than the average speed of a commercial jet airliner at takeoff. No seatbelts, no doors, no rollbars, just humans nimbly straddling two-wheeled rockets in the life or death contest that is the Formula One of motorcycles.
The Red Bull Grand Prix of the Americas in Austin, Texas is America's only MotoGP, or motorcycle grand prix, event. It's also the world's ultimate speed contest for motorcycles. Teams from around the globe representing most of the major manufacturers travel an international racing circuit through countries as diverse as Qatar and Indonesia to Argentina and Italy.
https://www.instagram.com/p/Bw-JjW7HEnn
All the greats are here – the riders like Marc Marquez, Valentino Rossi and Andrea Dovizioso, and the builders like Honda, Yamaha and Ducati. There is no event more prestigious on Earth for two-wheels than MotoGP, so it's a bit curious that the sport's crowds here in the US have noticeably thinned over the years. 
Despite this fact, the mood here in the Lone Star State is charged with excitement and there's a sense of anticipation and celebration in the air.
There's a lot of speculation as to why interest in MotoGP is waning in America. Logically, many argue, it's because motorcycles just aren't as popular here as they are in Europe.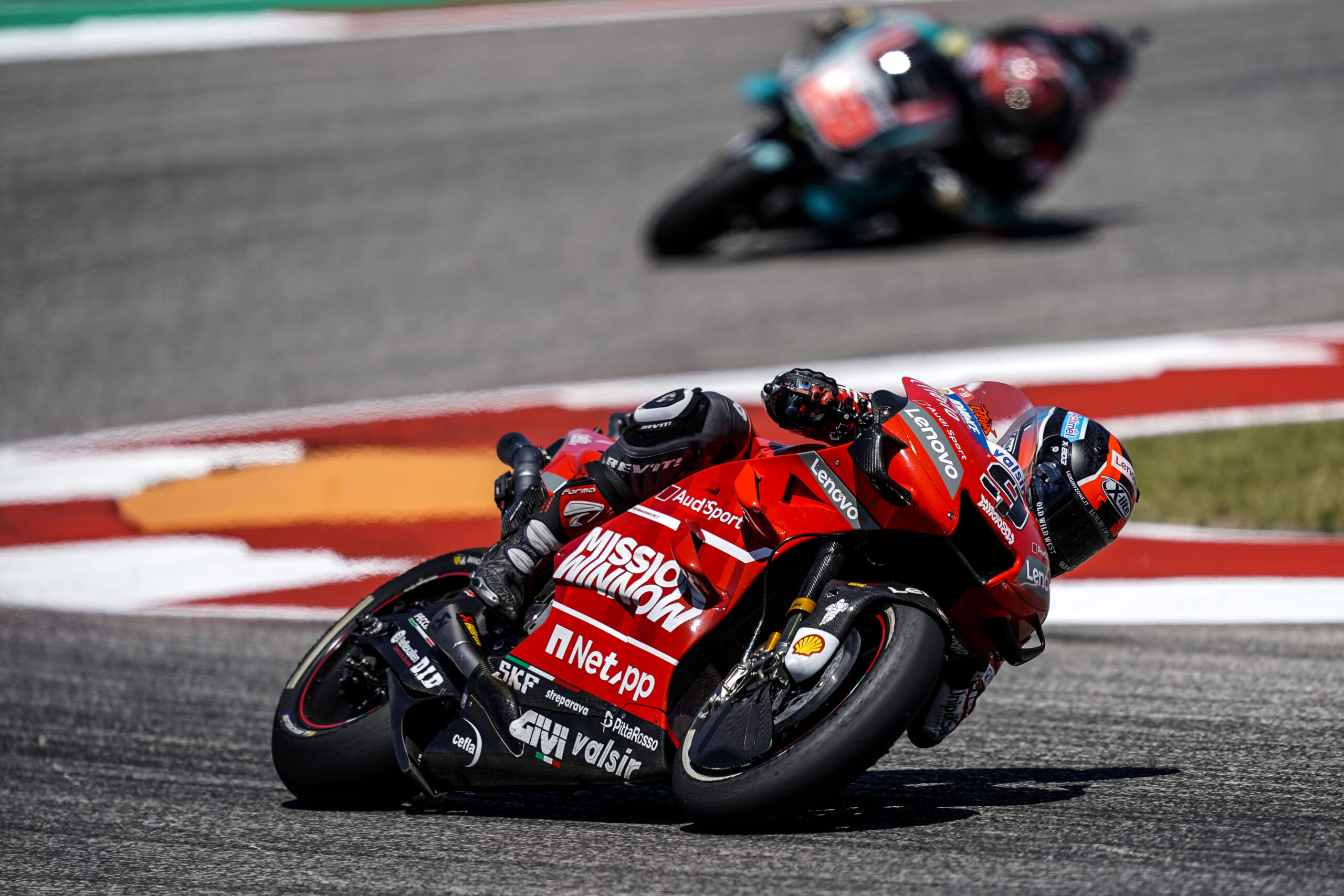 And the reason for that, it's thought, is because in Europe the distances are shorter, the roads narrower, the gas prices higher, insurance costs lower and, perhaps most important of all, teenagers in most EU countries must first get their driver's permit on a small capacity motorcycle (ie, scooter) before graduating to a car. 
All of these factors are believed to engender a greater demand and appreciation for two wheels.
Regardless of the cause, one only has to look to MotoGP's circuit in Europe compared to the rest of the world to know where the sport's popularity lies. Spain, for example, a country not too much bigger in area or population than the state of California, hosts four MotoGP races and has four riders currently in the Top Ten. 
In Europe, MotoGP reigns and Spain wears the crown.
https://www.instagram.com/p/BwR2cTSnpmo
Ducati, a leading fixture on the world racing stage, is regarded by many – especially its rabid legion of fans known as Ducatisti – as the Ferrari of motorcycles. Fast, sexy, expensive and mostly red, Ducatis are a lifestyle. 
For sure, they are a joy to ride, to look at, and to listen to, but perhaps more than their competitors these Italian machines represent an intangible and holistic passion for speed, sport and la dolce vita. 
And Ducati looms large here at the American GP. Their presence is front and center and involves a huge area known as Ducati Island, which offers free parking for fans arriving on Ducati bikes, a branded stage with concerts and presentations, demo rides for hopeful Ducati owners, hot Ducati girls (models scantily dressed in Ducati-logo attire) posing for pictures, and a hospitality area for Ducati VIPs.
As a guest of Ducati, I get the ultimate privilege of all-access to this fascinating world of high-dollar, high-powered racing.
https://www.instagram.com/p/BwQDhh0hsdQ
The track here is nearly three-and-a-half miles long with 20 turns. Interestingly, it runs counter-clockwise, which means more left-hand turns and supposedly places a greater physical demand on the F1 drivers who compete here, as their necks are more adapted to the lateral G-forces of clockwise tracks.
After surveying the track and its most famous bends, I'm allowed the very special opportunity of entering the Ducati team's garage. Like a CIA building, it's top secret: no phones or cameras allowed. All visitors must be pre-approved, have their name on a list, and be accompanied by a Ducati team staff member.
The reason for all this security is trade secrets and competitive advantage. It's here where the mechanics prep the bikes being raced and expose all the working components of what are some of the fastest, most advanced and most expensive motorcycles in the world. It feels as if I'm in a NASA workshop, but everyone is wearing red and speaking Italian.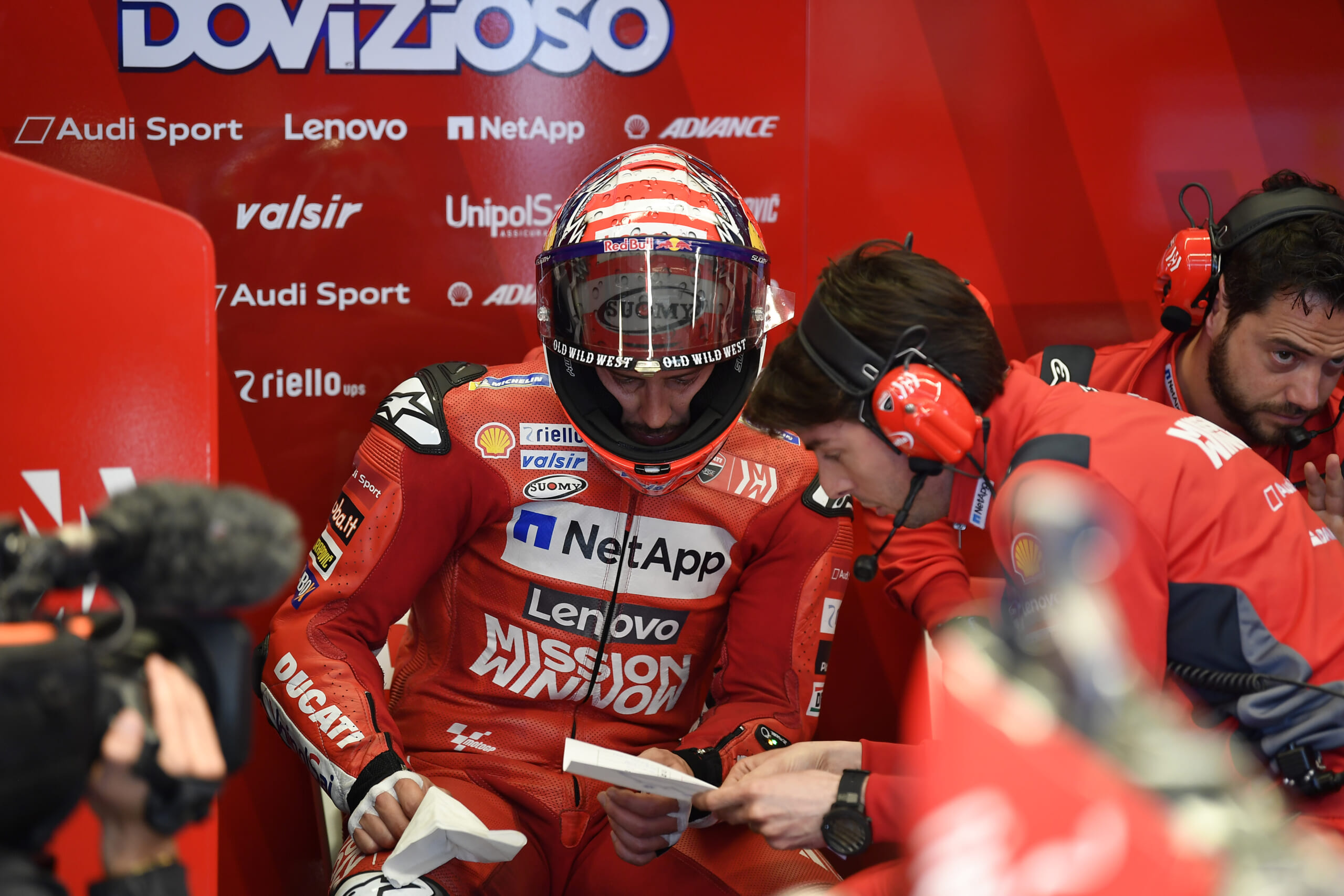 As I examine the bikes piloted by Dovizioso and Petrucci, I'm fascinated by how each machine is custom-designed for its rider. This means that the seat width, length and height, the gas tank design, and of course the handlebars and footpegs, to name a few aspects, are all built to the exact specifications of its particular pilot. 
And this says nothing of other hyper-tailored details involved in this elite competition, such as the data from each racer that's relayed from the track back to Ducati technicians so they can better tune the bikes or relay instructions in real time. This is, after all, the Formula One of motorcycles and the operation and execution is unbelievably state-of-the-art.
https://www.instagram.com/p/BwMOkgflyBk
Back at the Ducati VIP lounge, perfectly positioned parallel to the starting line, I wait with building anticipation as the riders go onto the track. Leaning against the rail with me are guys as diverse as actor Scoot McNairy (Narcos: Mexico, Argo, True Detective) and Claudio Domenicali, Ducati's CEO who flew in from Bologna – everyone of us giddy like a child. 
As the motorcycles are started and revved, the sound pierces to the bone and resembles a billion angry hornets. And then, with the wave of a flag, they're off, and the crowd roars with excitement!
They disappear around the first bend. The announcer tries to tell us that somewhere in the audience is a former World Champion and a famous British actor, but nobody cares. Everyone is fixated on Marquez, the reigning champ, and Rossi, who's close on his heels.
The race becomes a battle of epic proportions as Marquez crashes, Rossi assumes the lead, and then Rins, the upstart from Barcelona, catapults into first.
There, front and center, beneath the scorching sun, surrounded by screaming fans, deafened by the clamor, watching the combat and drama, the atmosphere pulses with energy and exhilaration. How this struggle for supremacy could be losing fans in America instead of gaining them is a mystery to me. It's one of the most exciting spectacles to ever witness.
In the end, Suzuki clinches the win, Yamaha grabs second, and Ducati takes third – failing to regain its hard-fought lead from the Qatar GP. But no one in the Ducati camp seems too upset. After all, a Ducati rider won a podium placement and, as most readily agree, this was one of the most thrilling races in memory.
There are still more than a dozen races around the world left to be contested in this year's MotoGP. Who will become champion is anyone's guess, but one thing is certain – tune in and you won't be disappointed.
Jared Zaugg—entrepreneur, author, consultant—can usually be found at the intersection of lifestyle, motoring and culture. Follow him on Instagram.