Motorcycle Racer Faces Lifetime Ban After Grabbing Rival's Brake at 140 MPH
Someone could have been killed.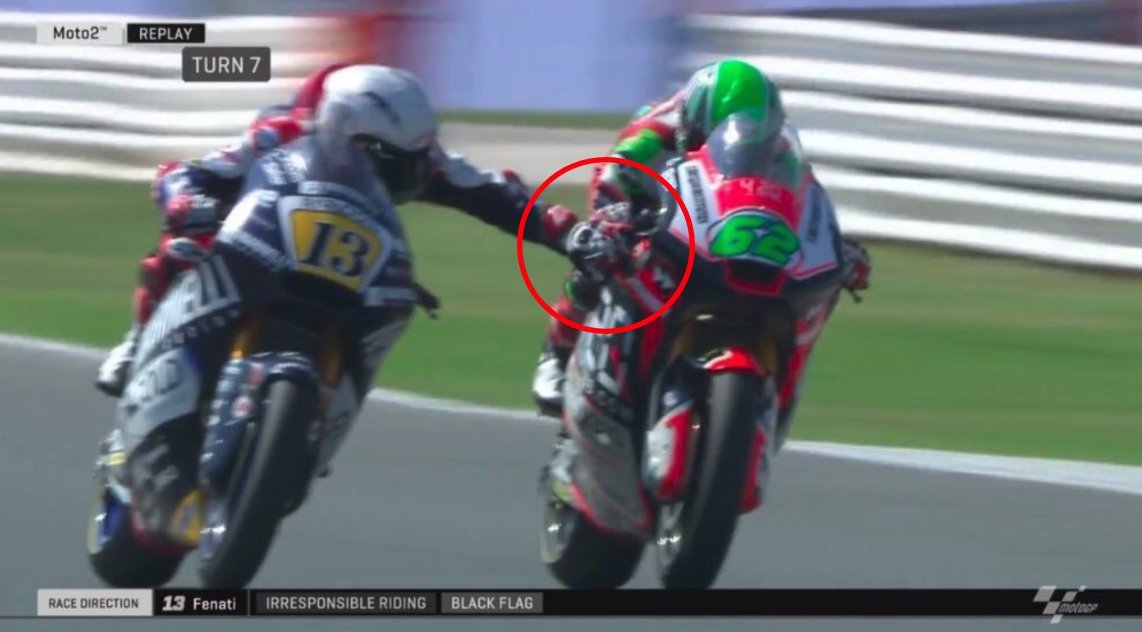 This guy deserves to be banned from motorcycle racing for life. 
Romano Fenati was fired by his Marinelli Snipers team following an absolutely insane incident where he grabbed rival racer Stefano Manzi's brake lever at 140 MPH during Sunday's Moto2 race in San Marino, Italy.
https://www.youtube.com/watch?v=asy6zupnqdk
His team made the firing announcement on Facebook Monday. 
"We can communicate that the Marinelli Snipers Team shall terminate the contract with the rider Romano Fenati, from now on, for his unsporting, dangerous and damaging conduct for the image of all," read the team statement. 
"With extreme regret, we have to note that his irresponsible act endangered the life of another rider and can't be apologised for in any way. The rider, from this moment, will not participate in any more races with the Marinelli Snipers team."
But it didn't end there. Fenati was supposed to race for for MV Agusta in Moto2 (kind of one step down from MotoGP) starting in 2019. 
On Monday, that company's president, Giovanni Castiglioni, shared a post on Instagram that said he'll do everything he can to stop Fenati from joining the team, calling it the "worst" and "saddest" thing he'd ever seen in a motorcycle race.
Road & Track points out it's not the first time Fenati has faced criticism for totally unsportsmanlike conduct on the track.
Fenati published a statement apologizing for his action, calling it "a disgraceful gesture" and stating that he's "always been a just rider" and has "never put someone else's life in jeopardy."

But longtime motorcycle racing fans will remember instances where Fenati punched and kicked at fellow racers at speed, including this incident from the Moto3 warm-up in Argentina in 2015 which culminated in Fenati reaching over and hitting the kill switch on Niklas Ajo's motorcycle, forcing him to withdraw from the warmup event:
Should this guy get yet another second chance, or should be be banned for life?