Nate Diaz Wants to Defend 'Baddest' Man In UFC Belt Against Jorge Masvidal
"Now we're fighting for the baddest motherf***er-in-the-game belt. And that's mine."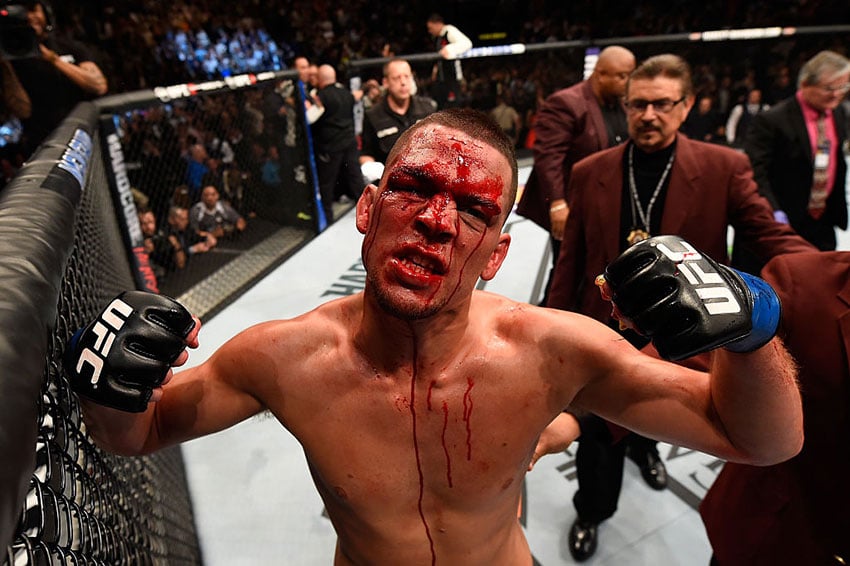 In Nate Diaz's mind, new UFC heavyweight champion Stipe Miocic wasn't the only man to walk out of Anaheim's Honda Center on Saturday night with a title. 
Following his dominant welterweight win over Anthony Pettis in UFC 241's co-main event, the Stockton, California-bred MMA veteran laid claim to the UFC's "baddest motherfucker belt" at the event's post-fight press conference. 
"You have to recognize who is the best in the game, and it's not who they're saying it is," Diaz said per Bloody Elbow. "It's who I'm saying it is. It's the guy who has been winning forever and is still on the top of the game.
"Pettis just knocked out [Steven] Thompson, who just fought for the 170 title a bunch of times. He fights Pettis and Pettis knocks his ass out real quick." 
Diaz went on to describe Jorge Masvidal as the other top contender in the welterweight division, citing Masvidal's record-setting, five-second knockout of Ben Askren at UFC 239. 
"Who's the real badass dude in the 170 division? They're trying to pump up this dude [Askren], and Masvidal goes in there and knocks his ass out. And he's been in here since I started fighting in 2004, I think." 
"I think he had been there a little longer, and he just did that (to Askren). And I just did that (to Pettis). So, that's the best fighter to me, the best martial artist who is still on top of the game."
"No one's showing any acknowledgement for being the best fighter in the world. Which I am, just like Masvidal. I'm the best martial artist," Diaz continued. 
"Now we're fighting for the baddest-motherfucker-in-the-game belt. And that's mine!"
"So I'd like to defend that against Jorge Masvidal, so if he wants to be the baddest motherfucker, that's how we gonna do it."
"I'm going to take what's mine," Diaz added. "That's what I'm talking about, the baddest motherfucker title. I need that belt made as soon as possible."
While Masvidal certainly seems to be on top of Diaz's list of potential opponents, he also briefly indicated that he'd be open to a trilogy fight with longtime rival Conor McGregor. 
The two first met at UFC 196 in 2016, when Diaz choked McGregor out late in the second round. The sequel at UFC 202 later that year went to a slim decision in favor of McGregor.
When asked about taking on the Irish UFC superstar a third time, Diaz said, "If that's something that works into the schedule. I'm gonna fight the baddest dudes at the biggest shows, that's what I want to do." 
"If it's up to everyone who is involved, if they want it, they're going to call me," he added per the U.K. Express. 
That implies that Diaz does consider McGregor to be one of the "baddest dudes" in the sport, or at least a fighter who's worthy of Diaz's time. Not to mention, McGregor-Diaz III would be extremely lucrative for all parties involved.  
But if anyone wants to officially become the welterweight class' leader—and not just the "baddest motherfucker"—they'll have to get through the current champion: Kamaru Usman.
If one thing's certain, it's that there's no shortage of exciting potential matchups in the UFC's totally stacked 170-pound division.