Nate Diaz Thinks Conor McGregor Would Totally Trash Floyd Mayweather in an MMA Matchup
Mayweather "would get mounted and laughed at, and slapped around."
Nate Diaz is the only UFC fighter who ever beat Conor McGregor. McGregor came back in a later match and reclaimed his dominance with a decisive win. If there's anyone who knows McGregor's strengths and weaknesses as a competitor, it might be Diaz. 
Surprisingly—given all the trash talk the men have traded—it sounds like when it comes to Mayweather vs. McGregor, Diaz is fundamentally team Conor. He gave an interview to TMZ sports (audio above) and it was pretty obvious he was getting sick of boxers taking verbal shots at his old enemy.
Diaz said boxers "are clowns sometimes" and that while he'd never claim MMA fighters punch better, "I'm like, don't be talking shit." 
He went on to mention how "all the boxers are criticizing Conor, like 'Conor will get embarrassed.'" 
Diaz said that was "arrogant" and continued, "Wanna know something that's even more embarrassing? Is if Floyd fought Conor in an MMA match, [that] would be more embarrassing than if Conor fought Floyd in a boxing match."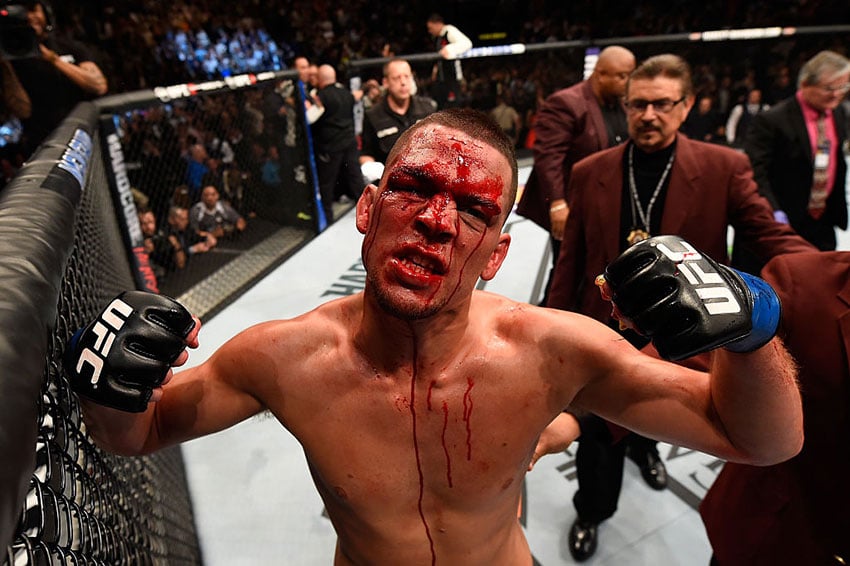 Mayweather, Diaz said, "would get mounted and laughed at, and slapped around." Then Conor McGregor would probably "smile at the crowd and wave."
Nate Diaz had some heat for disgruntled McGregor sparring partner Paulie Malignaggi, too. He wondered at the Irish UFC champ's choice in partners and said of Malignaggi: "I'd shove that guy in the gym and beat his ass if I was Conor, like, 'what you're going to put me on blast about what? You don't know shit…'"
Diaz's commentary seems to make it clear that some in the MMA world see McGregor as representing them in general. They might see a McGregor victory as legitimizing the sport in the eyes of the boxing world.
Mayweather and McGregor meet to see if it breaks down that way on August 26th in Las Vegas.
h/t Bloody Elbow