Giants Coach Ben McAdoo and GM Jerry Reese Fired Days After Benching Eli Manning
Finally, some good news for Giants fans.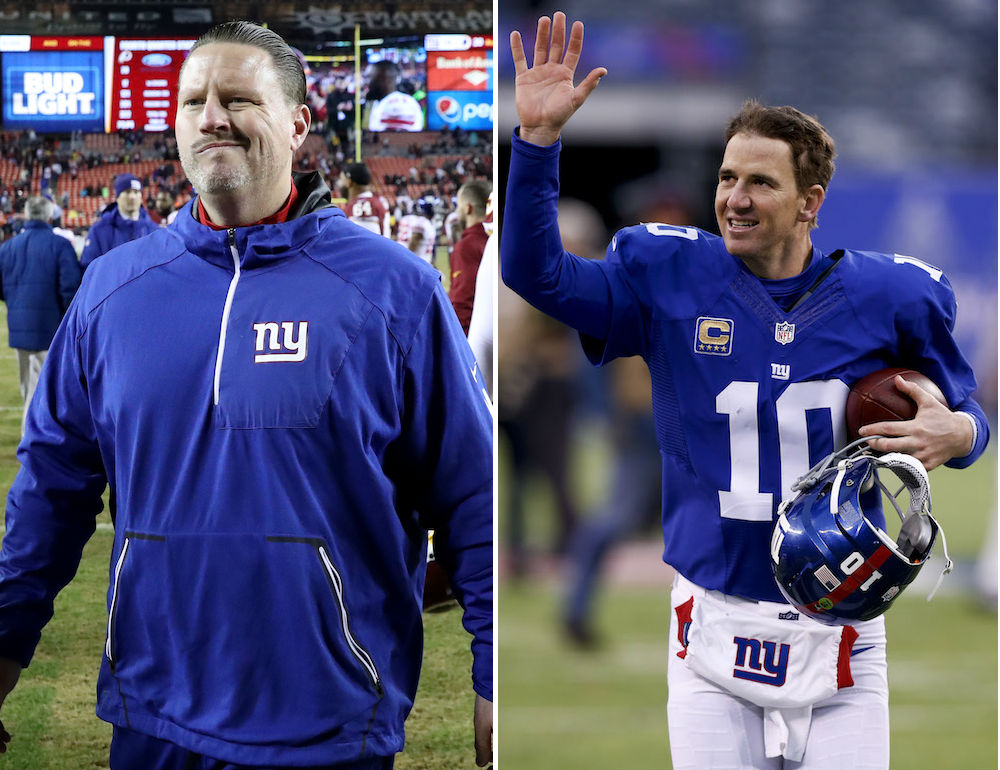 Last month, after the New York Giants jumped out to a 1-7 record to start the season, two players told ESPN that head coach Ben McAdoo had "lost this team."
On Sunday, after the team dropped its 10th game of the season, McAdoo lost his job. 
Ben McAdoo tells me he's been fired.

— Ian Rapoport (@RapSheet) December 4, 2017
No one was surprised. Three-quarters of the way through the season, the Giants are ready to pack it in and despite taking the team to the playoffs last year, McAdoo has made it clear that he's not the guy to lead the team back to glory. 
ESPN has a tidy summary of what went wrong for McAdoo, a goober known to motivate his team with viral videos, and General Manager Jerry Reese, who was also kicked to the curb Monday. 
It began with five losses to start the season. During that stretch, wide receiver Odell Beckham Jr. pretended to pee like a dog on the field after celebrating a touchdown. That left ownership "very unhappy," and was enough to put the heat on McAdoo, even after a promising first season.

But that was just the appetizer. It only got worse. McAdoo lost control of his team. He suspended veteran cornerback Dominique Rodgers-Cromartie for a violation of team rules prior to a Week 6 game against the Denver Broncos and then cornerback Janoris Jenkins for not returning on time following the team's bye week. Eli Apple was also benched this season.
The last straw for ownership was apparently the way McAdoo and Resse bungled the benching of Eli Manning, the longtime Giants quarterback who was unceremoniously demoted last week. Manning hasn't had a great year, but he's hardly the reason the Giants are 2-10. And many current and former teammates were quick to point out that after playing in every single game since his rookie year in 2004, Manning deserves much better.
Damn! Bench Eli? Man showed up every week for 14 years.

— Plaxico Burress (@plaxicoburress) November 28, 2017
https://twitter.com/OsiUmenyiora/status/935618435278671873
I'm absolutely speechless. I've watched every game & have sat through this rough @Giants season & this what you do to a man who has lead this team for 210 straight games

— David Diehl (@davediehl66) November 28, 2017
McAdoo explained that it wasn't Manning's performance that got him benched, so much as the need to get ready for next season. "You really can't look from my chair too far ahead, but you also have to look at getting some players some reps in the game," he said before Manning's benching was announced. "So we'll take a look and see if there are any players that we can give reps to that have a chance to be a part of our future."
There's some logic to the move—the Giants are done in 2017 so why no start preparing for 2018?— but it still didn't sit well with the Giants fans.
"There was so much anger and so many angry phone calls from angry season ticket holders, sponsors, different fans, that they actually sent a confidential email within the organization," Jay Glazer said on Fox NFL Sunday. "I got my hands on that email. It's an email demanding everybody not to talk about it, not to respond to emails or texts, because it could have ramifications legally and with sponsors."
The good news for those angry fans is that McAdoo is now gone and Manning will reportedly be under center next weekend. The bad news is that the team still sucks.