Why The NFL Crackdown on Celebrations Is Ruining the Season
For the love of God, just let Antonio Brown twerk.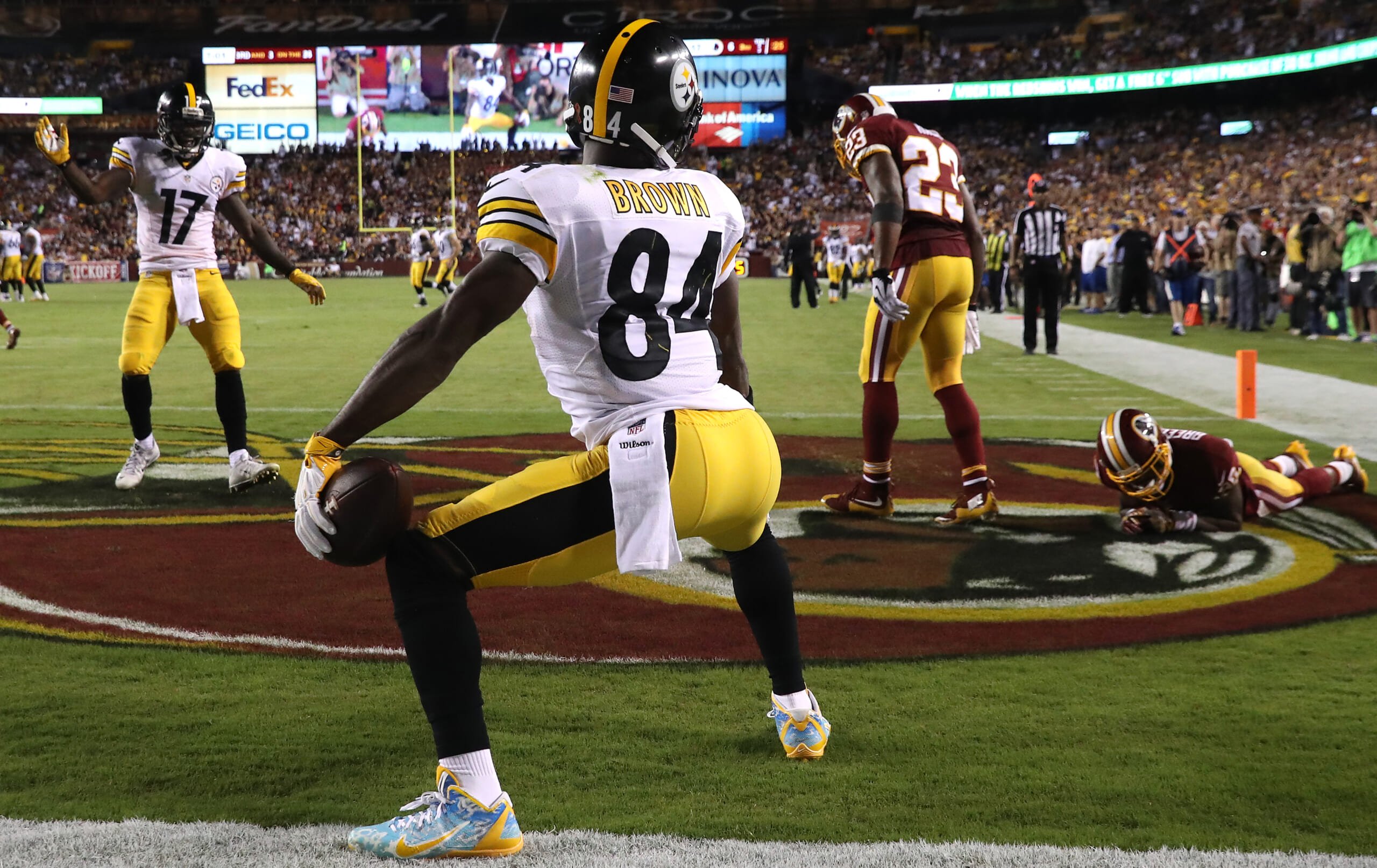 The NFL has chosen the wrong time to crack down on fun. But here we are, a third of a way through an astoundingly boring, low-rated season, and we're witnessing one of the most unrelenting crackdowns on celebrations in league history.
The most recent violator of the NFL's sacrosanct policy against creative displays of joy is Washington tight end Vernon Davis. The 11-year vet broke the league rule against using the football as a prop on Sunday by using it to shoot a jump shot through the uprights. The horror!
The New York Times reports that flags and fines for "excessive celebrations" are up this season after the league asked refs to make them a "point of emphasis." Why would Roger Goodell and his clown car of cronies do this? To crack down on animosity between the team the scored and the team that was scored upon. Wouldn't want football players doing anything dangerous during a game.
The NFL may be getting its wish here. It's certainly conceivable that there are fewer fights because players can't celebrate. But it's also drawing the ire of football fans around the country.
The entirely of Steelers nation, for example, rolled its eyes at the league for flagging Antonio Brown's expert twerking moves.
All of Niners nation reacted similarly when Carlos Hyde was flagged for taunting after flexing in the face of a pair of Cardinals.
" tml-embed-width="601″ tml-embed-height="338″ tml-render-layout="inline
Obviously the NFL's taunting and excessive celebration rules are bad, but they're made even worse by refs who see every action in black-and-white. Take this play, which resulted in a flag on Browns receiver Terrelle Pryor. 
He's clearly tossing the ball to the ref when it hits the Ravens corner. No matter. He was still punished as if he had fired at ball at the corner's head.
What the NFL is creating here is an atmosphere of drudgery around the game. This season has been boring and it's not just because of the play. It's because of rules that force refs to stamp down on fun just as it begins to seep into the action.

The result? A bunch of dudes who play like robots. 
Cody Kessler ➡️ Andrew Hawkins

— Cleveland Browns (@Browns) October 9, 2016