The NFL's Attempt to Fix Its Controversial Catch Rule Might Make Things Even Worse
The league is losing fans over this nonsense, and a new rule won't fix that.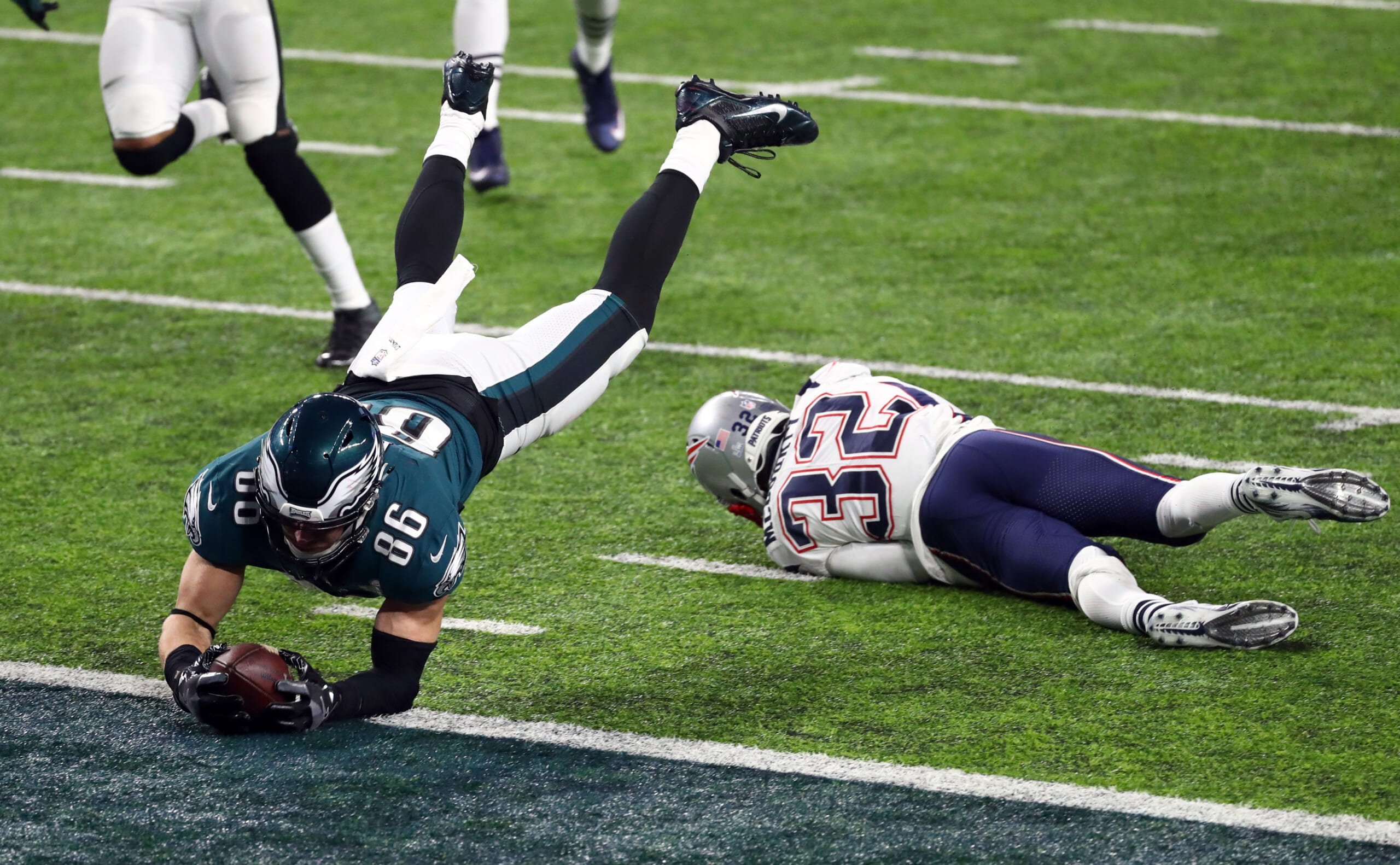 The NFL's confusing, inconsistently applied, fantastically stupid catch rule is getting a much needed overhaul this off-season. But there's a problem. The new rule might not be any better than the old one. 
The goal of the competition committee, which recommends rule changes that owners ultimately vote on, is to simplify the process of determining a catch. And the plan to accomplish that involves removing two parts of the current rule that lead to the most headaches, The Washington Post reports:
The new catch rule…will require only that a receiver have control of the football, and any slight movement of the football in the receiver's hands detected via replay review would not result in an incompletion.



The new rule will eliminate the requirement that a receiver who is in the process of going to the ground while making a catch must maintain control of the football while on the turf to be awarded a legal catch.
So how is catch determined under the new rules? It has to satisfy three criteria:
After much deliberation & input from coaches, players, @NFLLegends, & club executives, the @NFL Competition Committee will recommend the following language simplifying the catch rule at the Annual Meeting next week. pic.twitter.com/hJwH5YYBRK

— NFL Officiating (@NFLOfficiating) March 21, 2018
And as you read down that list you probably found the problem. "Or the ability to perform such an act," is way too vague. 
wow, they did absolutely nothing because nobody knows what "control" or "the ability to perform such an act" is https://t.co/usaAL9qKQ7

— Judge Jeudy Fan Club (@johnlelway) March 21, 2018
https://twitter.com/DrGMLaTulippe/status/976507153467895808
The biggest problem with the current catch rule is that it's too open to interpretation. That's what results in controversy. Some people see things one way, others see it the other way, and everyone gets whipped up into a frenzy. 
The NFL's new version of the catch rule looks unlikely to solve the issue—and that's a problem for the league. Because as much as people like to point to protesting players and brain injuries when trying to explain the waning popularity of the league, it's clear that over the past couple years the NFL has lost fans over this asinine rule too. 
This catch rule is making me hate this fucking sport.

— e (@stoner_em) February 5, 2018
https://twitter.com/controlledfury/status/945022362331774976
This "catch rule" 'ish that happens with the NFL… is one of the reason I can't watch this product they put out.

P.S.

Where's that "Tuck" rule in 2017? Yeah…I thought so.

— Prime Time JP SportsⓇ (@PrimeTimeJP21) December 24, 2017
I REFUSE TO WATCH ANOTHER NFL GAME UNTIL THE CATCH RULE CHANGES! @steelers GOT ROBBED SHSGSGWBSYAFSVSGS LUKE SKYWALKER DIES

— Mars (@_marsrivera) December 18, 2017