NFL Conference Championship Picks: Bengals Vs. Chiefs & 49ers Vs. Rams
Place your bets on Sunday's AFC and NFC championship games at MaximBet.
Our conference championships have a lot to live up to after the best weekend in football history.
Four of the teams that made the magic, all winning in the most exciting and gut-wrenching fashions, are still playing and both games are matchup nightmares — for the favored squads.
With just four weeks of some semblance of football remaining, there's still money to be made thanks to the NFL odds, lines and totals at MaximBet.
So, let's dig in and harness that chaos for good.
AFC Championship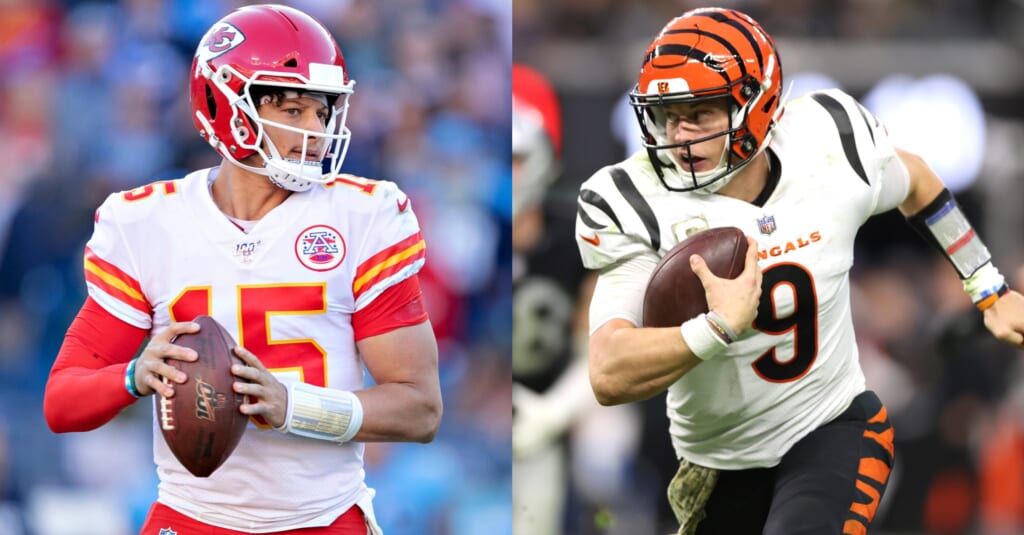 Cincinnati Bengals at Kansas City Chiefs (-7.5)
Over-Under: 54.5
Barely a month ago these same Bengals hosted these same Chiefs and beat them 34-31 at Paul Brown Stadium. It was very much a "Kansas City type of game," meaning whoever had the ball last was going to win.
This time, in defiance of Patrick Mahomes' deal with the football gods, it was Cincinnati that held the pigskin in the final seconds. As such, they won 34-31 as short underdogs.
While the Chiefs have shored up their saloon door defense in the second half of the season, they're hardly an elite unit. Luckily for them, they're facing the worst offensive line in the playoffs.
Last week, the Bengals O-line served as more as tape that runners break through at the end of a marathon, with Joe Burrow being awarded as the trophy.
Burrow was sacked nine times…in a win. Read that again and let it sink in. It ended up being an NFL record that I'm sure Burrow's body has recognized every day since.
The Bengals defense will be the best Kansas City has faced in the playoffs, but this is still the unit Mahomes put 31 on right after Christmas.
I think this game will be closer than people think. Expect the type of dog fight we've seen Cincy ground out previously in their playoff run.
Take the Bengals at +7.5 and/or the Chiefs moneyline at -330 and/or the under 54.5.
NFC Championship
San Francisco 49ers at Los Angeles Rams (-3.5)
Over-Under: 45.5
Sean McVay and the Rams' plan to go all in for a Super Bowl is a game away from coming to fruition. All that stands in his way is his own father!
Cure dramatic soap opera music.
Of all the times 49ers head coach Kyle Shanahan and McVay have sat across each other as Maury Povich unveils the results of their paternity test, the factors don't change.
Shanahan ends up dancing at the forefront of the stage while McVay runs into the back and collapses face-first on Maury's cryin' couch.
Shanahan is 7-3 against McVay as a head coach. Maybe more important than that, Shanahan's quarterback (whom he hates), Jimmy Garoppolo, has never lost to Los Angeles.
The Niners have mounted a Rams head on their way six consecutive times, including a 27-24 overtime victory in the final game of the season that got San Fran in the playoffs to begin with.
L.A. let it happen. In that game, the Rams led 17-3 at halftime and, up to that point, McVay had never lost a game in which he led at halftime. That streak came to an end that day.
So should San Francisco's six-gamer. As this is Game 3 between the teams this year, maybe the third time's the charm. Or seventh, as it were. It's time for McVay to breakdance on the Maury stage.
Take the Rams at -3.5 and/or the Rams moneyline at -180 and/or the over 45.5
Adam Greene is @TheFirstMan on Twitter.
Ready for some football action? Take advantage of MaximBet's massive welcome offer that puts a 100% bonus up to $1,000 back into your betting account after your first deposit. Sign up here today to maximize your sports betting experience with MaximBet.