Watch NFL Players Try Out Their MMA Moves on a Wildly Violent Sunday
There were shoves, punches, takedowns and ejections.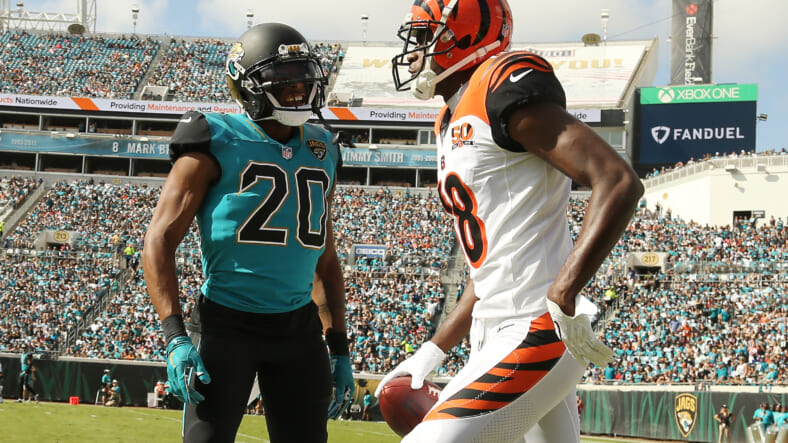 After five weeks of relatively tame behavior, NFL players got heated on Sunday. There were three big fights across the league, two ejections and one player who should have been booted but somehow avoided it. 
The action began right before halftime in Jacksonville, where Jags cornerback Jalen Ramsey had spent two quarters getting under the skin of Bengals receiver A.J. Green. After Ramsey shoved him to the ground at the end of a play, Green, who had all of six yards receiving, exploded in a fit of rage. 
His moves were impressive enough that even the UFC took notice. 
Green later explained that Ramsey, a well-known shit talker, had gotten into his head, but he also accepted responsibility for a poorly-timed GSP impression. 
"I know we can't fight on the field. He got under my skin and I can't let that happen. I've been the ultimate pro this long and I can't let little things like that get to me. I shouldn't have reacted that way, and I apologized to my teammates. That's not who I am. It just got the best of me today."
Mike Evans knows how Green feels. The Bucs wideout was similarly stifled Sunday before letting loose on Saints cornerback Marcus Lattimore. This fight began after Bucs quarterback Jameis Winston, who was on the sidelines at the time, jumped on to the field to poke Lattimore in the head. Lattimore turned around and pushed Winston, who was soon rescued by Evans. After hitting Lattimore like a torpedo, Evans showed off his best ground-and-pound. 
Remarkably, he wasn't ejected for this. 
The Sunday afternoon fight card was capped off by the 49ers and Cardinals, who engaged in a full-on melee after safety Antoine Bethea delivered a late hit 49ers quarterback C.J. Beathard as he was sliding at the end of a run. Beathard's lineman waddled into the scene to protect their QB and then all hell broke loose. 
The madness might not even be over. The Lions and Packers, two of the biggest rivals in the NFL, play on Monday Night Football tonight.