NFL Players Are No Longer Kneeling in Protest During the National Anthem
The few who did kneel heard about it from fans.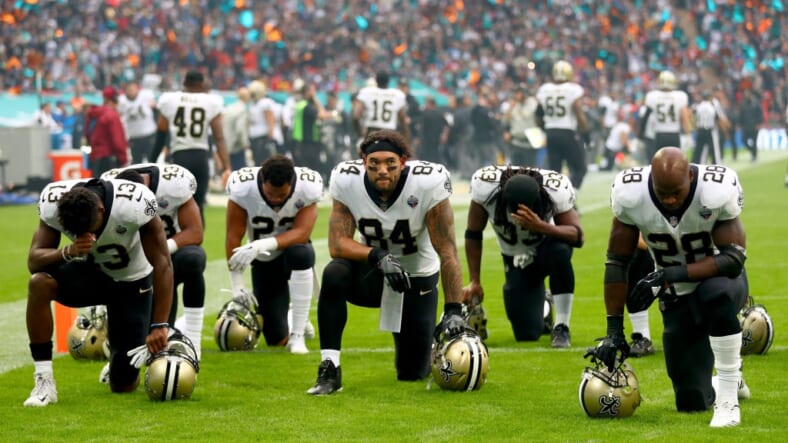 Getty Images
Either more team owners than we know of have laid down the law regarding players protesting racial injustice by kneeling during the anthem, or it's just not cool anymore.
We're going to make the easy guess it's the first choice, because many NFL games played Sunday were marked by a lack of controversy before the game even began.
Playing at Wembley Stadium in London, many of the New Orleans Saints did take a knee, and three of their opponents on the Miami Dolphins did as well.
However, as the New York Times reported, other NFL players took a subtle but time-honored tack to express their solidarity with victims of often racially-tinged police brutality:
The practice of locking arms on the sideline during the national anthem began with the Seattle Seahawks last season. They sought a unified way to respond to Colin Kaepernick's decision to kneel to raise awareness of police brutality and racism.

The Seahawks' decision to lock arms, a powerful symbol from the civil rights protests of the 1960s, was informed by the sociologist and social activist Harry Edwards, who spoke to the team last summer. Some players wanted to kneel as a team, but other players objected.

One player mentioned seeing the movie Selma, which portrayed the march in Alabama in 1965 when civil rights leaders locked arms as they walked. The idea of evoking the civil rights struggles inspired the team.

"We did think locking arms would show that," Seahawks wide receiver Doug Baldwin said this week. "I can't say that was solely the reason we did it, but I can definitely say it had an impact."
The Jacksonville Jaguars committed what some who support the symbolic action might consider cheating, taking the knee prior to the actual singing of the anthem.
Fans were even more vocal than they have been where players did take a knee. 
A few news organizations tweeted about instances of booing during more than one game:
Inevitably the protests—where they have occurred—have brought renewed attention to the performing of the anthem, a part of the game that TV viewers never see, noted the NYT. That's how fans watching from home even knew of the London game protests at all, 
It's unlikely that pro football players will entirely abandon this form of protest as long as they still believe it's a valid way to call attention to what they see as fundamental racial inequities in the justice system. 
https://twitter.com/realDonaldTrump/status/914255264282480640
It's equally unlikely that fans and public figures of all kinds will stop objecting to it.