Nicki Minaj's Greatest NFL Moments
MaximBet's Nicki's Picks offers players a chance to win $1,000,000 each week by guessing the outcomes of NFL games. Get pumped for the free-to-play contest with Nicki's greatest NFL moments.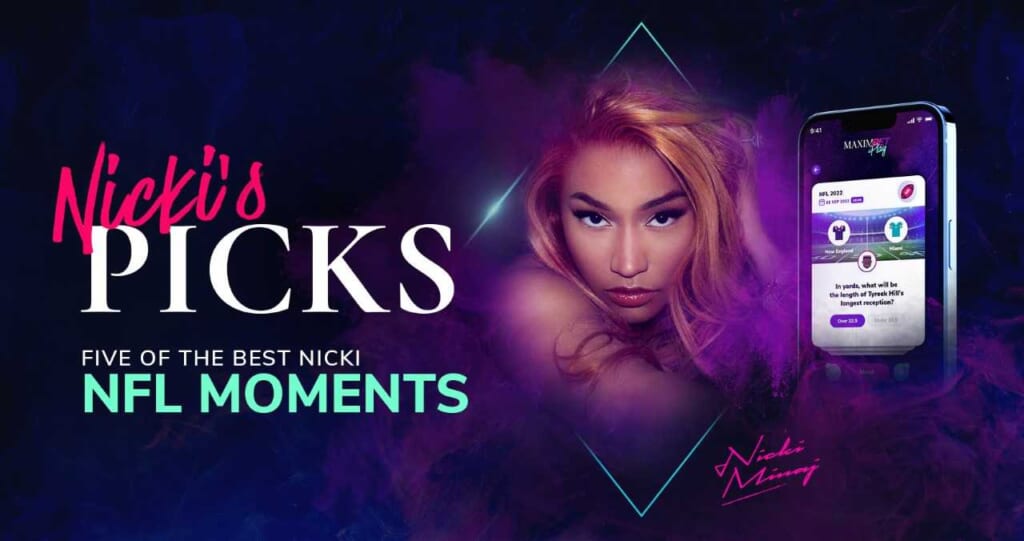 Nicki Minaj likes sports. That's just a fact. When it was announced earlier this year that the history-making hip-hop icon and media mogul entered a global partnership with MaximBet, the words used to describe her were actually, "lifelong sports fanatic." Yeah, that's a bit more than just being a casual fan. 
Although the undisputed Queen of Rap's tastes in sports is as varied as her musical styles and alter egos, the NFL season has just kicked off so we're going to look specifically at some ways Nicki has intersected with football over the years. 
Oh, and did we mention that Nicki's Picks MaximBet free-to-play game is offering a weekly chance to win $1,000,000 by guessing the outcomes of the week's upcoming games?*
Nicki And NY Giants' Punter Brad Wing
Nicki moved to Queens, New York when she was five and it's safe to say she was probably exposed to New Yorkers' famous fanaticism for their home sports franchises ever since. So, it's no surprise that when it comes to the NFL, she has a sweet spot for the New York Giants.
Minaj shows her Giant's love off in this 2012 tweet celebrating their Super Bowl win, but it was Brad Wing's 2017 #NickiMinajChallenge post on Instagram that showed us all that the love was mutual. Nicki took this further by rapping about the Giants punter in Skrt On Me.
NFL References in Nicki's Lyrics
If you've been listening closely to Nicki's lyrics over the years, you probably don't really need to read this article to know that she's a sports fan. But… since you're here we may as well have a look at some of the NFL mentions over the years.
In her 2009 breakout release, Beam Me Up Scotty, the track Itty Bitty Piggy throws some shade the Cardinals way before propping up the Steeler's game. The next year on Roman's Revenge with Eminem, Nicki references Giant's quarterback,
"I call the play, now do you see why? These bitches callin' me Manning, Eli".
And we already know that Manning wasn't the last Giant's player to get a mention since Brad Wing got his shout on Skrt On Me. In The Pinkprint, plenty of Nicki's songs work in NFL teams and players… proving she knows and loves the sport. 
Nicki X Madden NFL 19
In 2019 Electronic Art's premier NFL video game featured Nicki multiple times on the soundtrack. EA's Madden NFL 19 had Nicki on the tracks, Anybody, Big Bank and the aptly named Ball For Me with Post Malone. Ahead of the game's launch, Nicki also starred in the commercial with other famous faces, including DeAndre Hopkins. 
Nicki's Super Bowl Performance
In 2012, Madonna was the featured halftime act at Super Bowl XLVI. It was the first time a solo female had headlined since Diana Ross way back in 1996. But Madge wasn't going it alone. She had Nicki Minaj and M.I.A up there with her to perform Give Me All Your Luvin. In an interview with Ryan Seacrest, Minaj later said working with Madonna for the Super Bowl show was "life changing."
Nicki Has a $1,000,000 Weekly NFL Contest
To accompany the 2022 NFL season, MaximBet free-to-play has launched Nicki's Picks which offers players a chance to win $1,000,000 each week* by guessing the outcomes of the upcoming games. It's an easy, fun and free way to get some skin in the game this NFL season.
Each week there are 24 predictions to make about that week's upcoming games, and best of all, Nicki plays every week too. So, see how your NFL predictions stack up compared to Nicki's on the weekly MaximBet Play leaderboards. 
*Terms & Conditions apply, see site for details. 21+ Only. Gamble responsibly. If you or someone you know has a gambling problem? CALL 1-800-522-4700