No One Is Buying Tickets to the Mayweather-McGregor Fight
Vegas is damn hot in August.
Getty
There is so much hype surrounding the upcoming August 26 bout between UFC champ Conor McGregor and boxing legend Floyd Mayweather. You'd think the event was already sold out. You'd be wrong. 
Even though the insult-slinging Irishman and the cocky undefeated boxer have received plenty of attention for their colorful press tour, ESPN reports there's a surprising amount of room left inside Las Vegas' T-Mobile Arena with less than a month to go:
A check online Saturday revealed hundreds of seats still available from Ticketmaster at the T-Mobile Arena for the Aug. 26 fight. There are so many open seats that fans with enough room left on their credit cards can buy six tickets together in 162 different spots throughout the arena.  
There could be some rational reasons for that, however:
That might be because of the astronomical prices set by promoters — the cheapest tickets still available on Ticketmaster have a face value of $3,500. Or maybe fans are just waiting for the right time to buy, hoping the price will go down.  
It appears promoters aren't worried, however. Leonard Ellerbe, CEO of Mayweather Promotions, told the Associated Press that they "very excited and very happy with ticket sales so far."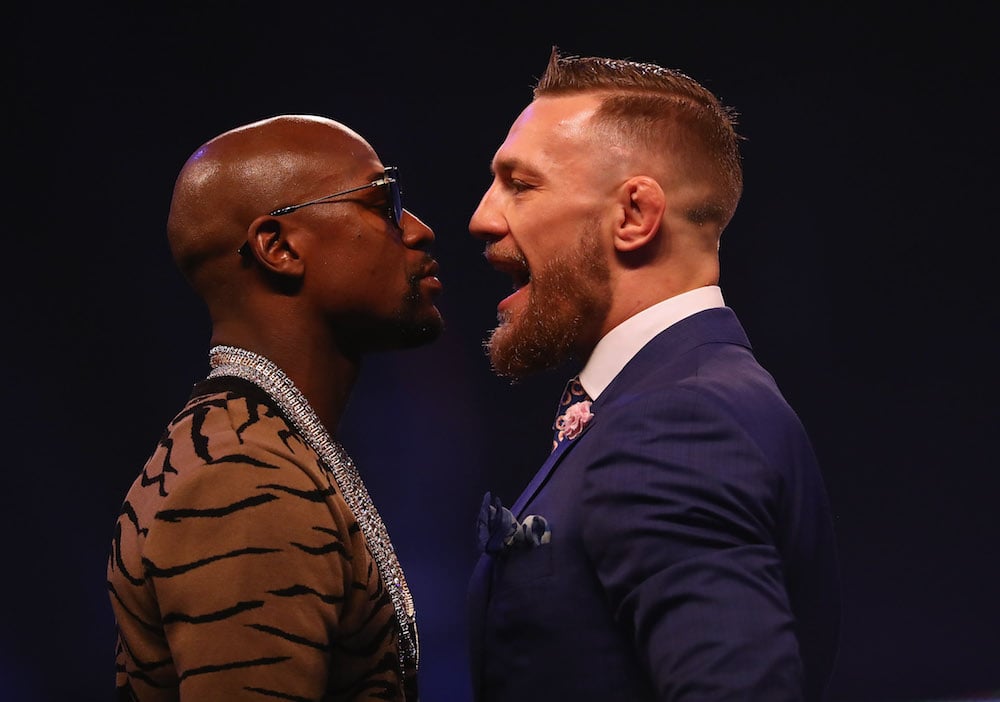 Ellerbe also indicated he thinks they are heading for "smashing our own record which transcended the sport."
The base price for a ticket is $3500 and if you want to sit within spitting distance of the ring it can rise to $10,000 or so. Even re-sold tickets average $7000. There are plenty of people who can swing those costs but the question remains—will they shell out for what amounts to a novelty fight?
Another reported indicator of surprisingly weak interest—numerous hotel rooms remain available on fight weekend, unusual enough for Vegas at that time of year anyway.
Promoters may clean up regardless. The pay-per-view cost will be a $99.95. If 5 million tune in at that rate, no one will lose money. 
h/t ESPN