The Raiders Give John Gruden an Insane 10-Year, $100 Million Contract to Be Their New Head Coach
The ESPN analyst is going back to Oakland, and he's going to get PAID.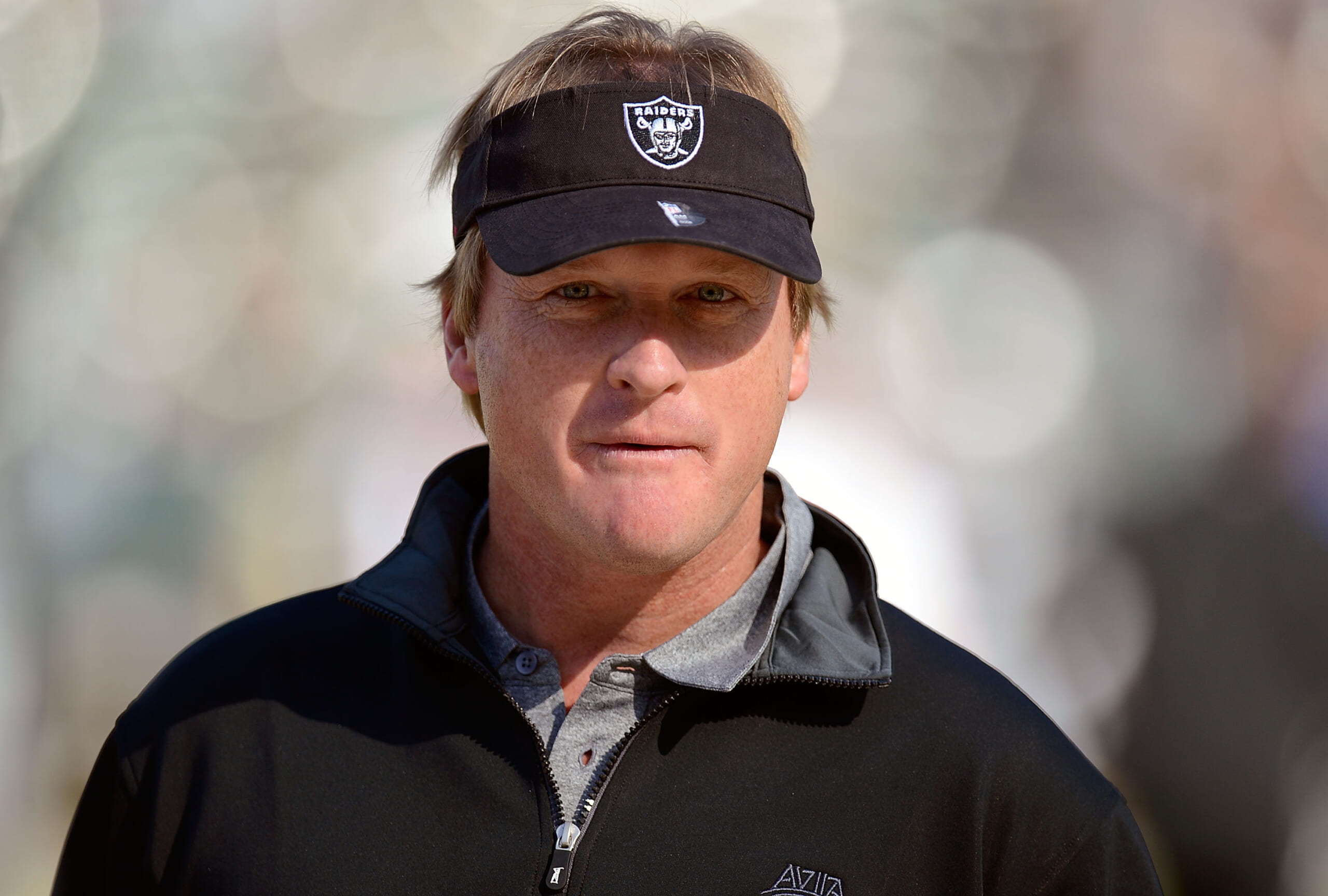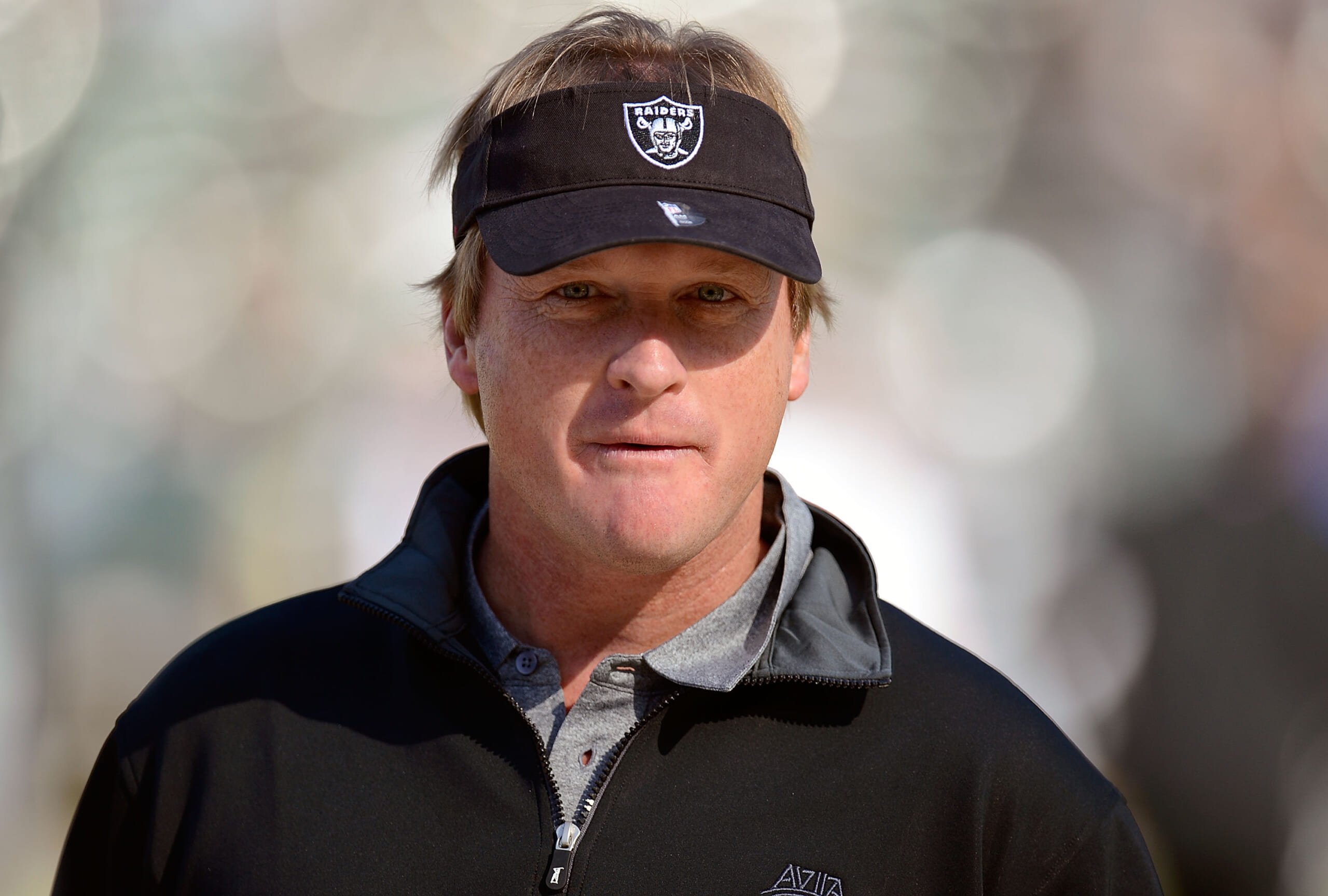 After weeks of flirtation, the Oakland Raiders have finally landed their man. Next Tuesday, John Gruden, who scowled on the sidelines of the Oakland Coliseum from 1998 to 2001, will be officially announced as the team's new head coach. 
He's going to be handsomely rewarded too. ESPN's Adam Schefter reports that Gruden will get a 10-year deal worth $100 million, making him the highest paid coach in the NFL history.
Raiders are giving new head coach Jon Gruden a 10-year contract, the longest coaching deal in NFL history, sources tell ESPN. The deal is likely to be worth about $100 million.

— Adam Schefter (@AdamSchefter) January 5, 2018
Gruden will inherit a promising team from the recently-fired Jack Del Rio. Lead by quarterback Derek Carr and stud linebacker Kahlil Mack, the Raiders finished the season a disappointing 6-10 after going 12-4 and making the playoffs last season. 
Gruden's first task in Oakland will be fixing Carr, the 26-year-old quarterback who followed a stellar season last year with a dud this year. Recent reports suggest that the outgoing coaching staff soured on Carr after struggles late in the season, creating a "toxic" environment for the team.
As Oakland radio host Greg Papa reported, the trouble began after Carr's poor play in a late-season game agains the Chiefs. 
"The coaching staff turned on Derek Carr as well," Papa reported. "After the Kansas City game they called him out in front of a whole team meeting. It wasn't just the offense or the quarterbacks (or) a segment of the team. It was the whole team. And they ripped him in front of everybody and Derek's a prideful guy."
Alienating one of your team's biggest stars and the key to future success is not a wise move. Little wonder then that Raiders owner Mark Davis brought in a known quarterback guru in Gruden. 
But former Raiders quarterback Rich Gannon, who thrived under Gruden two decades ago, has a warning for Carr: playing under the guy they call Chucky is not easy. 
"He has no idea what's in store for him, just in terms of the level of preparation, attention to detail," Gannon said about Carr in a radio interview Thursday. "He's going to be as prepared as any quarterback could possibly be to go out and really play championship-caliber football. But he has to do it."
"If [Carr] doesn't want to come in and spend eight hours on Tuesday, his day off, then you can't make him. If he's not a guy that's going to come in and grind away on Monday nights, or stay late on Friday, then you get what you get. You're going to get out of it what you put into it. I always say that those that invest the most are the last to surrender. We're going to find out how tough this guy is, and how hard he's willing to work to really take his game to the next level, but more importantly, to take the Raiders to the next level."