O.J. Simpson Offered Job at The Bunny Ranch, Nevada's Most Infamous Brothel
But one of the escorts says she WON"T work with him…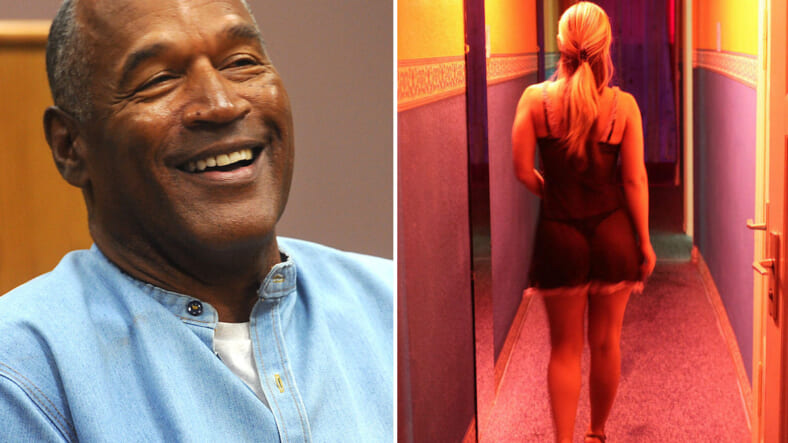 When O.J. Simpson becomes a free man in October, he's going to need a job. The Hall of Fame running back has been locked up for nine years and he still owes millions to the families of ex-wife Nicole Brown Simpson and her pal Ron Goldman. 
The Juice may have escaped criminal charges in their deaths, but in 1997 a jury decided he owed their relatives $33.5 million. 
All of this means that Simpsons should probably listen every job offer he gets. And the first to come after he was granted parole is from Dennis Hof, publicity-loving owner of famed Nevada brothel The Bunny Ranch.
Hof says O.J. would work as a greeter in the establishment, and be able to live on the premises of the ranch as long as he's employed.

"One of the conditions of a prisoner being granted parole is always having an established place to live and a job to go to, and I can offer O.J. both of those in a unique situation."
Hof, you may recall, used to be a regular on Howard Stern's show and he and his posse of escorts even had their own (kind of sad) HBO reality series called Cathouse. 
But while Hoff has never missed an opportunity for shameless self-promotion, not everyone is interested in the Juice being set loose on the premises. 
Brooklyn Moore, one of Hof's employees at The Bunny Ranch, is hopping mad. "The last thing we need is another link to the Kardashian clan coming around to ruin our business, and jeopardize our safety," she told TMZ.
Good Morning Ladies and Gentlemen's! Hope you all having a great morning. Stop by @LoveRanchVegas book your appointment with me get 20% off. pic.twitter.com/7eayxuzqMt

— 🔞+BrOOkLyNMooReXXX💎💄 (@BrooklynMoorexx) May 27, 2017
That's a not-so-subtle reference to the Lamar Odom incident of 2015. It was another Hof property, the Love Ranch, where Odom went on a drug and sex bender that nearly cost him his life. 
Given Simpson's history with women, it's hard to blame Moore for worrying.