Oklahoma QB Baker Mayfield Has the Personality of a Star, But Will He Be Able to Hang in the NFL?
The Heisman winner already has the trophy girlfriend.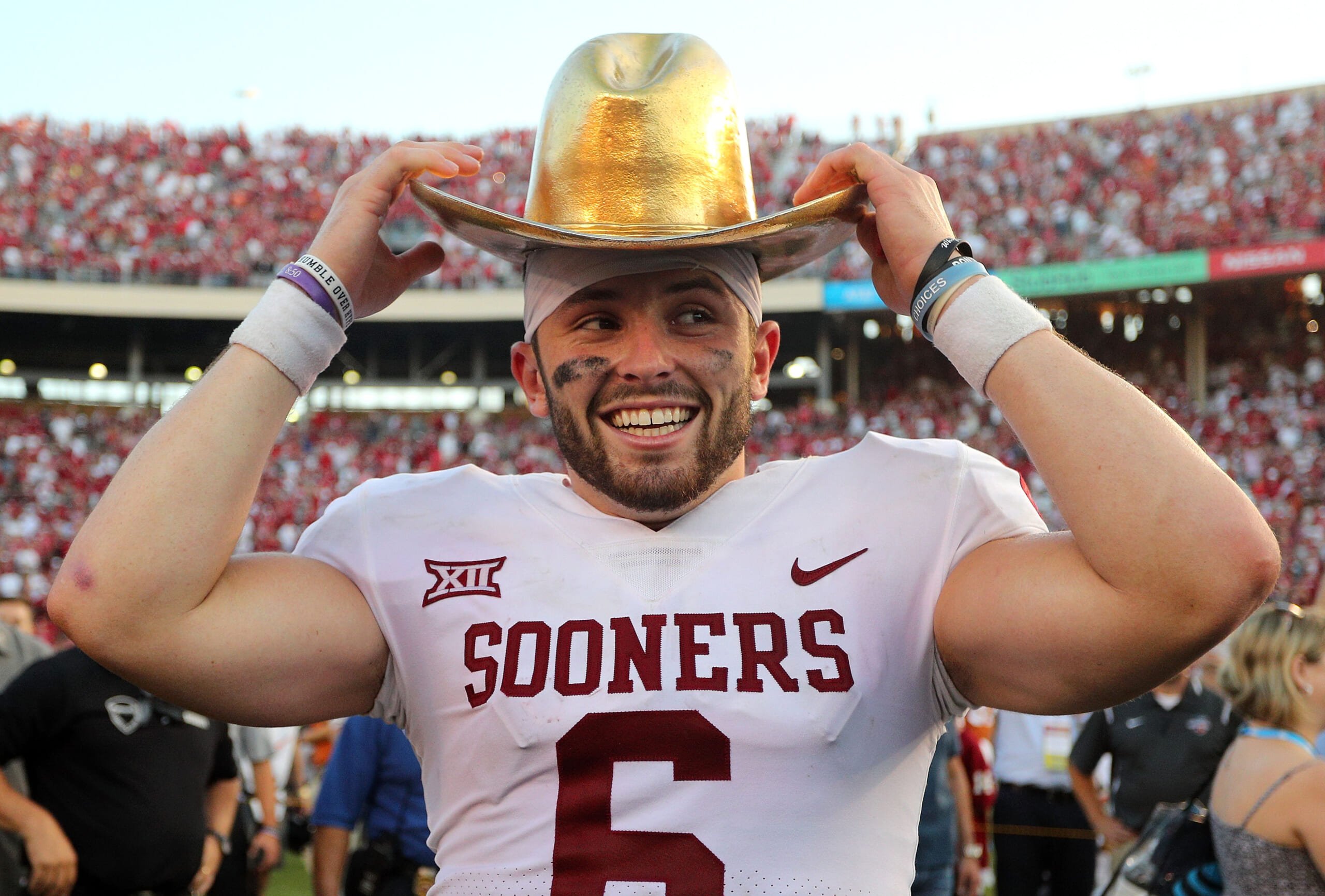 Depending on who you ask, Oklahoma quarterback Baker Mayfield is either a jackass or a genius. The Heisman winner has been called the "most polarizing player in college football" and it's not hard to imagine why. When you're a crotch grabbing, trash-talking, spotlight-craving gunslinger for one of the nation's top team, people either love you or hate you. 
But what we can agree on, is that Mayfield is about to be a star. That doesn't mean he's going to be great in the pros—even the most dedicated football minds have shown an inability to predict success at the quarterback position in the NFL. But when you're a quarterback, you don't have to be great to be a star. You just need swagger. 
For proof, look no further than Johnny Manziel, a player with whom Mayfield often draws comparisons for less-than-ideal reasons. Manziel won the Heisman too and brought the same bravado into the NFL that Mayfield will. And even though he sucked, Manziel was a star. Not because of what he did off the field, but because the camera loved him. 
And the camera loves Mayfield too. Proof arrived this week, when he was snapped at a Clippers game after his Sooners were knocked out College Football Playoff by Georgia. The camera finds stars. 
See that caption? Blake Girffin apparently gave Mayfield the tickets. The kid's on his way to the top and he's got the girlfriend to prove it.
https://www.instagram.com/p/BO-uyspAuLohttps://www.instagram.com/p/BKyr0krBDg1https://www.instagram.com/p/BNVFiHQhgZk
The more interesting question about Mayfield is whether he'll succeed under center in the NFL. His biggest boosters see a future franchise quarterback who may be smaller than ideal but possess an uncanny ability as a playmaker. He has a strong, accurate arm and throws well on the move. And while he can run the ball when it's called for, he doesn't use his legs as a crutch. 
But not everyone is sold on the former walk-on and their doubts center primarily on his attitude. NFL teams have seen too many quarterbacks with big-egos flame out because they couldn't control themselves off the field. No one wants to draft the next one.