Meet Shaquem Griffin, The One-Handed Linebacker Who Dominated the NFL Combine
There's a new Shaq in the sports world, and he's singlehandedly becoming a top NFL draft pick.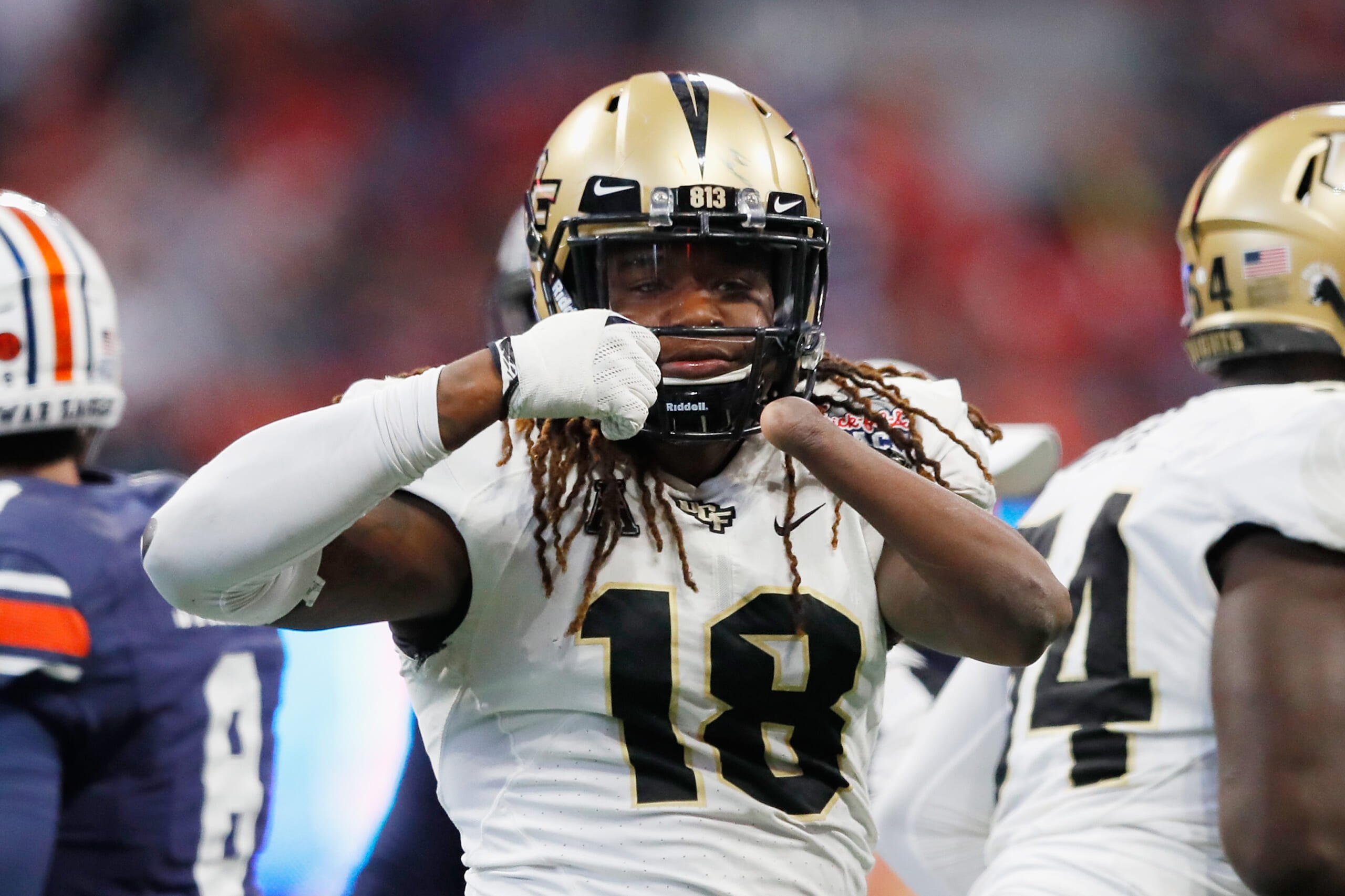 When the NFL assembled its initial list of invitees to the annual combine in Indianapolis, it included 330 names. None of them were Shaquem Griffin, the former University of Central Florida linebacker who dominated the AAC despite having his left hand amputated when he was four years old.
But someone thought better of excluding Griffin and the 22-year-old was given a last-minute invite. He went on to put on an absolutely thrilling show. 
We begin with his outrageous speed, which is obviously unaffected by having one hand, but is still worth gawking at. The 227-pounder ran a 3.48 40-yard-dash. That's unheard of. 
It's official: @Shaquemgriffin ran a 4.38 40-yard dash. It's the fastest 40 by a linebacker we've ever recorded at the Combine.

— Rich Eisen (@richeisen) March 4, 2018
He also delivered on the bench press, pulling off 20 reps of 225 pounds…with you know, one hand.
"My goal was six," Griffin said after tripling that total. "I think I beat that by a lot. When I first got to training, I did like 11 reps. … Just being able to do that, that was amazing. Hearing the crowd and having the juices flowing, I felt it."
Griffin uses a prosthetic on his handless left arm for weight training, and as he said at the combine, the simple piece of equipment allowed him to do things he never before imagined. 
"I got it my freshman year at UCF, I remember we went to go get it fitted for me," he said. "When I started lifting weights, I remember I could barely bench the bar, I mean I'm shaking all over the place, the bar's falling and I'm like, 'I can't lift 45 pounds,' but it just goes to show how much work I put in."
Griffin was a two-year starter and a stud at UCF, where he was the 2016 AAC Defensive Player of the Year with 92 tackles and 11.5 sacks. But even after matching the success in 2017 and tearing up Auburn in the Peach Bowl, skeptics remained. 
But Griffin was bound to deliver "something special" after finally getting his invite.
Griffin was special indeed and he appears to have earned himself some money. According to the NFL Network's Ian Rapoport, Griffin is now seen as a fourth round pick in the upcoming draft. That's worlds away from left off the invite list.
It wasn't just NFL front offices that noticed him either. Stars around the league couldn't help but see the young man who pushed passed adversity and over came the odds to despite doubters all along the way. 
If @Shaquemgriffin doesn't get drafted in the first two days the system is broken. Productive and performed well at the combine. Played well against high level competition.

— Richard Sherman (@RSherman_25) March 4, 2018
Shaquem Griffin was flying 😳😳 he 4.38 lol he not messing around!!!

— Ryan Shazier (@RyanShazier) March 4, 2018