Retired Boxing Legend Oscar De La Hoya Is Training for a Comeback, And He Wants Conor McGregor
The Golden Boy says he'd only need two rounds to finish the job.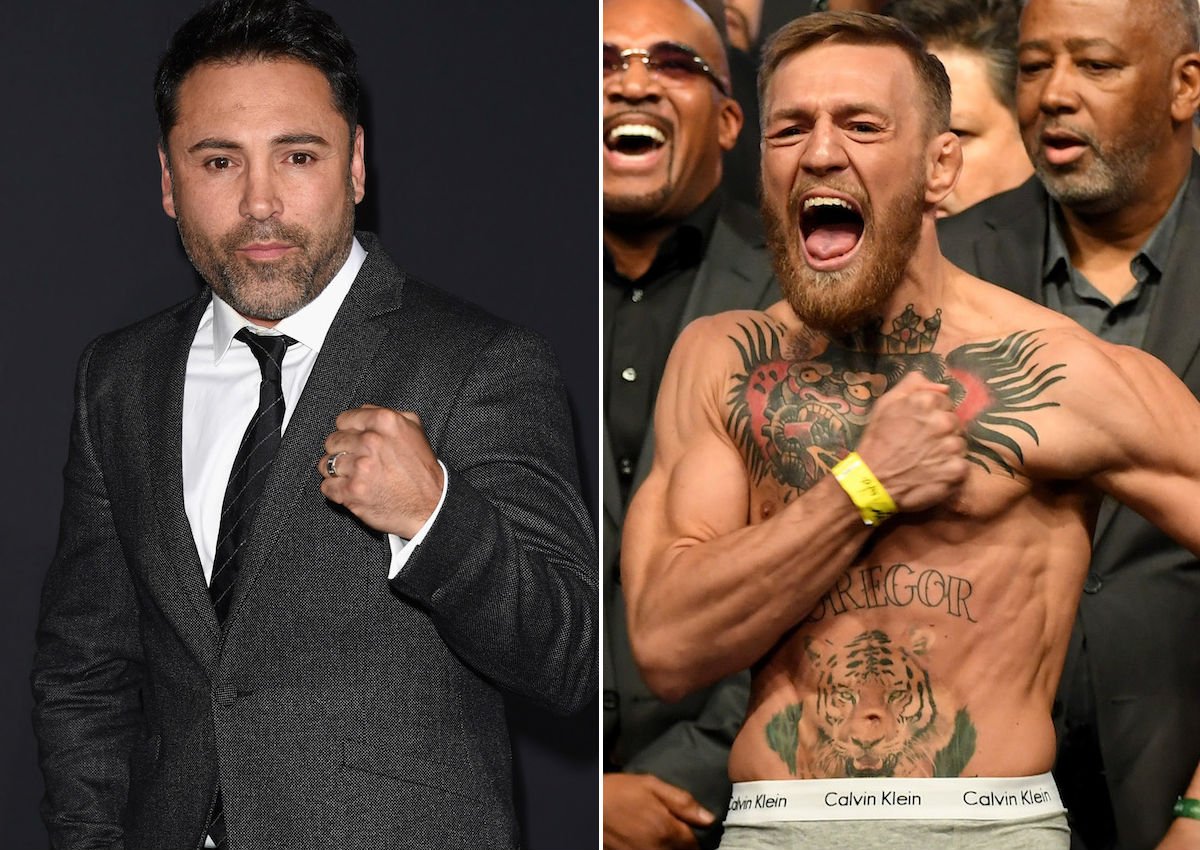 It's been nine years since Oscar de la Hoya has entered the ring with gloves on his hands. The 44-year-old was once the biggest draw in all of boxing, putting up a 39-6 record with 30 knockouts. He won 10 titles across six weight classes in a career that landed him in the International Boxing Hall of Fame in 2014. 
On Monday though, the Golden Boy said he might be ready for a comeback. 
"I still have it in me," De La Hoya said on his new radio show. "I've been secretly training, secretly training. I'm faster than ever and stronger than ever. I know I can take out Conor McGregor in two rounds. I'll come back for that fight. Two rounds. Just one more [fight]. I'm calling him out. Two rounds, that's all I need. That's all I'm going to say. You heard it on Golden Boy Radio. Two rounds, that's all I need."
As a reminder, this is what happened to De La Hoya the last time he was in the ring. 
Time will tell if De La Hoya was serious with this apparent challenge to McGregor or if he was ginning up publicity for his new radio show. But if he was serious, it'll mark quite a reversal for a guy who spent all summer mocking the circus surrounding McGregor's fight against Floyd Mayweather. 
In May, De La Hoya wrote an open letter to boxing fans imploring them to organize a boycott of the Money Fight, which he viewed as a threat to the sport. Or so he said. It's far more likely the CEO of Golden Boy Entertainment was just annoyed that Gennady Golovkin vs. Canelo Álvarez was being overshadowed. 
De La Hoya called McGregor vs. Mayweather a money grab and a "farce." Now, a few months later, he's proposing his own money grab against the fight world's biggest star, who, it should be noted, is not a huge fan. 
If De La Hoya is serious about wanting to fight McGregor, there's a lot of work to do. McGregor is still under contract with UFC and will his next fight will be Tony Ferguson in the Octagon. When that fight will happen remains an open question though. 
McGregor was expected to headline UFC 219, the promotion's final event of the year, but on Monday it was reported that the featherweight champ was yanked from the card because of his overzealous behavior at a recent Bellator event.  
Even if that's accurate though, this is just a little blip. McGregor will be back.