Pat McAfee: Why I Walked Away From $6 Million NFL Payday After Getting Dissed By Colts GM
"Yep, I'm f*cking done here."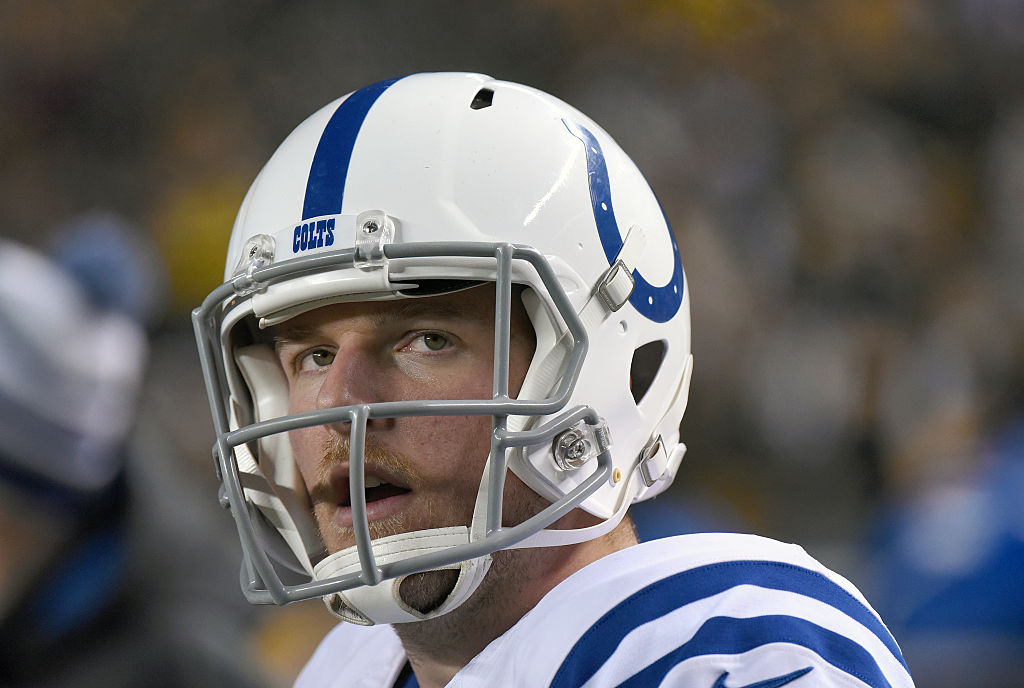 Getty Images
Everyone knows NFL players make a lot of money. Even the lowliest fullback on the bottom tier team in any conference is making the kind of bank other people would kill to have. 
That's why it's bewildering when a young player in his prime like former Indianapolis Colts punter Pat McAfee retires, just walks away from the game. According to him, though, he had a pretty understandable reason. At least to anyone who's ever had what they feel is an unjustified confrontation with the boss. 
" tml-render-layout="inline
The image above, from McAfee's Instagram, was the catalyst. 
USA Today's FTW reported on McAfee's frank explanation of why he said goodbye to $6 million a year and went in a very different direction: a now-defunct podcast for Barstool Sports.
…If it wasn't for me, we're shut out on national TV. I'm leading the league in almost everything, I don't think I've given up a return yard in maybe two months, three months, I'm the No. 2 jersey seller for the Colts, I'm doing a lot of charity work — there's a lot. Maybe this is Grigson being, 'You know, I fined you three to four times before about dumb [expletive], but I would like to be friends'…

So I walk in there and he goes, 'Sit down.' And I'm like, 'Woah. Immediately, this is not what I thought this was gonna be' … There was already in my head [thoughts of] me being sick of making money for Ryan Grigson and the Colts operation at the time. So I walk in there and he goes, 'Sit down.' And it was at that moment I realized, as soon as he told me the stern 'Sit down, 'Yep, I'm fucking done here.'
He definitely was, because things got more awkward from there. Grigson confronted him with the photo. Apparently the problem was location—it was made in a Colts training room. Grigson threatened to fine McAfee a game check—about $100,000.
Depending on your perspective, what followed next was either an episode of Asshole vs. Asshole or a pretty epic peace out on McAfee's part. 
"I said, 'You paid a guy [Luck] $140 million and you can't keep him healthy. Your offensive line's swiss cheese. He's blown out his shoulder three times, and you're worried about this [expletive]?' He goes, 'What did you just say to me?'

I go, 'Oh yeah, I'm best in the game at what I do. I wish you would do the same.' This is a moment he did not expect. He goes, 'You're going to walk into my office and disrespect me?' I go, 'Well, you called me into here.' He said, 'I'm going to fine you a whole game check.'

I said, 'Cool bro,' and literally walked out of his office. As I'm walking out of the office, he gives me the, 'Get out of my office.' I go, 'Already walking out.'"
The Andrew Luck reference had to burn a little. 
Following all that fun, McAfee had a series of conversations with coach Chuck Pagano, that culminated in him telling Pagano—according to McAfee, anyway—"'I don't think the NFL is for me anymore, and to be honest, I don't think I want to make money for you guys anymore. And I am done. I am done after this season.'" And so he was.
"Unwarranted Arrogance" just ran into a brick wall called karma.

— Pat McAfee (@PatMcAfeeShow) January 21, 2017
Frankly, it's a little hard to determine just who the jerk is in this situation, but we're gonna go with Grigson. 
McAfee seems like a handful, though—his exit from Barstool came because in his words, he was "being disrespected by the business people in the building." OK then.
Whatever happened, just remember that no matter how badass McAfee's NFL exit might sound, it's a pretty lousy way to leave just about any other job if you want another one in the future.