Here's Why The Patriots And The Steelers Absolutely Hate Each Other
Bone up on their long and bitter rivalry before Sunday's AFC championship game…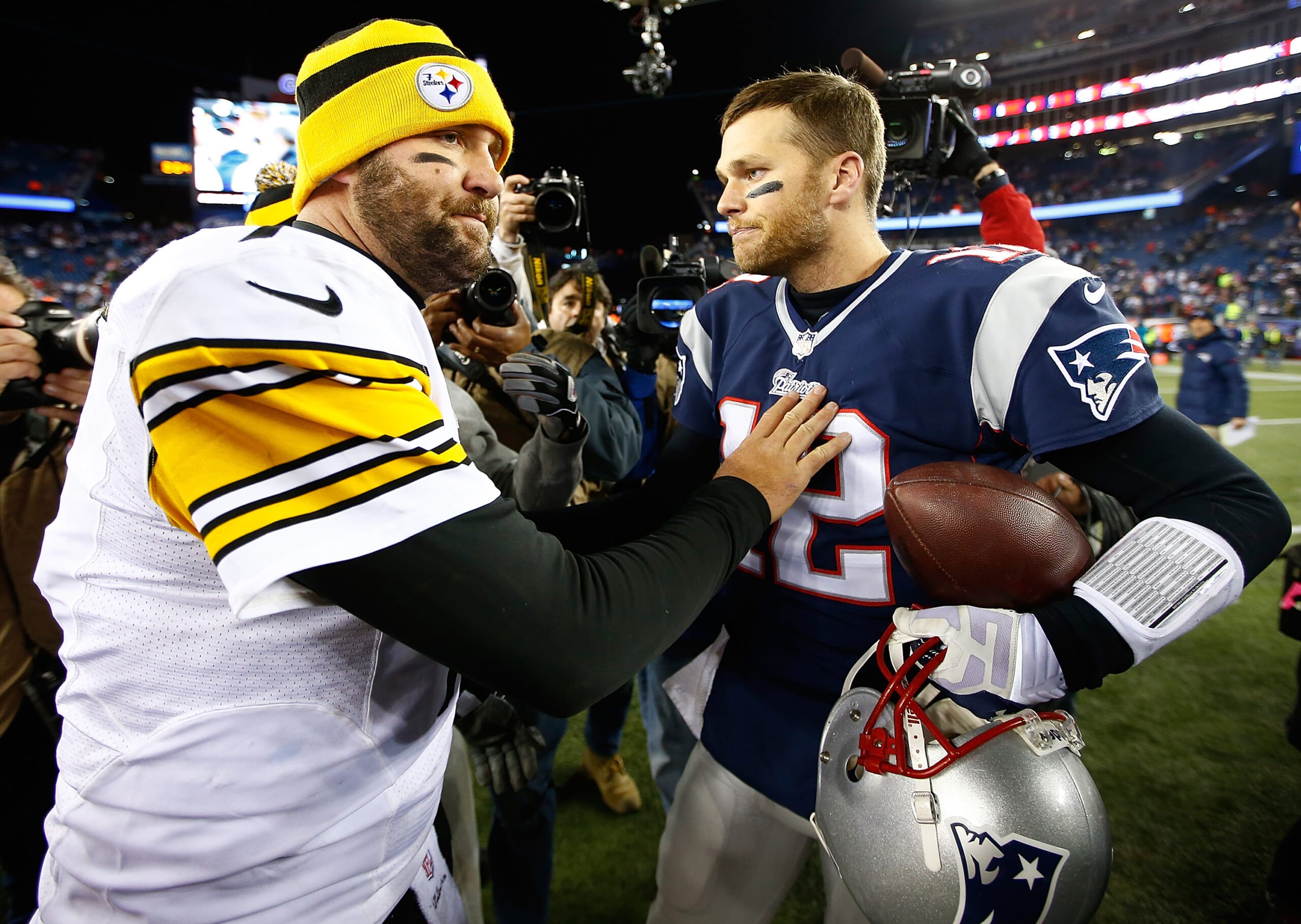 When the Patriots and Steelers meet on the field in Foxborough on Sunday to decide the AFC's representative in the Super Bowl, it'll be a tense affair. 

This bitter rivalry has been burning hot for more than a decade and it just got sprayed with more fuel. Last week, Pittsburgh head coach Mike Tomlin called New England "assholes" in the latest bit of drama between these historic franchises that Antonio Brown streamed on Facebook Live. Watch it here, in case you missed it:
https://www.youtube.com/watch?v=9-G7V4bSZkg
Even though Pats head coach Bill Belichick brushed it off, you can bet his team didn't like the unfriendly label. Not that either side needed more reason to dislike the other. These teams and their most famous players have bene firing broadsides back and forth since at least 2002. Here's a rundown of the most dramatic moments in the rivalry. 
Cheating accusations — January, 2002
After the Pats knocked off the Steelers 24-17 in the AFC Championship game, Pittsburgh decided it was becuase Belichick and his crew cheated. How? By stealing signals.
More cheating accusations — January, 2005
Another AFC Championship win for the Pats was followed by more suggestions of skullduggery.
A guarantee — December, 2007
Steelers safety Anthony Smith stepped in it with this assurances of win in week 14 of the 2007 regular season. The Patriots ended up routing the Steeelers 34-13.
Playing favorites — November, 2009
This bit of trash talk doesn't directly involve the Steelers, but Joey Porter, a Pittsburgh legend who had moved on to the Dolphins in '09, is at the center of it. Before a regular season game in Miami, Porter said Brady was getting favorable treatment from the refs and this set off the dapper QB. He torched the Dolphins for 330 yards and said after the game that Porter's comments helped motivate him.  
Cheating, again — September, 2015
As the Steelers were on their way to dropping their season opener to the Pats by a touchdown, something weird happened. The Steelers coaches began to hear New England's radio in their headsets, making it difficult to communicate with each other. Was it a mere accident, or interference by the home team? 
"Assholes" — January, 2017
Following last week's win over the Chiefs, Steelers coach Mike Tomlin said in a speech meant only to be heard in his locker room, "We spotted those assholes a day and a half…so be it. We'll be ready for their ass."

Unfortunately, receiver Antonio Brown was broadcasting to Facebook Live (see the clip above). The private comment was made public and drama followed. And now we wait for the next entry on the list.