Watch Ronda Rousey Body Slam Triple H Through a Table at WWE Elimination Chamber
She may be a beast, but she's still got some work to do on the mic.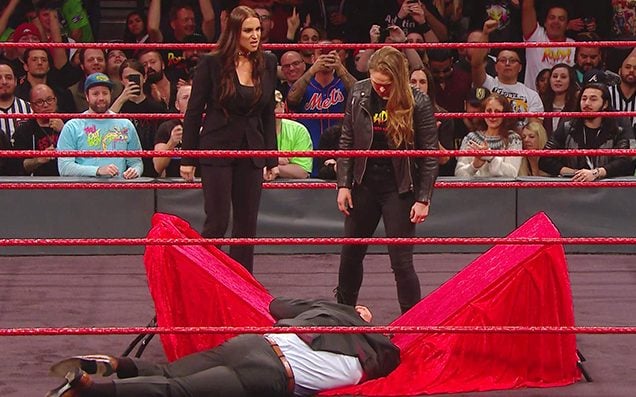 In the middle of the WWE's Elimination Chamber pay-per-view Sunday night, there was a break in the action for wrestling's newest star, Ronda Rousey, to get some airtime. 
The bit involved her signing a contract with the WWE, something she's obviously already done in real-life, and her first work on the mic since making her transition to full-time wrestler. 
As you may recall, Rousey remained silent at her Royal Rumble debut and based on Sunday night, that might be something she should stick to. Rousey was "too awkward, too quiet, too unsure of herself," Geno Mrosko of Cage Side Seats wrote. CBS Sports' Brian Campbell was little more generous, calling her mic work "unpolished." That seems about right. Rousey is still going with the "Aww shucks, I can't believe I'm here" schtick that doesn't really match her intense reputation, and her confidence with the mic doesn't match her confidence without it.
Want to develop an opinion of your own? Better find a bootleg video, because the WWE cut it all out of the highlights it put on YouTube. 
What is included though is the real highlight of Rousey's appearance at Elimination Chamber. After the uncomfortable banter line played out, Rousey suplexed Triple H through a table. 
What Rousey lacks in mic skills she makes up for with her physicality.
The video above also provides a first glimpse at where Rousey's going in the WWE. She's going to feud with Stephanie McMahon, who brings more than enough of cornball speechmaking and over-the-top scowling to the ring for both women. 
Just look at her face when she smacked Rousey.
McMahon can be the actress and Rousey, who's never shown much skill on camera, can be the physical force.