An MMA Fight Broke Out at the Stanley Cup Finals, And It Was Fascinating to Watch
See Sidney Crosby bounce P.K. Subban's head on the ice like a damn basketball.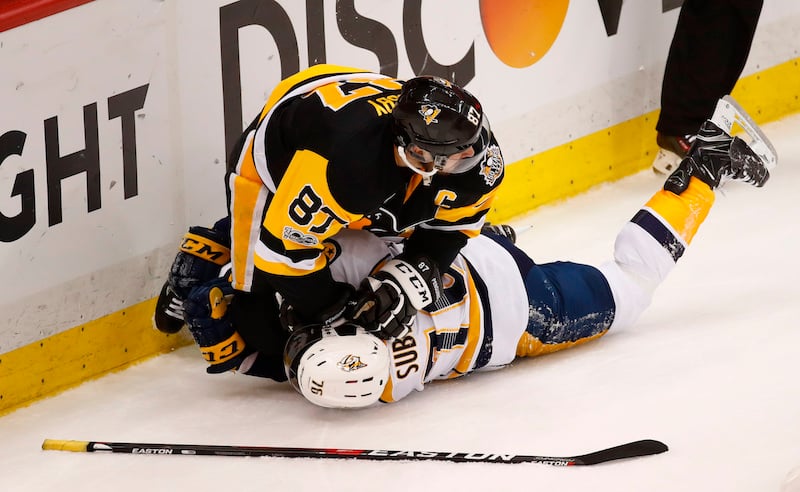 Thursday night's game five of the Stanley Cup Finals was a bit of a laugher, with the Penguins routing the Predators 6-0 to take 3-2 lead in the series. 
In games like this, fans look away from the scoreboard for entertainment, and this one provided it in the form of a brief MMA match between Sidney Crosby and P.K. Subban. 
There was no cage or tiny shorts, but there was a takedown by Crosby, followed by him slamming Subban's head into the ice a dozen or so times. 
Subban made it back up to his feet and put Crosby in a headlock. He appeared to contemplate a DDT, but decided to let go of Crosby, who's suffered a handful of severe concussions in his time in the NHL. Check out all the brain-rattling action here:
A lot of Preds fans were pissed after this. Not because they thought Crosby was out of line—this is hockey, nothing's out of line—but becuase he and Subban received matching minor penalties for their role in the dust up. 
After the game, Crosby even tried to blame Subban for the whole thing. He was just trying to get up, Crosby said, and using Subban's head as leverage. He added that Subban "was doing some UFC move on my foot. I don't know what he was trying to do." 
For his part, Subban wasn't too pissed. "I'm not an official, so I'm not going to judge what's over the line and what's not," he said
Crosby was clearly emboldened by the refs letting him get away with anything. Later in the game he decided to see how far he could take it and chucked a water bottle at a Predators player while he was on the bench. Did he get away with it? Of course.