6 Things I Learned at the College World Series
The fans are nuts, the shirts are cheap and Marlins Man was everywhere at the most watched College World Series ever.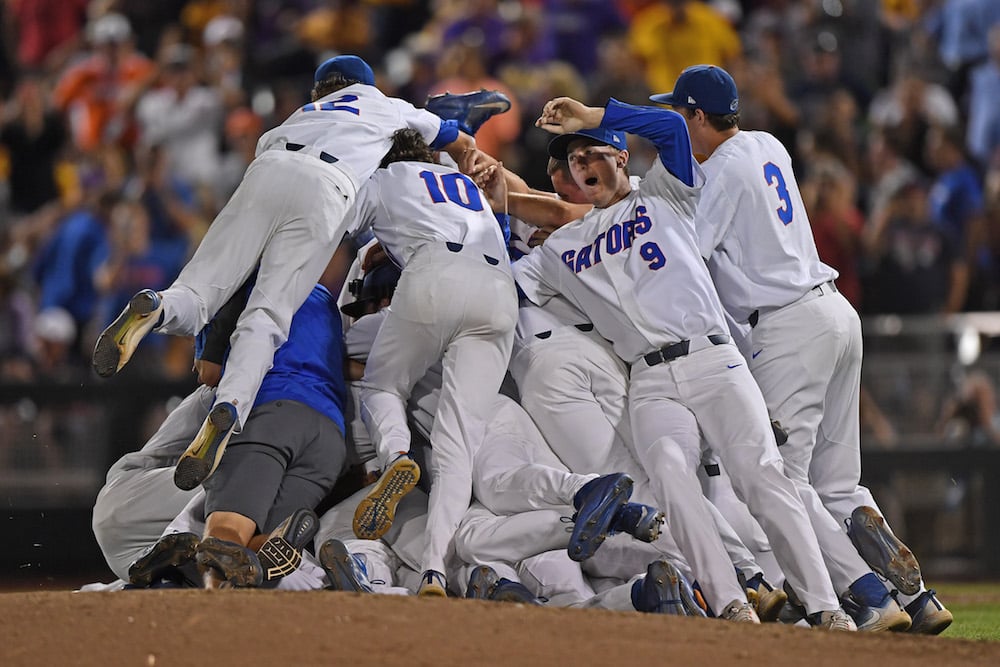 When I booked my flight to Omaha a couple weeks back so I could attend game two of the College World Series, there was a chance that Louisville, my hometown team, would be playing for the national title.
The Cardinals didn't make it, but Florida, the team that sent Louisville packing, was still playing when I got to Omaha. And so was LSU, a giant of college baseball with six titles to its name. And apparently fans were totally into this match-up, as the 2017 College World Series did end up setting a total attendance record. 
Bummed as I was that Louisville got ousted from the tournament, there was a silver lining: Losing team t-shirts go for nothing from the souvenir hawkers outside the stadium. I paid $5 for this souvenir for my dad. For some perspective, LSU and Florida shirts were going for seven times as much.
Here are five other things I learned at the College World Series in Omaha:
1. The fans get REALLY into it.
I've been to a lot of baseball games over of the years and most of them are sleepy and slow, just the way baseball fans like it. The MLB playoffs are more exciting than the typical mid-summer game, but the College World Series made even the most raucous pro game look like a classical music concert.
At one point, standing among LSU fans, I watched five men jump to their feet and high five with intensity after an infield hit out a runner on first. At another point, I saw a group of middle aged fans superstitiously sucking on Tootsie Pops. I didn't get it, but I knew they were excited.
2. They also dress for the occasion.
Just look at this hat. 
3. And when they get angry, they throw things.
The biggest play Tuesday night was a slide into second by LSU's Jake Slaughter. It was ruled interference, leading the umpires to erase the game-tying run which had crossed the plate after the illegal slide. It was a controversial call, but the right one. But don't tell that to the LSU fans who made it rain garbage on the field.
During the top of 7th inning when LSU fans were raining trash on the field LSU AD was heard petitioning to move the game to Baton Rouge 😿 pic.twitter.com/Fb51GTQsJW

— Rami Intriago (@rambo4Him) June 28, 2017
4. Marlins Man is everywhere.
I'm not sure if this dude is living the dream or if he's trapped in some kind of Groundhog Day-like alternate reality where he's forced to attend a new sporting event every day of his life.
5. Journalists are terrible athletes.
I wasn't just in Omaha to watch the College World Series; I was there to compete. Pizza Hut, a corporate sponsor of the event, hosted me and a handful of other journalists on Tuesday morning for its "All-American Experience." 
It was a competition that had a bunch of web and TV journalists battling it out in 10 different sporting events, each coached by a NCAA legend. That meant shooting free throws with former Dukie Jay Williams, hitting whiffle balls with World Series hero Joe Carter and throwing the pigskin with legendary Nebraska head coach Tom Osborne.
Much to my surprise, I actually did OK in the competition. That's more of a commentary on the general lack of athleticism among those paid to pound a key board all day, than it is an endorsement of my own abilities. Still, I'll take a win where ever I can get it.