We Skied With Olympic Gold Medalist Bode Miller, the Most Decorated Alpine Racer in American History
The legendary former Olympian talked tips, gruesome injuries, and his love of Tom Brady.
Photo: Doug Pensinger/Getty Images
I have absolutely no business being on a mountain with Bode Miller. 
The dude has more won more Olympic medals than any other U.S. skier in history—a grand total of six earned over four Winter Games—and is one of only five men to have won World Cup races in all five disciplines.  
https://www.youtube.com/watch?v=6z1iTWfzhqY
I'm a 25-year-old blogger from the flat lands of bumblefuck, Iowa, who's barely learned to slide down a mountain without killing myself over the course of eight annual week-long trips to Colorado. 
I was on a snowboard for the last four. 
Of course, this isn't exactly what I told the team that invited me to take a "Bode Miller Master Class" in Vail, Colorado. 
To them, I was Maxim's willing and able "resident skier." Only a sucker would pass on a chance to hang with the alpine sport's arguable GOAT.
Meeting Bode Miller
To get in on this ultra-exclusive ski session, you have to cash in a titty-ton of loyalty points accrued from staying in Marriott hotels. The morning of, I and seven Rewards members met for a hearty breakfast in a conference room near the lobby, where we eagerly awaited the guest of honor's arrival. 
I couldn't help but wonder if an Olympic gold medalist really wanted to spend his Saturday teaching a 3-hour ski lesson, or if it was it all about the paycheck. 
If money was on his mind, he didn't show it at all. Bode was cool and conversational from the moment he walked in the room. There wasn't a tinge of arrogance in his voice as he fielded questions during a roundtable Q&A. 
"I'm excited to have you guys out there," he said after a short introduction. "Feel free to ask me stuff when we're on the hill. I've been doing it for so long that I forget what it's like at different phases." 
"Skiing is on an ongoing process, and I'm still learning," he added. 
We made our way to the base of the mountain. It was the eve of Super Bowl LII, and Miller was proudly sporting a New England Patriots beanie. I had to get his two cents on Tom Brady.  
"I make fun of him all of the time because he's not a fast runner and doesn't look terribly athletic on the field," Miller said. 
"But the way that he approaches sports and the way he uses his mind to accomplish goals within a sport I think is remarkable. He's certainly one of my top idols."
A short gondola ride later, we were ready for our first run. 
First Run 
It had been eight years since I last set foot on a pair of skis. My sole goal was simply to avoid eating shit and embarrassing myself. 
If I did indeed start to crash, Miller had a tip for me. 
"Sometimes in the middle of a crash, they'll be one tiny moment where if you do the right thing you can make a recovery," Miller said. 
"A crash is the same thing as skiing actually, it's just some inverted version of it. You're still trying to manage yourself and still trying to do the same thing. Even if you've already begun crashing, there's still a chance you can pull out of that crash."
That advice was ringing in my ear as we approached the crest of our warm-up run: a short mogul field that could have either been a tough blue or an easy black.
Throughout his career, Miller had 14 first place finishes in World Cup slalom events alone. Predictably, he flew through it with grace and expertise. 
I ate shit. It seemed to happen in slow motion, which is either due to the fact that my adrenaline was pumping, or, more likely, because I was moving at about 10 mph. 
Even at that sluggish pace, I managed to lose a ski. I distinctly remember uttering a long, self-loathing fuuuuck while haphazardly trying to snap my boot back into my binding as the entire group stared at me. 
When I finally joined rest of the group, I mustered one, shameful sentence.  
"Sorry, I'm a little rusty!" I announced. Dead silence followed. 
Carving Tips
I found myself oddly relaxed after that catastrophic start. Having already embarrassed myself in front of an athletic icon, things couldn't get much worse.  
My second run in eight years went much more smoothly. A mogul-less stretch of blue trail afforded me the opportunity to get my legs back under me. I focused on keeping my shoulders pointed downhill as I cruised with relative ease amid our eight-person pack. 
Miller had been carefully observing us. We congregated midway through the trail on a flat section before a slightly steeper pitch. 
He had noticed that the entire group was sliding on their skis. 
"There's nothing wrong with sliding. It's the technique everyone learns first," he said. 
"In a race, we try to never slide because we lose speed. Instead, we turn using our edges." 
This is what's known as carving, and it's much more efficient than sliding. But when racers carve out compression turns at 80 mph, this technique generates an insane amount of pressure on their legs.
At those speeds, a minor error can have disastrous consequences.  
"An Austrian named Matthias Lanzinger crashed in Kvitfjell, Norway," Miller recalled. "It was a compression turn, so he had a bunch of force and broke his leg." 
"He went flipping off this jump going 75-80 mph with a broken tib/fib. He ended up losing his leg because of it." 
"It just highlighted how ill-prepared the human body is for going 80 mph and flipping around. You might as well just go 80 in your car and hop out and just try to take it." 
At low speeds on a shallow slope, there's no danger in trying to carve. To initiate the maneuver, you roll your knees over the  bindings until the edges of your skis dig into the snow. A couple advanced skiers picked it up almost instantly. 
I didn't, but I was having a damn good time.  
Chairlifts and the Expulsion of Chris Puckett 
If you've never waited in a chairlift line before, it's an up close and personal experience. Skis get stepped on, poles get tangled, and there can be a lot of ass-to-genital contact.
I managed to secure a spot next to Miller on one of the carriages. He tells me that the lines in Europe are even more chaotic, and the people can be even more dick-ish. 
"Chris Puckett—he's a nice guy, he was on the U.S. Ski Team forever. This kid was standing on his skis, and race skis for a skier are like our babies."
"He tells the kid to back up, and the kid goes, 'Blah, blah, blah,' in some language. Puckett was like, 'Get off my skis!'" 
The rude child did not oblige. Miller tells me Puckett was expelled from the team for punching the kid square in the goggles. 
"Europeans don't understand violence either. That would just never happen there," Miller added. "Everybody was shocked and the kid was crumpled on the ground."
"That is kind of hilarious, though," I responded.  
"It was super funny," Miller shot back with a grin.
Final Runs
Our remaining hour on the slopes was a blast. The group had no trouble keeping a tight formation in short spurts, so we collectively decided to get a burn going on a longer, faster run. 
Honestly, I was pushing hard just to hang on. Physical fitness wasn't an issue, but technique was. My turns got sloppy as hell at what felt like a blistering pace. Still, I didn't bail once and held my own. 
Using a speedometer app on his smartphone, Miller clocked himself at around 40 mph. I'm sure I didn't break 30 mph.
"I've been clocked at about 100 mph before in Wengen, Switzerland," he tells me. "That's in a World Cup Race. This particular part [of Wengen] is about as fast as we ever go, and it definitely feels fast." 
Not to mention, extremely dangerous. Miller said he trained not to get fit for the World Cup, but to avoid injuries. Even so, 20 years of racing yielded one particularly gnarly accident.
"I broke my hand really bad in 2008. I hit the base of a gate going 60 mph and it just exploded," Miller recalled. 
"Bones were coming out, they had to cut my glove off. It's like going 65 in the car and just sticking your hand out and hitting a sign post." 
Fortunately, everyone in our group emerged from our last run unscathed. The morning concluded with a bomb-ass lunch with Miller at The 10th, a luxurious ski-in, ski-out restaurant smack dab in the middle of Vail Mountain.     
After food and drinks, we all kicked back and enjoyed more conversation with our esteemed instructor.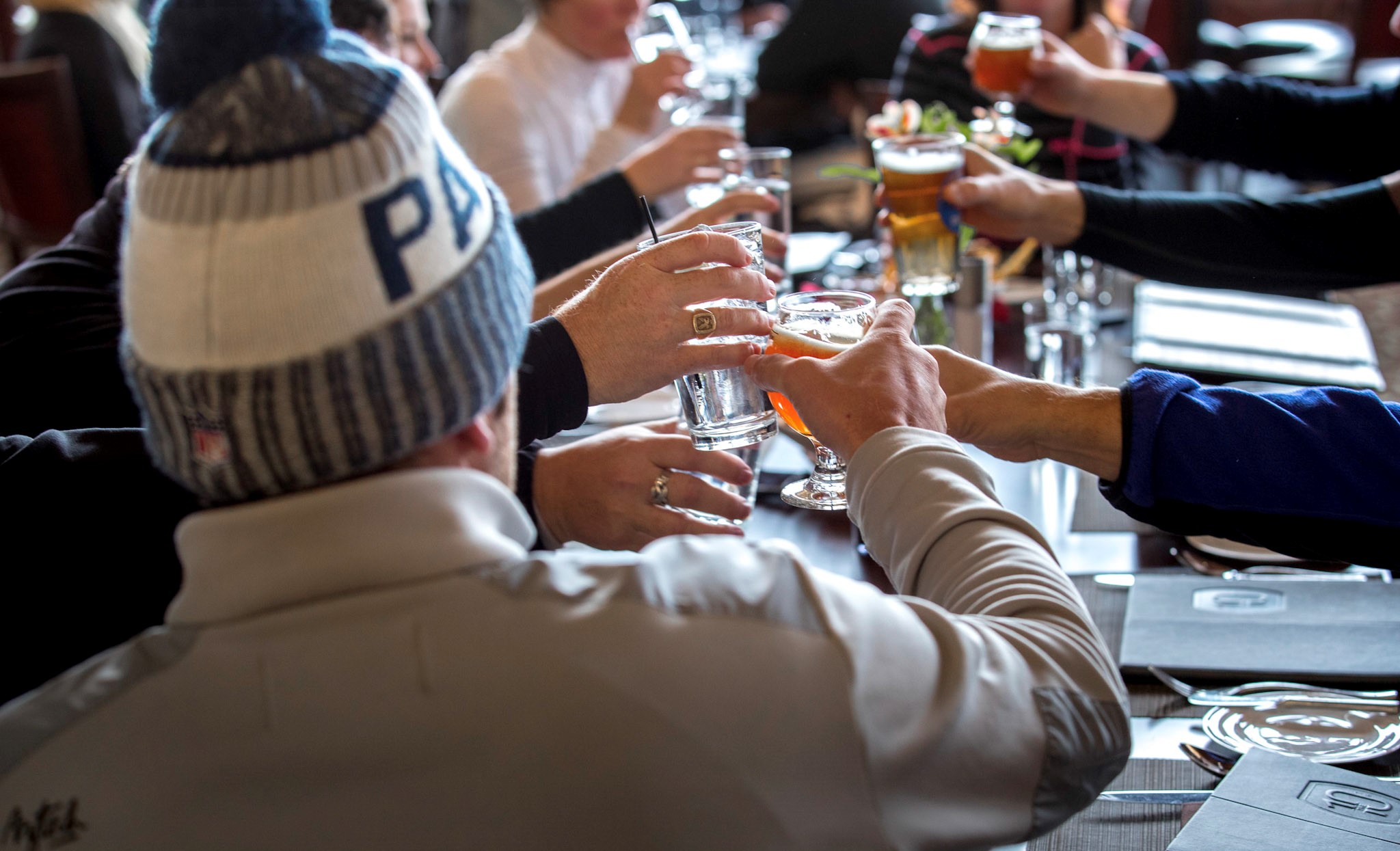 Miller left shortly after for Minneapolis, where he watched his beloved New England Patriots lose Super Bowl LII. He headed to Pyeongchang to provide color commentary for NBC's broadcast of the Winter Olympics. 
I enjoyed some hard-earned après-ski from my room's balcony before reluctantly returning to Iowa. 
I certainly don't ski at a level that warrants attention from Bode Miller—I'm not sure anyone does. That said, he's a natural teacher who was happy to leave me with a final piece of advice.  
"Inevitably, you're going to have moments where you push harder than before, and in those moments, enjoy it. Usually, you end up in a gnarly crash. But it is quite a thrill."