The Vikings' Last-Second Touchdown Was One of The Greatest NFL Playoff Finishes Ever
The "Minneapolis Miracle" inspired some hilarious fan reactions.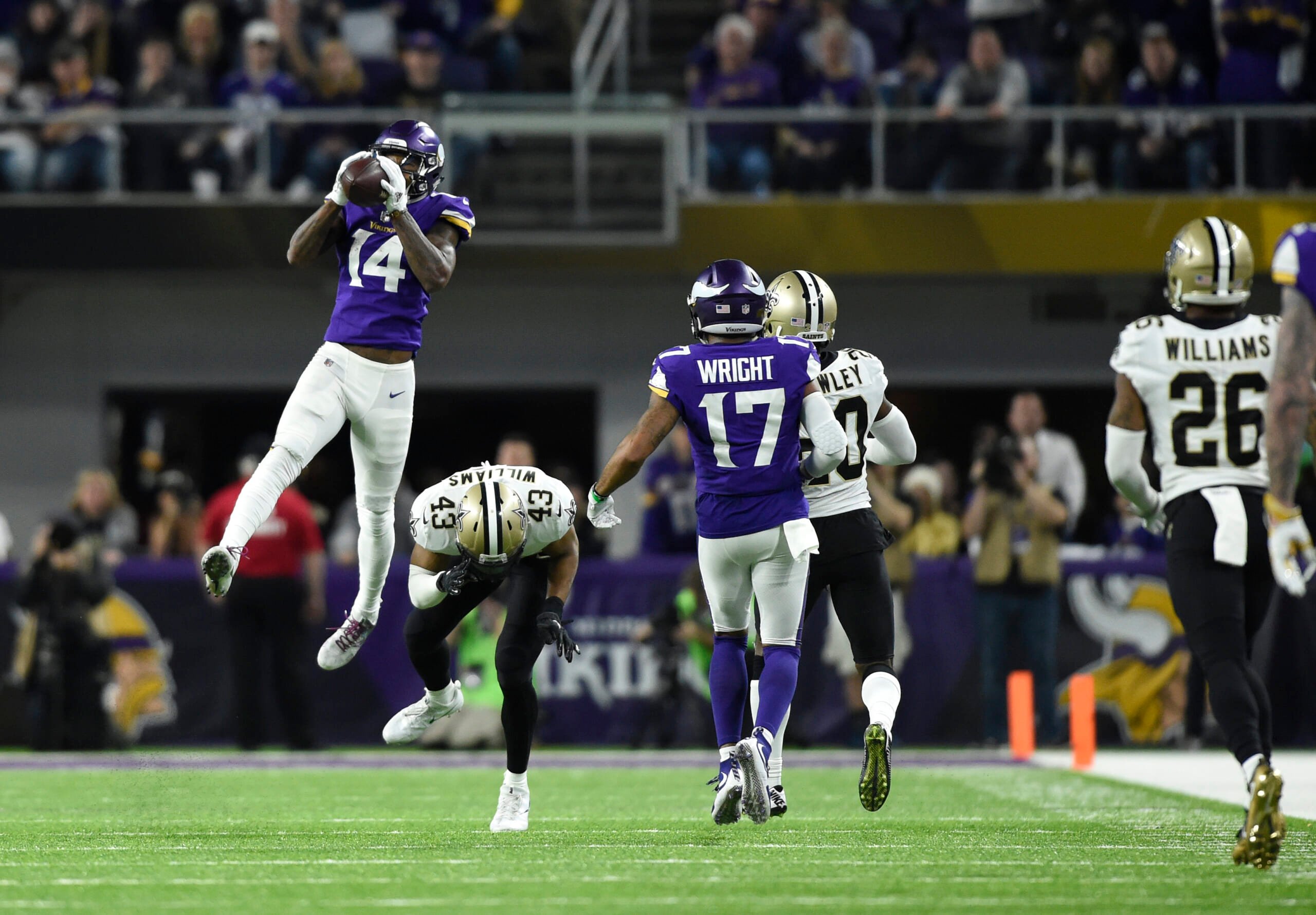 People are still batting around nicknames for the wildly unlikely touchdown that Case Keenum threw to Stefon Diggs as time expired in Sunday's NFC divisional playoff game between the Vikings and Saints. The Minneapolis Miracle seems to be the early favorite but Seventh Heaven (the name of the play) and Whiff Six (a reference to the missed tackle by Marcus Williams') have also been bandied about. 
Whatever the play ends up being called, it'll also be known as one of the greatest ever  endings to an NFL playoff game. Football doesn't offer a lot of opportunities for walkoff wins. The final play has to be in motion when the close hit zero or, as Alabama fans were reminded just last week, the game has to be overtime. 
On Sunday, there were 10 seconds left on the clock when Keenum took the snap, seven seconds left when he released the pass and no time left when Diggs entered the endzone. 
It was an unlikely score made even less likely after the pass was made. Pause the video above right before Diggs makes the grab and it's clear that Saints safety Marcus Williams is in perfect position to tackle him. But he didn't. Instead of letting Diggs come down with the ball and then planting him in the grass, which would have ended the game, Williams' dove at Diggs' legs. And he missed.  
Williams was devastated after the game. "I'm gonna take it upon myself to do all that I can to never let that happen again. And, I mean, if it happens again, then I shouldn't be playing," he told reporters. 
His contrition was met with ridicule. 
Meanwhile, Vikings fans were losing their shit. First in U.S. Bank Stadium, then milliseconds later, in homes across the country as grown men and women screamed in elation at their TVs.
With their dramatic win, the Vikings now advance to the NFC Championship Game, where they'll play the Eagles. In the AFC, the Patriots and Jaguars will square off in Foxboro. Here's hoping for some more action that measures up to Sunday's.