Stipe Miocic Knocks Out Daniel Cormier to Regain Heavyweight Title at UFC 241
"I knew I was hurting him."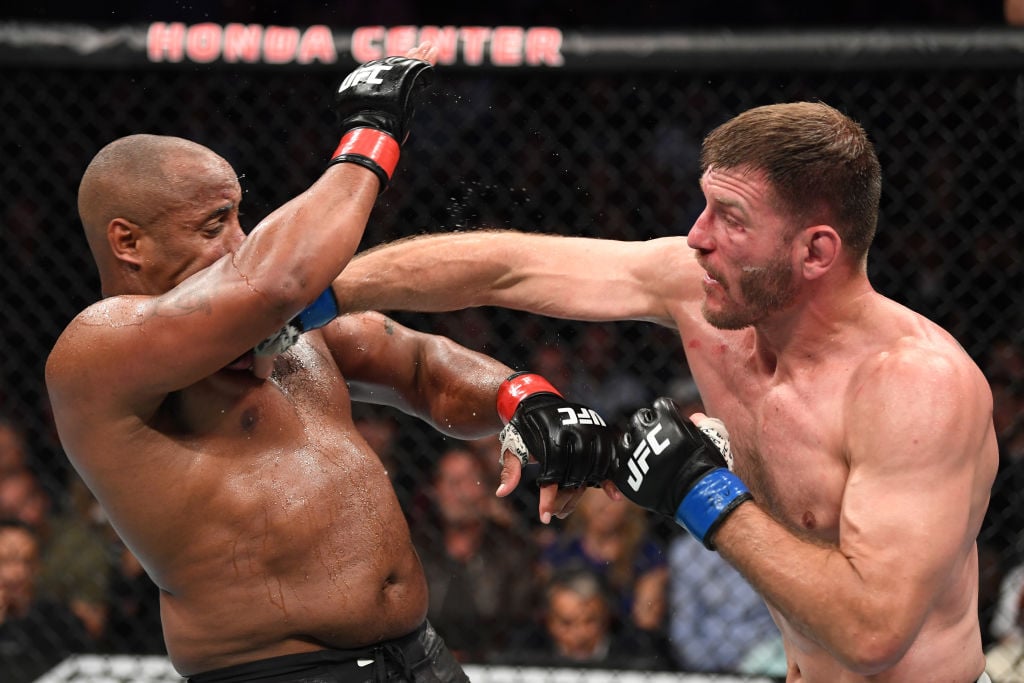 Stipe Miocic had something to prove when he stepped back in the Octagon at UFC 241. He needed to show he really could go toe-to-toe with Daniel Cormier and that he was worthy of regaining the UFC men's heavyweight belt.
He succeeded with a TKO in round 4, but Cormier made him work for it.
Here's how dominant Cormier was in the early rounds—out of the gate, he managed one takedown of his towering opponent through sheer power with what amounted to a bodyslam. But the follow-through didn't end things.
It really just seemed to piss Miocic off.
Still, the heavyweights looked evenly matched for the bulk of the fight—which was held at Anaheim's Honda Center Saturday—with Cormier perhaps the better puncher, overall. But he began to fade by round 3 and Miocic picked up on this. He exploited his opponent's sluggishness with body blows, focusing hard on Cormier's liver.
Afterward, Miocic said, "I knew I was hurting him." He indicated his strategy was to "just keep working, keep working." He was certain Cormier "was going to leave something open."
The match ended with Cormier up against the cage, Miocic raining blows until it was called. 
As for his relentless pounding on Cormier at the end, Miocic later indicated it wasn't so much that he was triumphantly owning his opponent, he just wanted to be done. "I'm done. I'm tired. I want to go home. I kind of Frank the Tanked it," he said, "I'm an idiot. I'm dumb. I'm that guy at a party that does dumb stuff."
For his part, Cormier was reflective. He called the loss "a tough pill to swallow" and said, "At 40 years old, you know, with so many other opportunities, I need to speak to my wife, and we need to make an educated decision on what we're going to do."
"Losing any type of fight for me is terrible," he said, "but getting stopped is just insane. That's twice I've been stopped. That's not good. I'm smart enough to understand that."
For a detailed breakdown of the full event, check out MMA Mania.
UFC 242 will feature Khabib Nurmagomedov against Dustin Poirier. It will take place at The Arena on Yas Island in Abu Dhabi on September 7, 2019.