Watch This Super Heavyweight MMA Fighter Puke All Over the Cage and Lose His Match
That pre-fight burrito was a bad idea.
Image: Instagram/flocombat
" tml-render-layout="inline
An MMA fight ended terribly for one brawler when he lost his lunch—and the fight—during an otherwise sluggish battle between two amateur behemoths. 
Super heavyweights Jessie Reasoner and Sean Needham, who both weighed in at over 270 pounds, were both already gassed by the second round during their bout on KnockOut Promotion's KOP 57 card in Muskegon, Michigan. 
But things took a disgusting turn when Reasoner suddenly keeled over and puked all over the canvas, resulting in his automatic disqualification and a win for Needham. Before he yakked in the cage, Reasoner was actually putting a beating on Needham, who looked like he was seconds away from being stopped.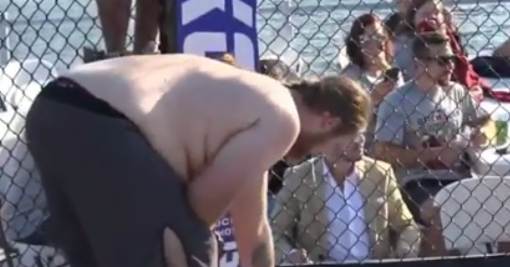 It's pretty gross, but not nearly as bad as the bloody spew Edder Jones hocked up immediately after being declared the winner of his MMA fight in this classic clip. 
https://www.youtube.com/watch?v=U8dHR3QTQYI
Of course, the nastiest MMA moment in recent history comes courtesy of Justine Kish, the fighter who famously shit herself during UFC Fight Night 112. Watch it again, if you must. 
https://www.youtube.com/watch?v=iQagmvfdLzA
As history shows, cage fighting can quite literally get messy. 
h/t: Deadspin