The Best Betting Odds For Georgia Vs. Alabama CFP National Championship Game
The best MaximBet odds and predictions PLUS ex-NBA ballers Robert Horry and Litterial Green place their alma mater bets.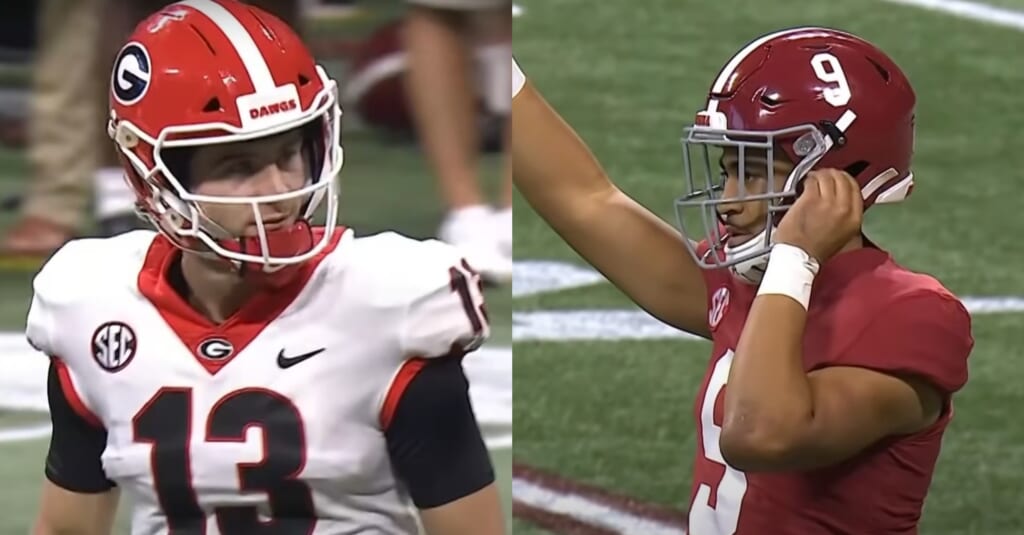 This year's CFP National Championship featuring Georgia and Alabama kicks off at 8 p.m. EST on Monday, January 10.
It means a little more to a pair of ex-NBA players who used to share dorm space with gridiron guys. Perhaps you heed the advice of one when wagering on college football odds at MaximBet.
Back before Robert Horry was broadcasting Los Angeles Lakers games and Litterial Green was co-producing award-winning films, they were both NBA-bound student-athletes who hung out with Alabama and Georgia football players on the reg.
That was back when the NCAA still allowed athletic dorms, and the Bulldogs of Georgia housed their football and basketball players in the same building, as did the Crimson Tide of Alabama.
But when the CFP National Championship game is played next week, where Georgia is currently a 2.5-point favorite at MaximBet, Green is going to do something different than what he has done the last four times Georgia has played in a postseason bowl game. He is going into hiding.
"Usually, all of the Georgia guys rent out a hotel conference room and get together and hang out and watch. But the last four times we've done that, we've lost. I am superstitious, so this year I am watching it alone," said Green, who predicted a 24-17 victory for the Bulldogs.
Horry, who was pretty well known back in the day for playing his best when the games counted most, is now a color commentator for Spectrum Sportsnet in Los Angeles and is still getting used to referring to the Lakers' home building as the Crypto.com Arena.
He has what we would safely call a cushy job, explaining to viewers how LeBron James is a pretty darned good basketball player as folks in LA watch LeBron drop 30-point games on pretty much everyone he plays against.
But there was a time when Horry was just a college kid from Andalusia, Alabama, making a name for himself as a future first-round NBA draft pick, learning that Auburn is the mortal enemy of all entities in that particular state and that basketball takes a big back seat to football when it comes to capturing the attention of sports fans in the Deep South.
Horry's team, despite defeating the Bulldogs handily in the SEC championship game, is a 2.5-point underdog for the game on Monday. And he also has a prediction that you may want to factor into your own wagering strategy, given that Horry usually comes through when it comes to championships (his nickname was "Big Shot Rob" and he won seven NBA titles).
"I think it'll be a lot closer than the SEC championship game, and it'll be a low-scoring game for college: 28-21 in favor of 'Bama," Horry told Maxim.com.
Both of these guys can't be correct, of course, but at least we can take solace in the fact that neither of them ever has a bad day (which we should all take as an example).
Yes, life is a little easier when you are collecting an NBA pension and living in a cool city like Los Angeles (Horry) or Atlanta (Green) while having the freedom to pursue personal passions. But not all ex-athletes are quite as chill as these two former rivals, and they will have a $50 side bet on the game if Horry accepts the wager that Green made via this particular Maxim writer.
Safe to say that Horry can afford that bet and will accept the wager, and these two ex-jocks will not live and die over the result of what should be a tremendous game. Neither of these guys is too caught up in himself, or whether any given day turns out all that good or all that bad.
This is known as an incapacity to be angry, which is something all of us should channel next time we see serial falsehood denier Jen Psaki spinning things improperly, or serial Botox abuser Jeanine Pirro emitting that extraordinarily insufferable whine that somehow got her a job at Fox News.
We live in a nation that is unevenly divided between fun-haters and chill-pill swallowers, and Horry and Green fall into the latter group in large part because they learned to live with folks just a little different than them because of their athletic dorm backgrounds.
"At Georgia, the football stadium was great except when you had to run it," said Green, explaining that part of the Bulldogs practice regimen was running the stairs in the 92,746-seat Sanford Stadium, where hedges line both sides of the field to give the venue a unique feature that also acts as a very efficient crowd-control device.
"You never see the fans storm the field at Georgia because they'd have to go through those hedges, which have prickers in them that'll cause a whole lot of pain if they get stuck in your skin."
Horry expects a closer final score than the SEC championship game because the Crimson Tide will be without wide receiver John Metchie, who suffered an ACL injury in the Alabama's 41-24 defeat of Georgia in the SEC championship game.
Metchie was the favorite target of quarterback and Heisman Trophy winner, Bryce Young, with 96 receptions and 1,142 yards this season (although Jameson Williams had 15 TD receptions to Metchie's eight).
"He was really a huge third-down conversion reception guy, so he will be missed a lot, but we still have a strong defense with the best defensive player in the NCAA. And I am telling you that Will Anderson is an absolute beast on defense," Horry said of the sophomore linebacker with an NCAA-leading 17 ½ sacks.
"Also, Coach Saban is going to use his rat poison line, where he tells the team that hearing how good Alabama is can either get in their heads and distract them, or inspire them to win."
Green, who recently co-produced the film Sunday Mornings with wife Maria Acero Green (it was named Best Picture at the Los Angeles Film Festival and can be viewed on Amazon Prime and TUBI-TV), called Saban the greatest coach in the history of the sport.
But he also said the Bulldogs will overcome whatever scheme Saban comes up with "if the 'Dawgs come to play, because we definitely have the better athletes."
"Alabama has the best coach and the best quarterback, so it's almost insurmountable," Green says. "But it's hard to beat a team two times in a row in the same season, so what I need is a low-scoring game. If it's a high-scoring game, Georgia is going to lose."
The over/under for the championship game opened at 53.5 and has since dropped to 52 at MaximBet.
The Crimson Tide surpassed 52 points 11 times in their 13 games as they went 12-1 this season, their only loss coming against Texas A&M on Oct. 9. The Bulldogs surpassed 52 points only six times in their 14 games, their lone loss coming Dec. 4 in the SEC championship game (Georgia only had one other close game, a 10-3 victory over Clemson in their season opener).
No matter who wins, there is one 'Bama grad and one ex-'Dawg who will live with whatever the outcome is and not care all that much. In the big picture, it is only a game. Let's hope it's a great one, because we all need some great on TV to replace the grate we keep getting on TV.
Ready for some football action? Take advantage of MaximBet's massive welcome offer that puts a 100% bonus up to $1,000 back into your betting account after your first deposit. Sign up here today to maximize your sports betting experience with MaximBet.