The Best NFL Next Head Coach Odds and Predictions, According to MaximBet
MaximBet is the only legalized U.S. sportsbook listing "next coach" odds for the Giants, Broncos, Bears, Jaguars, Dolphins and Vikings.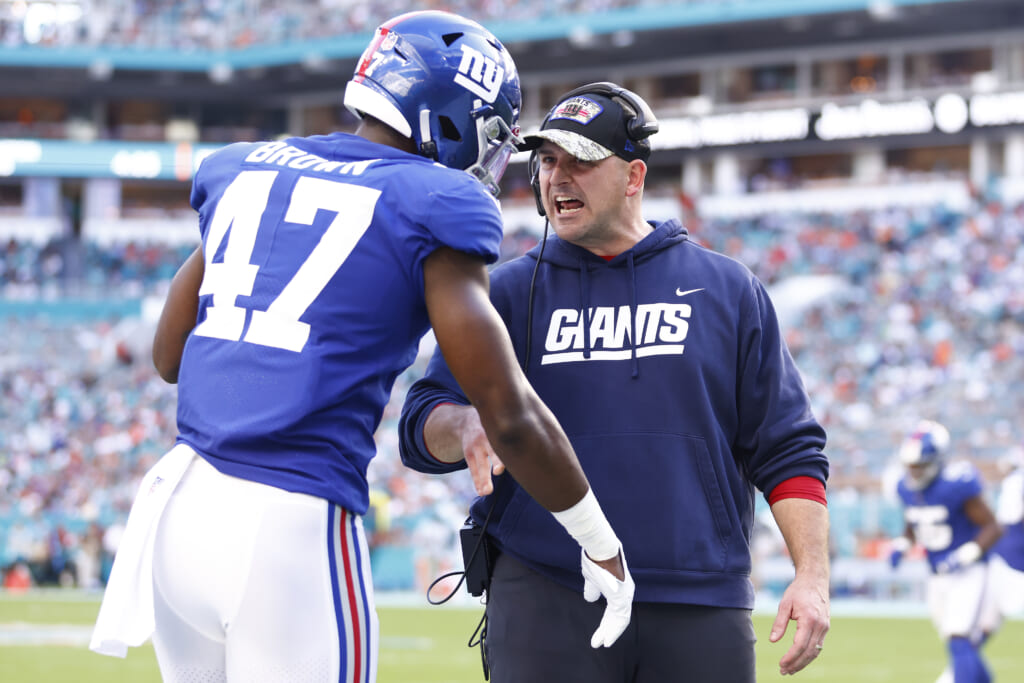 Whatever happened to patience when it comes to coaching tenures? And who is next in line for six open head coach positions with the Bears, Broncos, Dolphins, Giants, Jaguars and Vikings? MaximBet has odds on all of the possibilities.
This column is coming to you from a Giants fan who learned about the firing of Joe Judge while watching the news Tuesday night.
Judge got what he deserved from this fan's perspective after he ran consecutive quarterback sneaks deep in his own territory on second and third down of a meaningless possession late in a meaningless finale against the Washington Football Team.
Those two play calls probably cost him a job that was previously deemed safe because they prompted so much ridicule on local sports shows that the Mara family just could not take it. The 70,000 or so empty seats at MetLife Stadium contributed, too.
But what about Brian Flores in Miami? Did he really deserve the axe after winning seven in a row, finishing 9-8 and defeating his mentor Bill Belichick, four times in six games?
Flores went 24-25 over three seasons with the Dolphins, but owner Stephen Ross issued a statement saying, "I determined the key dynamics of our football operation weren't functioning at a level I want it to be."
We have since learned that Flores didn't get along all that well with a bunch of key people in the organization, so it started to make sense. But still, the Dolphins were not exactly a train wreck.
Ross, 81, made his fortune in the real estate industry. For anyone who has seen the development on the West Side of Manhattan between Madison Square Garden and the Hudson River and wondered whose brainchild that was, we point you to the Dolphins' owner.
He is a big-time Michigan alum with a business school in Ann Arbor bearing his name, and because he is the same age as my mom, I expect him to do what my mother would do in a situation like this (although my mom would never fire anyone): Pretend it is 1963 and operate accordingly.
So that means that a landline call is going to be made to somebody today or tomorrow to get the ball rolling on finding the person who hopefully will become the next Don Shula, who coached the Dolphins in an era when coaches tended to have something resembling lifetime job security.
If you take a look at the Dolphins' next head coach odds at MaximBet, you will see a name that might greatly entice Ross. I mentioned he's a Michigan alum, and the NFL has been trying to sway Jim Harbaugh back to its league for a handful of years now.
Ross definitely has enough dollars in his pockets to get Harbaugh's attention, but is the head coach of the current Big Ten Conference champion ready to head South Beach? The odds aren't great Harbaugh will take the job, he's tied for seventh on the list at 12-1.
I grew up watching my dad's Green Bay Packers coached by Bart Starr consistently butt heads with Bud Grant's Minnesota Vikings, and Starr and Grant were always back the next season.
But the next time Aaron Rodgers (if he does not retire or leave Green Bay) goes up against the team in purple, there will be a new head coach on the sidelines. That's because Mike Zimmer went 7-9 and 8-9 the past two seasons, which ended his eight-season tenure in Minnesota.
But Zimmer was an outlier on the NFL's Black Monday because of that tenure.
Judge lasted just two seasons with the Giants, Vic Fangio lasted three seasons with the Denver Broncos, and the same for Flores with the Dolphins. It was four years for Matt Nagy with the Chicago Bears.
He was Coach of the Year in 2018 but went 6-11 this past season as Chicago battled New York and Portland for Anarchy Capital of the United States. Perhaps the Chicago Teachers Union can use this as a teaching moment now that they have grudgingly returned to work?
Here is the thing: NFL head coaches are not like Chicago teachers. They are not unionized, and thus they have zero job protection if things turn sour.
In the NFL, it was the start of free agency in 1993 that changed everything, according to New York Times best-selling author Gary Myers, who penned Brady vs. Manning.
"These owners want to win, they're competitive, and they'd get into bidding wars,' Myers told Maxim.com. "There were increased revenues, increased expenses, and suddenly there was no such thing as a five-year plan. Also, the players started making more money, their attitudes changed, and that made it harder for a coach to control a locker room. And if you can't control a locker room, you get fired."
"The lack of security all stems from the money. No sponsor wants to be associated with a non-winner. And if an owner starts losing sponsors, something has to change. The one thing that is easiest for an owner to change is the coach and/or general manager. Nobody gets the benefit of the doubt anymore."
When this coming Wild Card weekend arrives and the first round of the NFL Playoffs begin, wager wisely at MaximBet.
But before then, try to think like an owner as you lay a little money on who all these teams without coaches.
With the Giants, think "anti-Odell Beckham." Yes, Giants fans loved the kid now catching passes for the Rams. But no, the Mara family was not particularly fond of his shenanigans, such as lifting his leg and pretending to pee like a dog in the end zone after a TD reception against the Eagles.
With the Dolphins, think like an 81 year old from Michigan who wants to find a combination of Bo Schembechler and Don Shula.
In all six cases, imagine you are the owner, do your homework on the owner, and you will be a better bettor. MaximBet is the only legalized U.S. sportsbook listing these "next coach" odds, so consider yourself privileged to have this opportunity.
Here is the full slate of NFL head coach odds from MaximBet:
Giants Next Head Coach
Josh McDaniels 2-1
Nathaniel Hackett 3-1
Doug Pederson 4-1
Jim Harbaugh 5-1
Jim Caldwell 7-1
Kellen Moore 8-1
Brian Daboll 10-1
Brian Flores 15-1
Eli Manning 25-1
Tom Coughlin 40-1
Denver Broncos Next Head Coach
Nathaniel Hackett 3-1
Brian Callahan 5-1
Jerod Mayo 5-1
Kevin O'Connell 6-1
Luke Getsy 8-1
Dan Quinn 10-1
Eric Bieniemy 10-1
Jonathan Gannon 12-1
Doug Pederson 12-1
Kellen Moore 15-1
Kyle Shanahan 15-1
Aaron Glenn 20-1
Mike Shanahan 30-1
Peyton Manning 50-1
Chicago Bears Next Head Coach
Brian Flores 2-1
Doug Pederson 4-1
Nathaniel Hackett 5-1
Jim Harbaugh 6-1
Brian Daboll 8-1
Leslie Frazier 8-1
Matt Eberflus 10-1
Todd Bowles 12-1
Dan Quinn 12-1
Byron Leftwich 12-1
Kellen Moore 15-1
Pat Fitzgerald 15-1
Mike Singletary 30-1
Mike Ditka 50-1
Jacksonville Jaguars Next Head Coach
Bill O'Brien 2-1
Nathaniel Hackett 3-1
Doug Pederson 4-1
Byron Leftwich 6-1
Kellen Moore 8-1
Jim Caldwell 10-1
Darrell Bevell 12-1
Todd Bowles 12-1
Matt Eberflus 20-1
Dan Quinn 20-1
Josh McDaniels 25-1
Miami Dolphins Next Head Coach
Nathaniel Hackett 3-1
Doug Pederson 4-1
Mike McDaniel 5-1
Eric Bieniemy 5-1
Brian Daboll 6-1
Kellen Moore 10-1
Jim Harbaugh 12-1
Dan Quinn 12-1
Byron Leftwich 12-1
Todd Bowles 15-1
Joe Brady 15-1
Vance Joseph 20-1
Dan Marino 30-1
Minnesota Vikings Next Head Coach
Doug Pederson 3-1
Brian Daboll 4-1
Eric Bieniemy 5-1
Jim Harbaugh 5-1
Andre Patterson 7-1
Nathaniel Hackett 7-1
Kellen Moore 10-1
Brian Flores 11-1
Lane Kiffin 15-1
Randy Moss 25-1
Ready for some football action? Take advantage of MaximBet's massive welcome offer that puts a 100% bonus up to $1,000 back into your betting account after your first deposit. Sign up here today to maximize your sports betting experience with MaximBet.