Tiger Woods Reportedly Turned Down $800 Million To Leave PGA For LIV Golf
The golf great refused to take a gigantic paycheck to play in the controversial, Saudi Arabia-backed series.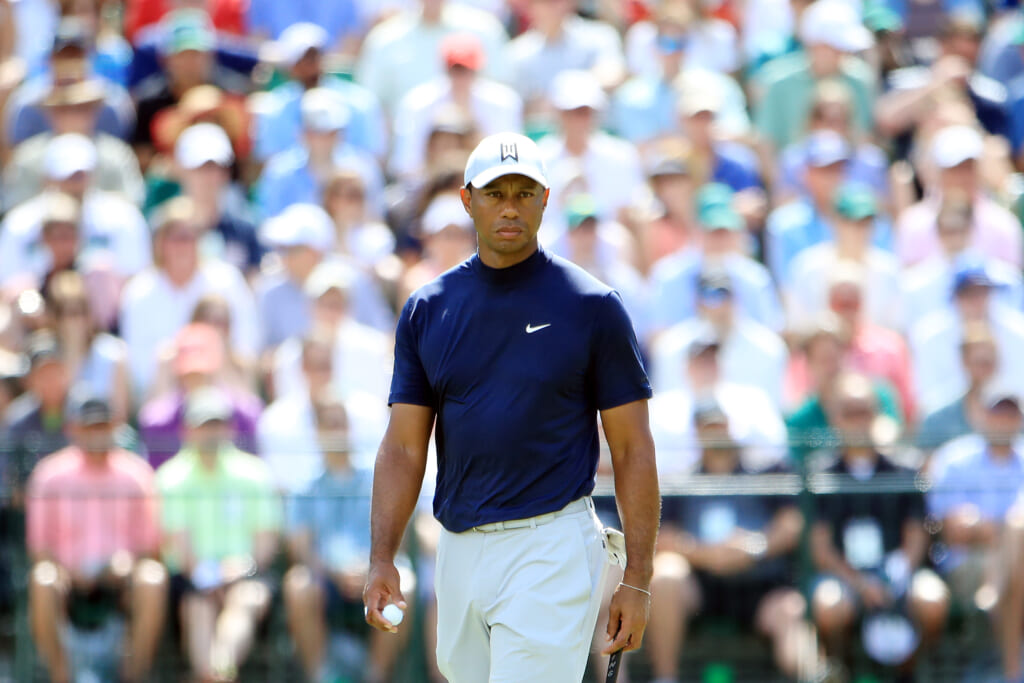 Tiger Woods refuses to play LIV Golf, even if it means turning down a Powerball jackpot-sized paycheck.
The 82-time PGA Tour event winner was reportedly offered between $700 and $800 million to join the controversial Saudi Arabia-backed series founded by former golfer-turned-entrepreneur Greg Norman, who confirmed the figure during a Tucker Carlson Tonight interview.
"That number was out there before I became CEO. So that number has been out there, yes," Norman responded when asked about monumental sum, per Golfweek.
"And, look, Tiger is a needle-mover, right? So, of course, you are going to look at the best of the best. So they had originally approached Tiger before I became CEO. So, yes, that number is somewhere in that neighborhood."
As Uproxx notes, LIV Golf has already poached PGA stars Dustin Johnson, Brooks Koepka, Bryson DeChambeau and Phil Mickelson. But Woods, who Forbes recently named the world's third billionaire athlete, is determined to stick with the championship circuit on which he became the sport's most accomplished and famous competitor.
"I know what the PGA Tour stands for and what we have done and what the Tour has given us, the ability to chase after our careers and to earn what we get and the trophies we have been able to play for and the history that has been a part of this game," Woods said when asked bout LIV at The British Open earlier this year.
"I know Greg tried to do this back in the early '90s. It didn't work then, and he's trying to make it work now. I still don't see how that's in the best interests of the game."
Woods also voiced support for The British Open's venue, The Royal & Ancient Golf Club of St Andrews, after it chose to ban Norman from its Celebration of Champions exhibition while reprimanding PGA defectors.
"I believe it's the right thing,'' Woods said of Norman being blackballed. "Greg has done some things that I don't think is in the best interest of our game, and we're coming back to probably the most historic and traditional place in our sport.
"The players who have chosen to go to LIV and to play there, I disagree with it," Woods said. "I think that what they've done is they've turned their back on what has allowed them to get to this position."
Woods is joined by young stars Jordan Spieth, Jon Rahm, Justin Thomas, and others who have elected to stick with the PGA. And the rift between PGA and LIV players could affect the sport's biggest events.
In a new Sports Illustrated interview, U.S. Presidents Cup team captain and PGA Tour member Davis Love III hinted that some players may elect to withdraw from next year's majors—the Masters, PGA Championship, U.S. Open and British Open—which remain open to all pros, being governed by independent bodies.
"It's not the nice lever," Love told Sports Illustrated, per Inside Hook. "But if a group of veterans and a group of top current players align with 150 guys on the Tour, and we say, 'Guess what? We're not playing,' that solves it, right? If LIV guys play in the U.S. Open, we're not playing. If they sue in court, and they win, well, we're not playing. You know, there won't be a U.S. Open. It's just like a baseball strike."