Tito Ortiz and Chael Sonnen Are Ready for Bellator's Biggest Night
The light heavyweights are throwing verbal punches two months before fight night.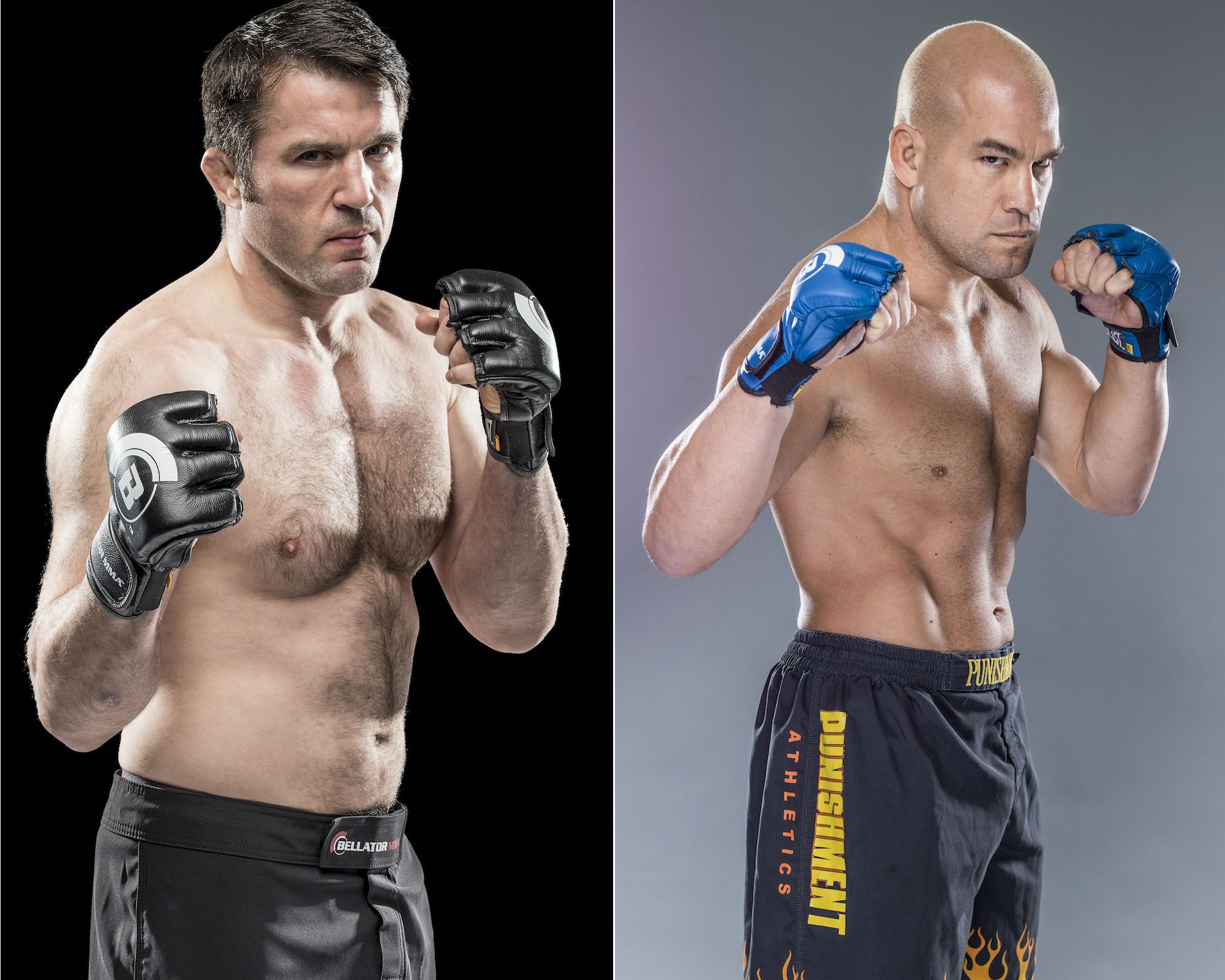 Tito Ortiz has been thinking about Chael Sonnen for 20 years.
The two light heavyweights who will headline Bellator 170: Ortiz vs. Sonnen at Los Angeles' Forum on January 21 first met in college on the wrestling mat. Their brief run-in didn't last long but two decades later, Ortiz is still thinking about it.
"I felt like I not only let my team down, but I let myself down," he tells Maxim. "To get pinned in 30 seconds, I've never had that happen to me before."
Even as Ortiz became one of the biggest MMA fighters in the world, the loss to Sonnen gnawed. He recalls privately pumping up Sonnen in hopes of one day getting the rematch that he so desperately wanted. "I was trying to make him a star as a big as me," says Ortiz, one of the UFC's earliest stars and a member of the promotion's Hall of Fame.
It took longer than Ortiz wanted, but in just under two months, he'll finally get his shot at redemption. But don't expect Sonnen to be fixated on something that happened in 1997. The fast-talking fighter, who's coming off of a three-year layoff to fight Ortiz, says he joined Bellator to fight Wanderlei Silva. "He wasn't available and I had nothing else to do on January 21st, so I thought why not stop by the Forum and beat Tito's ass," Sonnen says. "The guy is a button off my shirt. He is an everyday distraction."
As for the wrestling match, Sonnen says it didn't have nearly the affect on him as it did on Ortiz. "What do I know about a wrestling match? When I was in college I was trying to figure out what kid to sit next to on test day. I wasn't thinking about a wrestling match with Tito Ortiz."
Sonnen has been taking shots at Ortiz since this fight was first announced, and none have cut deeper than a quip he made about Ortiz's car getting repossessed. "My kids get bullied because people are talking smack on me. Chael doesn't understand how that affects my children," Ortiz told Maxim.
He added that Sonnen may be making a mistake by running his mouth before fight night. "It motivates me. It gets me worked up," Ortiz says. "This is not a game to me. I'm fighting for my name. I'm fighting for my legacy. For my children. This guy is trying to take my legacy. I can't let that happen."
Predictably, Sonnen is unfazed by Ortiz's warning. "Who cares about motivation? It's an ass whipping contest. Guys always say, 'Now I'm mad. Now I'm motivated.' The rules are the same! Fifteen minutes are 15 minutes."
Ortiz has a plan for those 15 minutes and it's to "push the pace."
"I'm going to take it to him. I'm going to try to finish it in the first round," Ortiz says, citing Sonnen's long layoff as an advantage. Sonnen, on the other hand, says he plans to dispose of Ortiz in "15 minutes or less."
Regardless of outcome, it seems certain that January 21 will be huge for the eight-year-old promotion. And to Sonnen at least, that's something of a surprise. "This is the biggest fight in Bellator history. I would have thought it would be a title fight that would do bigger ratings than everything. Who would have thought it would be a fight over whether Tito would have to continue to take the bus or not."
To buy tickets to Bellator 170: Ortiz vs. Sonnen, go here.
And enter to win an all-expenses paid VIP experience for two to Bellator 170: Ortiz vs. Sonnen including hotel, flights, VIP seating, backstage tour, in-cage photos and more.