Tom Brady and Bill Belichick Are Reportedly on the Verge of a Dramatic Breakup
After nearly two decades together, the New England legends are growing apart, according to a bombshell ESPN report.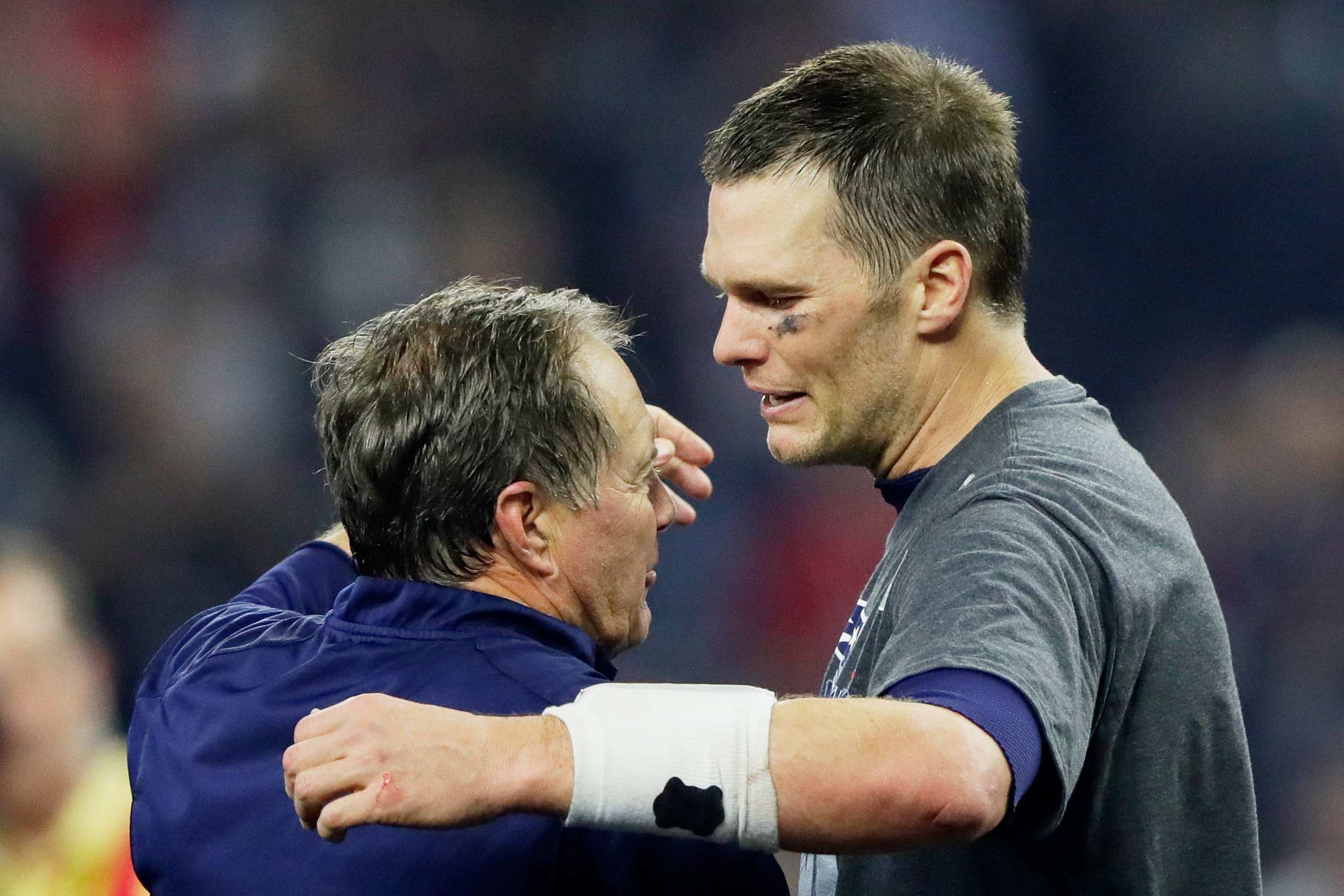 There are few duos in NFL history as inextricably linked than Tom Brady and Bill Belichick. The two Patriot legends have served as the consistent guideposts for two decades in Foxboro, directing an ever-changing supporting cast to the promised land.
In the process, they've become heroes in New England and reviled around the rest of the country, in part for their unrelenting success, but also because of the less-then-ethical ways in which it was achieved.
It's no surprise then that so many are taking great pleasure in an ESPN story dropped Friday detailing fractured alliances and the withering dynasty in Foxboro. Here are the problems, as laid out by writer Seth Wickersham. 
Brady's kooky trainer Alex Guerrero
Brady's unconventional training and eating habits are no secret, but in the past year they've became a problem. Wickersham reports that players on the Patriots began to feel like they had to seek medical advice from Brady's trainer, Alex Guerrero, rather than team doctors. It was apparently the best way to stay on Brady's good side. This pissed off Belichick, who banned Guerrero from team facilities, a move that was meant to solve problems but "only created more of them," Wickersham writes.
https://www.instagram.com/p/BdaUIKoBOEL
Belichick's criticism of Brady 
The famously grumpy head coach has been even more grumpy this season and it's wearing on his 40-year-old quarterback. 
Belichick's negativity and cynicism have gotten old, Brady has told other Patriots players and staff. He feels he has accomplished enough that he shouldn't have to endure so much grief. Patriots staffers have noticed that, this year more than ever, he seems to volley between unwavering confidence and driving insecurity. Brady has noted to staff a few times this year that, no matter how many game-changing throws he makes, Belichick hasn't awarded him Patriot of the Week all year.
Backup quarterback Jimmy Garoppolo
 In the 2014 draft, Belichick drafted Brady's successor, Eastern Illinois quarterback Jimmy Garoppolo. But Belichick's enthusiasm for the young quarterback wasn't shared by Brady, who saw him as a threat. Brady plans to play into his 40s and he didn't want a young gunslinger sniffing around, so he took his concerns to to team owner Bob Kraft. Kraft forced Belichick to trade Garoppolo, a move he was loathe to make.
Hours after the story's release Friday, Brady, Belichick and Kraft put out a joint statement calling the details in ESPN's account "unsubstantiated, highly exaggerated or flat out inaccurate."
"The three of us share a common goal," the statement said. "We look forward to the enormous challenge of competing in the postseason and the opportunity to work together in the future, just as we have for the past 18 years. It is unfortunate that there is even a need for us to respond to these fallacies. As our actions have shown, we stand united."
The irony of all this drama of course, is that the Patriots are still probably the best team in the NFL. They enter the playoffs at 13-3 and, like so many years before, as the favorites to win the Super Bowl. But even that might not be enough to save the relationship between the team's sensitive quarterback and its cranky coach.