Meet the Draft QB Who's Being Hyped as Tom Brady's Heir
"He's a beast," says Tom Terrific.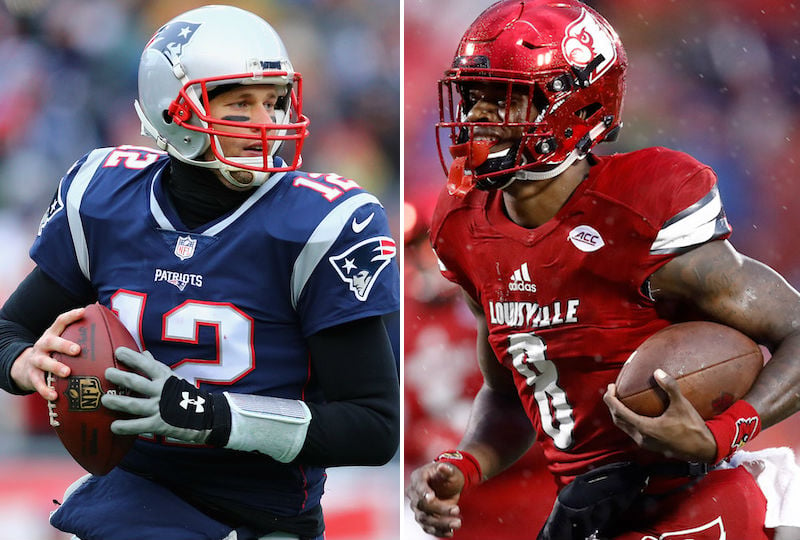 Tom Brady, who is 40, has said that he hopes to play quarterback in the NFL until he's 50. 
Given the rigors of the position and the perils of aging, that seems unlikely. The New England Patriots will have to find an heir eventually, and this week Brady himself seemed to endorse one possibility. 
"He's a beast," Brady wrote on Instagram about former Louisville quarterback and Heisman trophy winner Lamar Jackson.
It's not just Brady who's interested in Jackson. The South Florida-native has emerged as a New England favorite in recent days, according to Bleacher Report's Mike Freeman. The endorsement of Brady, who is rumored to have run-off his last perceived heir, seems to make the possibility that Jackson lands in Foxborough all the more likely. 
Despite Brady's love for Jackson, two-time 1,500-yard rusher couldn't be more different than the five-time Super Bowl champ. Brady is a dropback passer known for slicing up defenses in the pocket. Jackson is known primarily as a running threat, thanks to his blazing speed and open field skills that have drawn comparisons to Michael Vick. 
Jackson is no slouch throwing the ball though. He racked up 57 touchdowns against 19 picks at UofL and showed off his ability to throw bombs on more than one occasion. 
If Jackson lands in New England, he wouldn't be the first mobile college quarterback to get paid to play for the Pats. But he could be the first to stick at the position. Julian Edelman played quarterback at Kent State before thriving as a slot receiver in New England. Some have argued that Jackson's best path to professional success would be to emulate Edelman.
But Jackson has said he only plans to play quarterback in the NFL. Asked at the NFL combine about the possibility of his playing wideout, the 21-year-old was definitive: "I'm strictly a quarterback," he said.