Niners QB Jimmy Garoppolo Inks $137.5 Million Deal, Will Earn Nearly Double Tom Brady in 2018
The former Patriot backup is now the highest paid player in the NFL.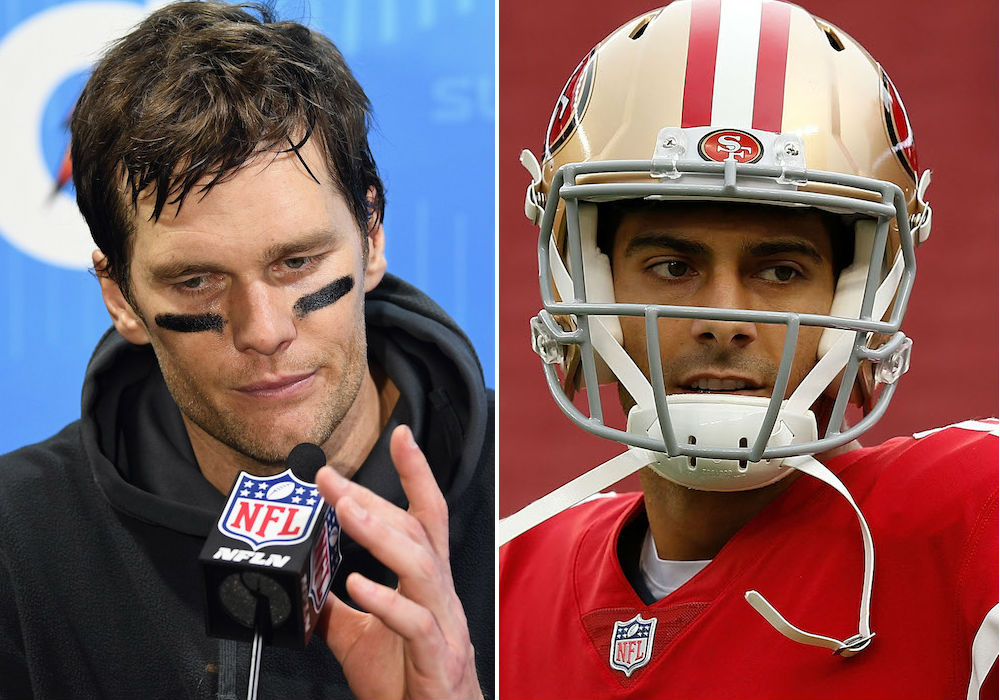 This time last year, Tom Brady and Jimmy Garoppolo were riding through Boston celebrating a Super Bowl win as teammates. What a difference 12 months makes. 
Now, Brady is recovering from a Super Bowl defeat as the dynasty he's built with Bill Belichick appears shakier than it ever has. And Garoppolo, who was traded mid-season to the 49ers, is the highest paid player in the history of the NFL. 
Garoppolo earned that title Thursday, when San Francisco gave him a five-year, $137.5 million contract. As this Instagram post suggest, he was feeling good.
Garoppolo inked the deal after playing just five games with the team. He was fantastic in those games, racking up 1560 yards on seven TD passes and five interceptions. More importantly, he changed the mood in San Francisco, which has been struggling to find an answer at quarterback since parting ways with Colin Kaepernick. 
"When you find the right guy at that position, it's really good for your franchise," Niners GM John Lynch said last month. "We believe we've found the right guy."
The craziest thing about Garoppolo's contact isn't that he'll be the highest paid player in the NFL next year—although that is pretty crazy—it's that he'll be making nearly twice as much as Brady, who is giving the Patriots a discount so the team can better spread around the wealth. 
Still, it's odd to think that the greatest quarterback of all-time is making half the money as a guy who's only even started seven NFL games. 
Brady's probably not bothered by it though, despite what a fake column published in the Boston Herald says today. On Friday, he posted a long message on Instagram about the number one feeling he's had in the aftermath of the Super Bowl. Not rage, but gratitude. 
"It has taken me a few days to reflect on our SB loss as well as the great season our team had. There are many emotions when you come up short of your goal. And they are all part of learning and growing in this journey of life. Learning turns everything into a postitive (sic). And the number one feeling I have had the past 4 days is gratitude," Brady writes. Check out the whole thing below.