ESPN Ranks Tom Brady Way Behind Peyton Manning on Dominant Athletes List, And Pats Fans Aren't Happy
Are they right?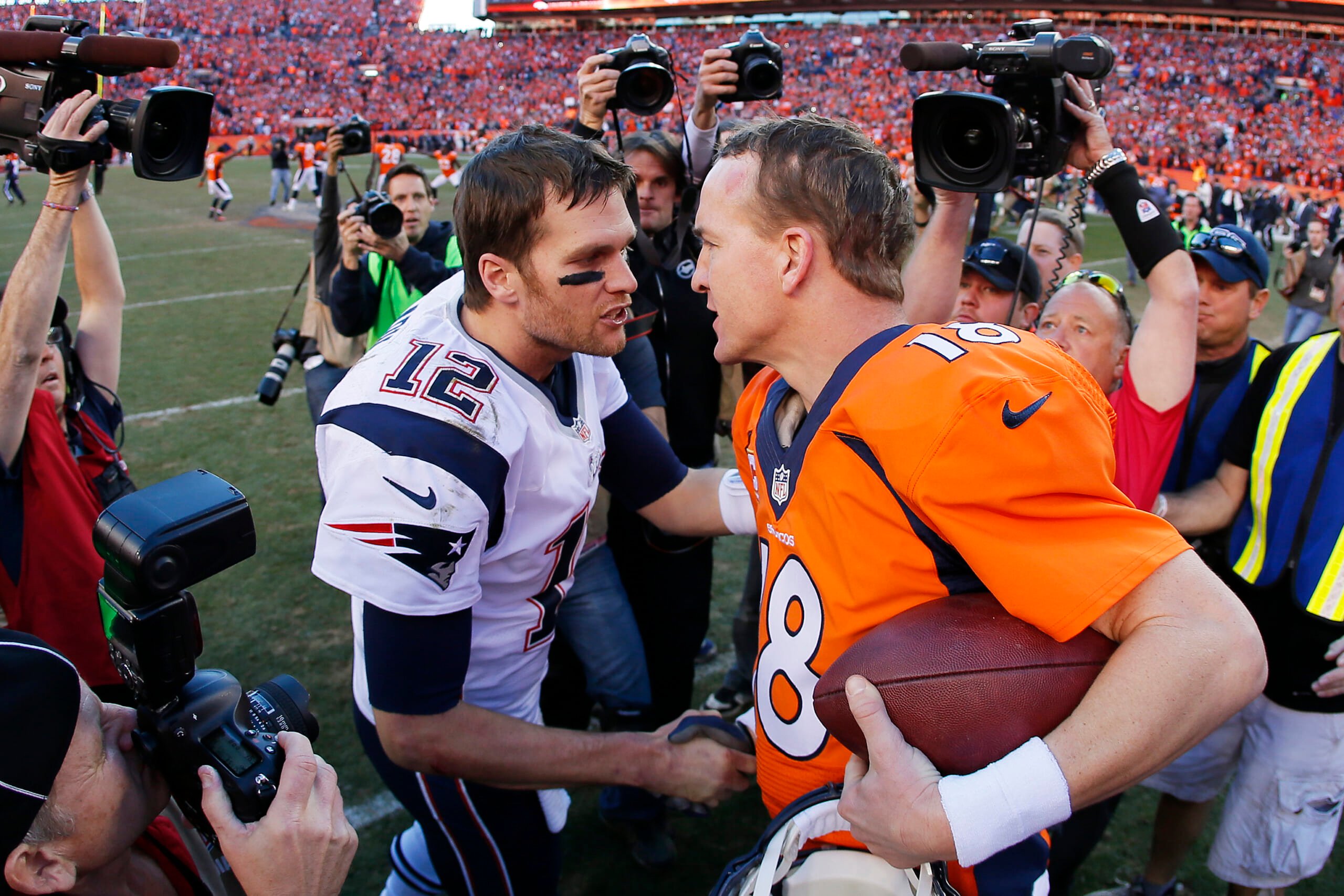 If there were any New England Patriots fans out there who weren't already convinced that ESPN hates them, there aren't after the Worldwide Leader's latest insult. 
It comes off a list of the most dominant athletes of the last two decades, and it's right there at number 20. Touchdown Tom Brady is ranked behind 19 other athletes on ESPN's list, including one person who played the same position, in the same league: Peyton Manning.
At number three on the list, Manning, who's the only other NFL player ranked, trails only Tiger Woods and LeBron James. The blurbs that accompany each ranking go into detail about the athletes personal dominance, but they do little to explain the difference. It's worth noting though that this is not a subjective ranking, but one that was arrived it with what ESPN calls "foolproof math." Here's the explanation of the methodology:
We used our unpatented five-step process to determine the most dominant athletes of the past 20 years. First we looked at the top league in every sport that has global annual revenues of $100 million or more and for which there are reliable annual overall rankings or ratings of individual athletes for all or most of the past 20 years. Then we rated those sports' athletes in each of the past 20 regular seasons by the best single performance metric available, adjusted these ratings to normalize athletes' scores in each sport across time, narrowed our focus to the top four athletes each year in every sport, then adjusted the data again to put these players, across sports, on a common baseline. Then we added up the results to achieve this list, in which one "dominance share" equals one standard deviation of performance by an athlete beyond the top four players in his or her sport for one season.
The metric used to evaluate Manning and Brady was "defense-adjusted yards above replacement," a advanced statistic that tries to measure how much better a quarterback is than the guy who might replace him if he was out of the lineup.
And as Peter Keating, whose byline is on the piece, wrote in a tweet, "[Brady] just doesn't have as many seasons where he was unambiguously better than the other very best QBs in the NFL as Peyton Manning had. That's all." 
Credit ESPN for trying to arrive at these rankings in an objective manner, but the network's still getting roasted. And for good reason. You can't boil dominance down to a single stat, particularly in team sports.
Manning may have put up more gaudy stats, but how much of that was him and how much was his teammates? And how does Brady's Super Bowl dominance and longevity fit into the conversation? For ESPN, it doesn't and these Pats fans are predictably pissed.
https://twitter.com/Justin_Long11/status/976148716020256768
On ESPNs most dominant athletes over the last 20 years, Tom Brady ranks 20th, but Peyton Manning ranks 3rd??? Would love to know how that adds up @espn

— Brendan Johnson (@BrendanJ11) March 18, 2018
Anybody with a working brain knows Tom Brady is better than Peyton Manning i don't know why this is still a debate

— ram (@ramboszn) March 20, 2018
ESPN really has Peyton Manning at #3 most dominant athlete in the past 20 years and Tom Brady is last at #20…. who decides this shit? 😂😂

— B (@Brady_McKillips) March 20, 2018