Tom Brady and Rob Gronkowski Are Both Coming Back, So Pats Fans Can Step Back From the Ledge
"Looking forward to another championship run," Gronk said.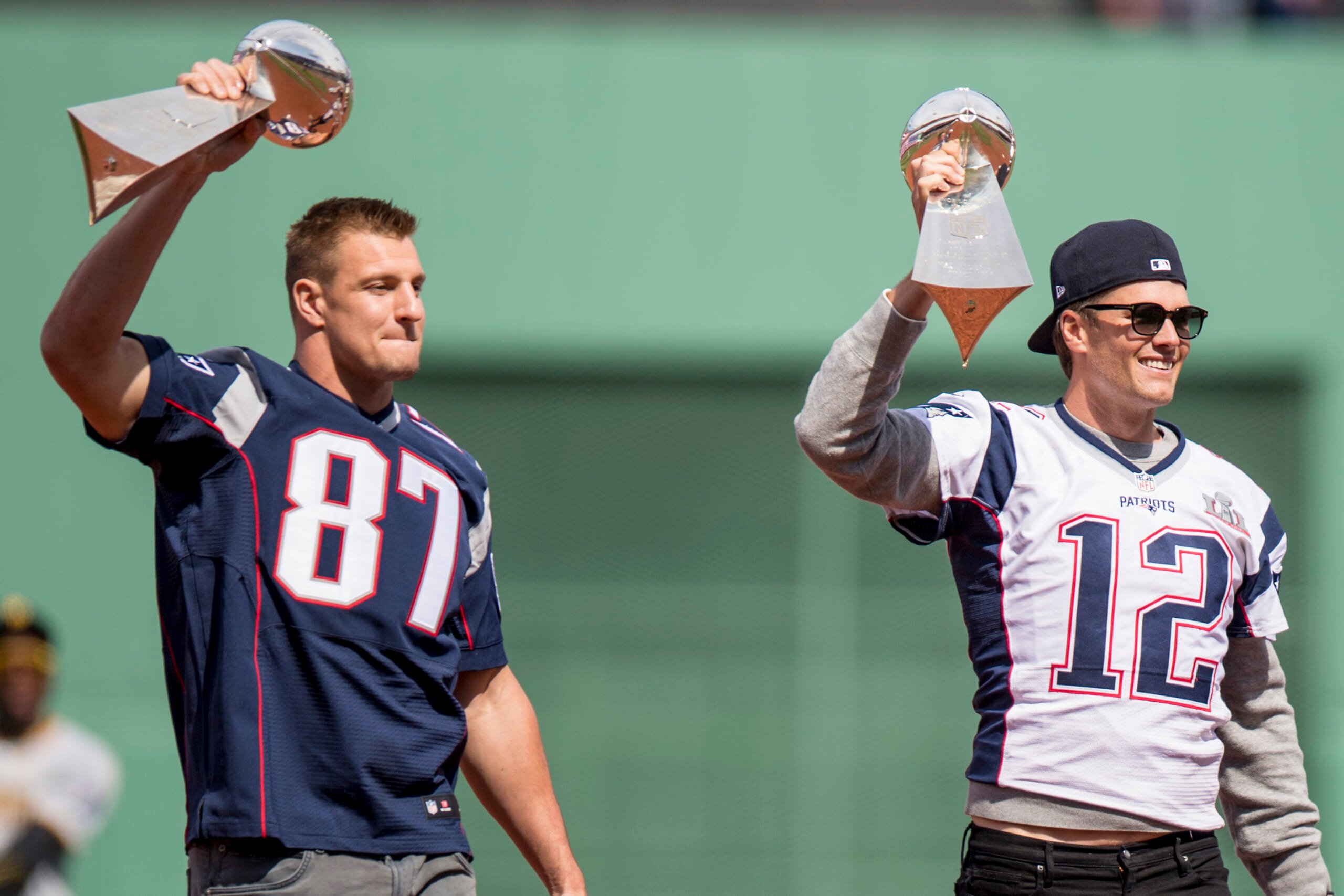 After an off-season filled with question marks, it looks like both Tom Brady and Rob Gronkowski will suit up for the New England Patriots this fall. 
Brady's agent Don Yee squashed rumors about the 40-year-old's potential retirement on Monday. 
"Tom's intentions have not changed," Yee said Monday. "He's consistently said he'll play beyond this contract and into his mid-40s, or until he feels he isn't playing at a championship level. I understand the constant speculation, but this is one point he's been firm about."
So what to make of Brady skipping pre-season workouts? Yee suggested that Touchdown Tom simply prefers to train on his own. 
Not long after ESPN published Yee's interview, Rob Gronkowski made it known that he'll be back in Foxboro this fall too. 
"I met with coach today and informed him I will be back for the 2018 season with the Pats," Gronk wrote on Instagram. "I have been working out, staying in shape and feel great. Looking forward to another championship run."
Despite being only 28, Gronk's flirtation with retirement wasn't a complete shock given the number of injuries he's suffered in his career and his off-the-field celebrity. The tight end was was reportedly wooded by the WWE with an offer similar to the one given to Ronda Rousey. He's also been pushed to take a crack at the movie business. 
And he appeared to enjoy the speculation, joking over the weekend that he was focusing on his dirt bike skills for 2018. 
The announcements from Brady and Gronkowski come at a key moment for the Patriots, who, like the rest of the league, are prepping for this weekend's NFL draft. Knowing that two of their best players will be back in the fold for 2018 will guide the front office, but it is unlikely to keep them away from drafting promising young quarterbacks and tight ends. 
At 40, Brady doesn't have too much longer left in the league, even if he thinks he'll play until he's 75. Little wonder then that the Pats have been one of the teams most interested in Heisman-winning quarterback Lamar Jackson. Brady has even appeared to endorse the former Louisville player. 
And given Gronk's very public dalliance with retirement, in addition to his injury history, it won't be long before the Pats need a new 6'6″, 265-pound tight end with great hands. Problem is, those aren't very easy to find.