Tristan Thompson Reportedly Caught 'Cheating' on Pregnant Khloe Kardashian, and There Might Be A Sex Tape
The sex scandal is bad timing for Kardashian and Thompson, whose Cavs begin their playoff run this weekend.
Getty Images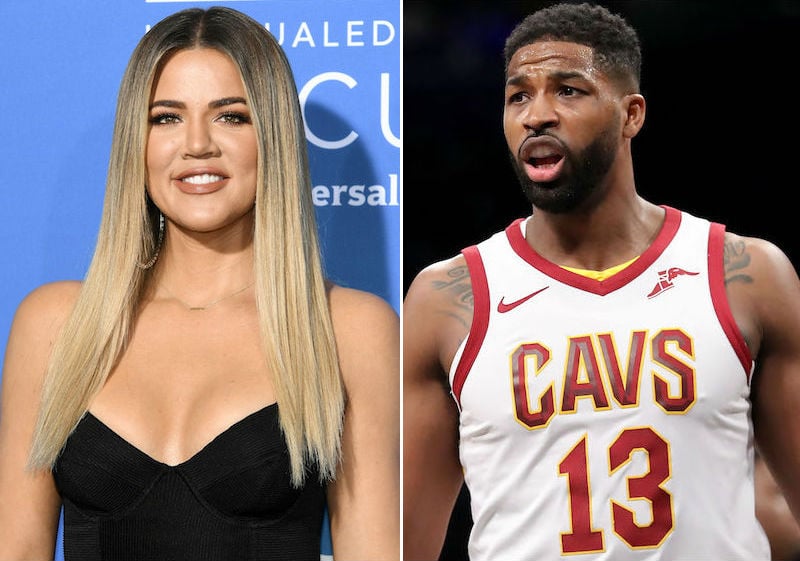 Tristan Thompson is in trouble. 
The Cleveland Cavaliers forward, who's expecting a baby with girlfriend Khloe Kardashian any day now, is embroiled in a full-blown cheating scandal with various women, according to multiple media accounts.
Reports of his supposed infidelity first surfaced Tuesday on DailyMail.com, which posted a video of Thompson getting very close with an unnamed woman at a New York City nightclub. 
Shortly after that video went online, TMZ posted another one. This one was clearer, and showed Thompson kissing and yep, "motor-boating" two scantily-clad women at a club. The bad news for the NBA baller? Neither of them is Khloe Kardashian. 
TMZ says the video is from last October, when Kardashian was three months pregnant, and notes it was shot inside a Washington, D.C.-area hookah lounge. 
The saga doesn't end there either. TMZ also posted a picture of Thompson returning to his New York City hotel room last weekend with the same woman who was in the DailyMail.com video. And later in the day, that woman posted some interesting content of her own. 
According to TMZ, a woman going by @ms.stephaniee_ on Instagram claimed to be the one who was out with Thompson last weekend. On Tuesday night, she posted texts that she claimed were from Thompson and a video of what she said was her and Thompson having sex. Neither person's face is visible in the video.
One of texts, TMZ reports, said: "If I was there I would grab u while u try to walk away from me than I would pull ya hair and kiss you than rip ya clothes off and lay u down while I suck ya p**** and say sorry."
Gotta admit, this dude's got game. The revelations of Thompson's supposed cheating ways were no surprise a Kardashian industrial complex insider who spoke to People. 
"Tristan has been consistently cheating on Khloé," a source alleges to PEOPLE. "He's a serial cheater. And there will be more women to come out of the woodwork."



It is a devastating situation for the mother-to-be, who is nine months pregnant with a baby girl.

"First Lamar cheated on her and now Tristan," the insider says. "She's been through so much."
Kardashian is expecting a baby, her first, any day now. And Thompson's Cavs, who are poised to enter the NBA Playoffs as a number-four seed, begin postseason play this weekend.