Trump Rips Marshawn Lynch for Sitting During U.S. Anthem And Standing for Mexican Anthem
Beast Mode vs. POTUS.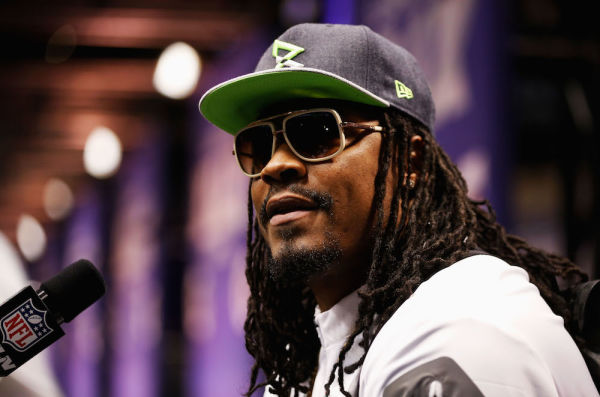 Getty Images
On Sunday, the Raiders and Patriots ventured south to Mexico City to play the NFL's third ever game in the famed Estadio Azteca. The game wasn't close, with the Pats winning 33-8, but there were fireworks beforehand. 
Raiders running back Marshawn Lynch, who has sat during the "Star Bangled Banner" for every game this season, drew attention when he chose to stand for Mexico's anthem.
Monday morning, President Trump weighed in, criticizing Lynch for his 'disrespect" and calling on the NFL to suspend him if he sits during the anthem again. 
https://twitter.com/realdonaldtrump/status/932570628451954688
Trump has taken a keen interest in NFL players who protest racial inequality by taking a knee during the national anthem this season, tweeting about the issue more than a dozen times since week one. The popularity of the protests has died down since the first few weeks of the season, but Lynch man remained seated through all of it.
In fact, the Raiders running back has been sitting, not kneeling, during the anthem since 2015. That's before Colin Kaepernick started his controversial protests at the start of last season. 
Unlike Kaepernick, Lynch hasn't sought to tie his refusal to stand for the anthem to political and social causes. Indeed, he's said very little about why he doesn't stand. But he's made no secret of his feelings about the President. Here's a shirt he wore to a game earlier this season. 
https://www.instagram.com/p/BbuChvEnPoC
Trump also took issue this weekend with another athlete, or at least, the father of another athlete. Lavar Ball, the attention-craving father of Lakers rookie Lonzo Ball, found himself on the receiving end of a Trump tweet Sunday after he downplayed the President's role in getting his other son, UCLA freshman LiAngelo, released from Chinese custody. 
The 18-year-old was arrested for stealing sunglasses from a high-end mall while his team was in the country to play Georgetown. Trump reportedly spoke to Chinese President Xi Jinping about the issue, helping to get the kid and his two teammates back home.
But Lavar Ball, perhaps sensing an opportunity to get some more attention, later told ESPN that Trump's role in his son's release was being overhyped. "Everybody wants to make it seem like he helped me out," Ball told ESPN. He also suggested that LiAngelo's shoplifting was not a huge deal. Trump did not like this. 
https://twitter.com/realDonaldTrump/status/932303108146892801https://twitter.com/realDonaldTrump/status/932392209445457920