Bryce Harper Trolled on Twitter After Washington Nationals Win World Series Without Him
Harper signed a $330 million deal with the Phillies after six years with the Nats.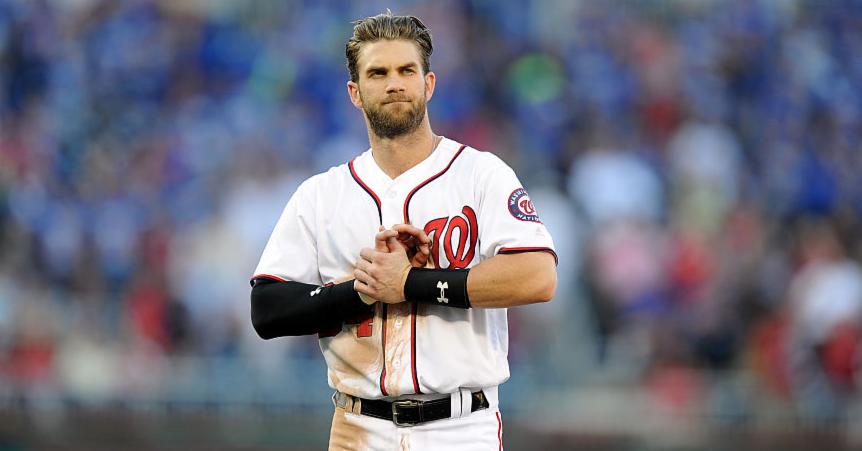 Getty Images
In his time with the Washington Nationals, which won its first World Series from the Houston Astros on October 30, right fielder Bryce Harper became a legit star, even winning the National League MVP in 2015. 
Harper went into free agency at the end of the 2017-2018 season and signed with the Philadelphia Phillies—an eye-popping $330 million, 13-year deal. Nats fans apparently felt abandoned by the slugger, because after their team won the whole thing Wednesday night without him, he was blistered by all the burns flying from his old team's fans on social media.
"That's what it's all about. That's what I want to do. We want to bring a title back to DC. I want to be on Broad Street on a freakin' boat, or… bus — whatever it is. And have that trophy over my head." — Bryce Harper's misspeak when he signed with the Phillies

I mean… pic.twitter.com/ZCPTE3ffQr

— Nancy Chen (@NancyChenNews) October 31, 2019
To be fair, Harper apparently wanted to take the Nats to the big show even after he put on a Phillies cap. 
But that free agent money rang up dollar signs in his eyes (though that's admittedly a hell of a lot of money). Still they made it without him and it was an exciting World Series to boot, and man, did Twitter users have some fun with that.
Someone even morphed him into the "Crying Jordan" meme.
Let's face it, there wasn't much boring about this World Series in general. 
There was the infamous Instagram models flashing incident, which got Julia Rose, Lauren Summer, and Kayla Lauren banned from attending Major League games even though we're not sure who in their right mind would complain about this.
https://www.youtube.com/watch?v=SVeF8JEaYdU
And then Maxim Hot 100 beauty Kate Upton got involved when her husband Justin Verlander pitched in Game 6, tweeting a reminder about game rules when Nationals shortstop Trea Turner was called out for interfering with a thrown ball.
He wasn't within the base path. Those who don't know the rule you HAVE to run inside the 2 lines. Not sure why the review is taking so long… pic.twitter.com/SzUJTA4L70

— Kate Upton (@KateUpton) October 30, 2019
Watching Nationals fans clown on Bryce Harper was just icing on the cake.
And besides, it's not like the $330 million man could really feel all that bad about it.